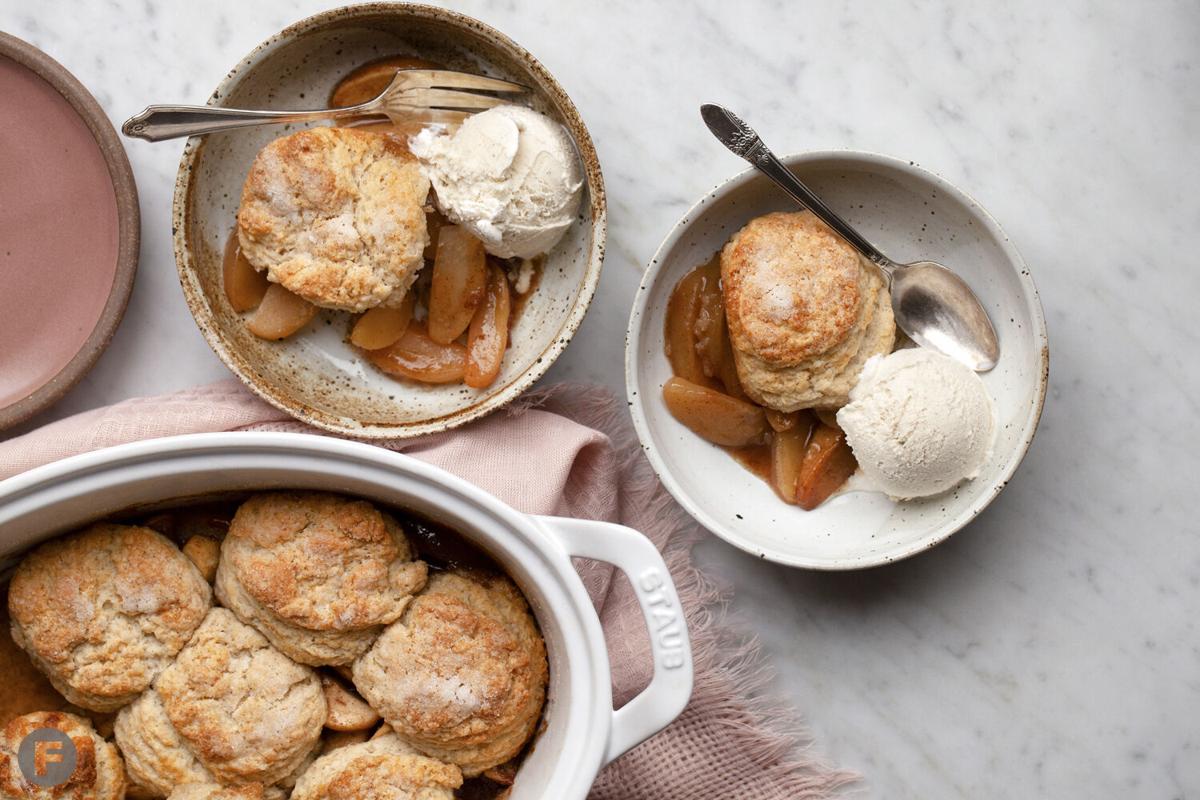 Quick and easy to throw together, this warming cobbler boasts tender spiced apples topped with flaky cinnamon-cardamom biscuits. Add a scoop of vanilla bean ice cream and this dessert will secure a spot on your fall baking schedule.
Spiced Biscuit Apple Cobbler
Serves | 8 |
Spiced Apple Filling
6 large Pink Lady apples, peeled, cored and sliced ½ inch thick
1 Tbsp fresh lemon juice
¼ cup light brown sugar
1½ Tbsp all-purpose flour
1 tsp vanilla extract
½ tsp ground cinnamon
¼ tsp ground cardamom
¼ tsp kosher salt
⅛ tsp ground ginger
⅛ tsp ground cloves
5 Tbsp unsalted butter, cut into ½-inch cubes
Spiced Biscuits
2½ cups all-purpose flour
¼ cup sugar, plus more for sprinkling
1 Tbsp, plus 1 tsp, baking powder
¾ tsp kosher salt
¼ tsp ground cinnamon
⅛ tsp ground cardamom
¾ cup (1½ sticks) cold unsalted butter
¾ cup buttermilk
| Preparation – Spiced Apple Filling | Preheat oven to 350°F. Spray a 9-by-13-inch baking dish with nonstick cooking oil spray.
In a large bowl, mix all ingredients until apple slices are evenly coated with spices. Transfer filling to prepared baking dish and spread into an even layer. Bake until apples release their juices and are a bit tender, 20 minutes. Meanwhile, prepare spiced biscuits.
| Preparation – Spiced Biscuits | In a large bowl, whisk together flour, sugar, baking powder, salt, cinnamon and cardamom. Using a box grater, grate butter and then add to flour mixture. Using a pastry blender or two butter knives, cut butter into flour mixture. Add buttermilk; gently stir with a fork until combined. (The dough will still look craggy and a little dry at this point.)
Transfer dough to a clean work surface. Gently fold dough over onto itself a few times, pressing with the heel of your palm to lightly bring it together into a cohesive dough. Using your hands, press dough into a ¾-inch-thick round disc. Using a 2½-inch round biscuit cutter, cut out biscuits. If the apples aren't finished baking at this point, transfer biscuits to refrigerator to chill while you wait.
Remove baking dish from oven. Gently stir apples to coat them in their juices. Arrange biscuits on top of baked apples; generously sprinkle each biscuit with sugar. Return to oven; bake, 50 minutes or until biscuits are golden brown on top, apples are tender and filling is bubbling. Serve warm with a scoop of vanilla bean ice cream.