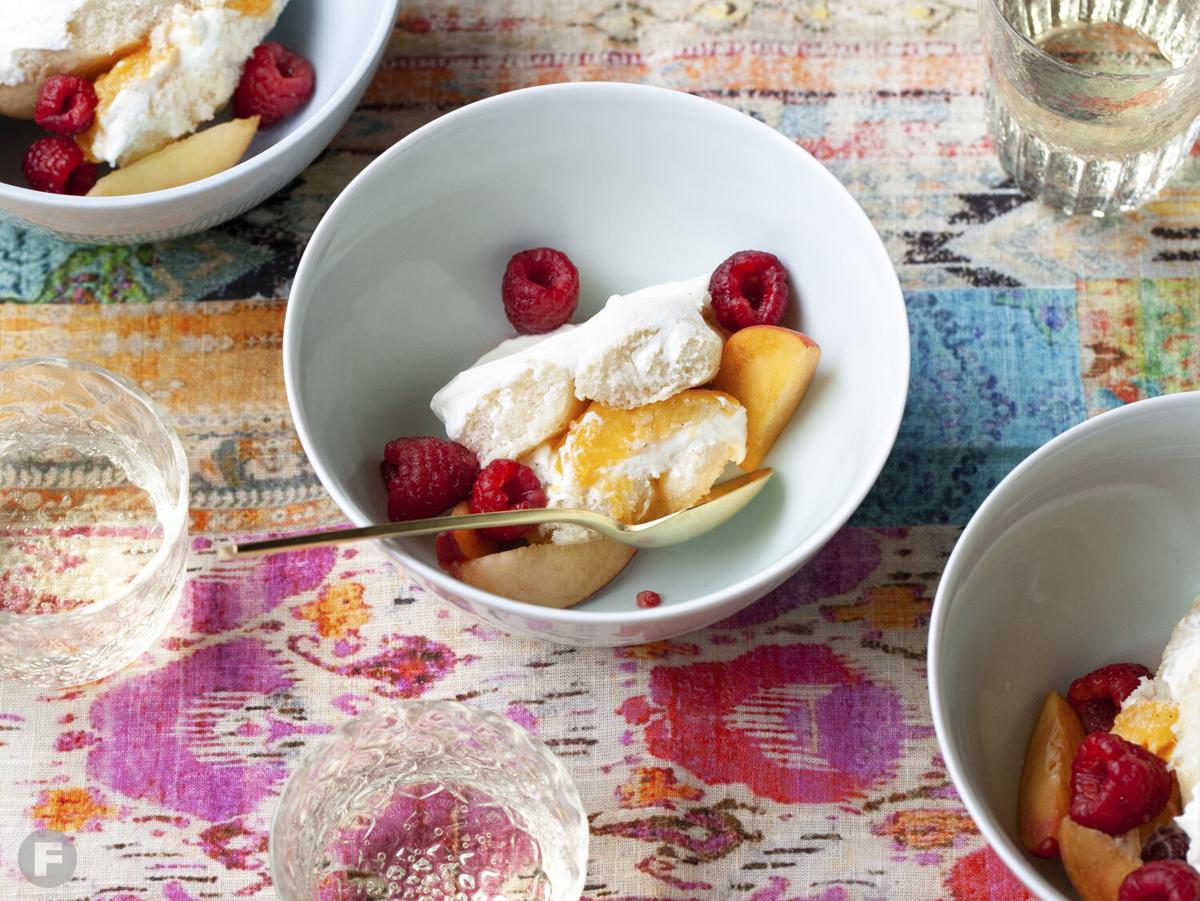 Two timeless desserts – Peach Melba and tiramisu – come together in this creamy yet effervescent creation. Notes of peach in the Moscato d'Asti complement a layer of poached peaches and fresh raspberries, while the airy vanilla bean mascarpone cream adds a silken richness to the composition. Pair with a glass of sparkling white wine for an unforgettable after-dinner dessert.
Peach Melba Torte
Serves | 8 to 10 |
5 large ripe peaches, divided
¾ cup, plus 2 Tbsp, sugar, divided
1 cup water
2¼ cups Moscato d'Asti, divided
1 vanilla bean, split and seeds scraped, divided
1 pint fresh raspberries, divided
8 oz mascarpone
1 cup heavy cream
1 package lady fingers (preferably Bellino Savoiardi)
| Preparation |Using a paring knife, cut a small X in the bottom of 3 peaches; immerse them in a large pot of boiling water, approximately 30 seconds. Using a slotted spoon, transfer them to an ice bath. Transfer them to a cutting board and peel off skins using the X as a starting point. Cut each peeled peach in half; discard skins and pits.
In a medium saucepan, combine ¾ cup sugar, water, ½ cup Moscato and ½ of the vanilla bean seeds and scraped pod. Bring mixture to a boil, stirring until sugar has dissolved. Lower heat to a steady simmer and add peeled peaches, pitted-side down; cook, 10 minutes. Remove from heat and allow peaches to cool to room temperature. Discard vanilla bean pod.
Remove cooled peaches from poaching liquid and transfer to a cutting board; cut into ¼-inch slices. Place slices in a large bowl and add ½ pint raspberries. Pour in poaching liquid and gently mix to combine. Cover and set in refrigerator to chill, 30 minutes.
In a medium bowl, add mascarpone, heavy cream, 1 tablespoon sugar and remaining vanilla bean seeds. Using a hand mixer, whip mixture until medium-stiff peaks form. Set aside.
Pour 1½ cups Moscato into a bowl. Dip 3 ladyfingers at a time into the wine, 4 to 5 seconds, turning halfway through to completely coat. Line the bottom of an 8-by-8-inch baking pan with a single layer of ladyfingers (use as many as you need to fit the pan). Spread half of the vanilla bean mascarpone cream on top of the ladyfingers. Using a slotted spoon, add the peach-raspberry mixture on top of the cream, arranging peach slices and raspberries into an even layer. Top with a second layer of Moscato-dipped ladyfingers. Spread remaining cream over entire surface in an even layer. Cover and place in refrigerator to chill overnight, at least 8 hours.
When ready to serve, cut 2 peaches into ¼-inch slices. Transfer to a bowl and add ½ pint raspberries, 1 tablespoon sugar and ¼ cup Moscato. Gently mix to combine and then set aside to macerate, 15 minutes. Top torte with fresh peach-raspberry mixture and a generous drizzle of Moscato-macerated syrup. Spoon into bowls and serve.