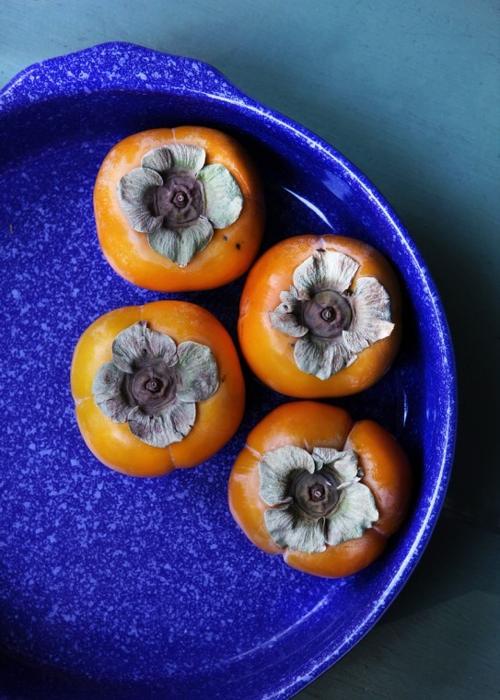 "If you like the taste of persimmon, you can use it in place of pumpkin in any of your favorite fall pumpkin recipes," says Pollack.
Serves | 16 |
Cupcakes
1½ cups all-purpose flour
1 tsp pumpkin pie spice
1 tsp baking soda
½ cup unsalted butter, at room temperature
1½ cups sugar
2 large eggs
¾ cup persimmon pulp (the insides of 1 to 2 seeded persimmons)
½ cup orange juice
Persimmon Frosting
¾ cup sugar
½ tsp ground ginger
2 large eggs
1½ cups persimmon pulp (the inside of 2 to 3 seeded persimmons)
12 oz evaporated milk
| Preparation - Cupcakes | Preheat oven to 350ºF. In a medium-sized bowl, whisk together flour, pumpkin pie spice and baking soda. In a large bowl, cream butter and sugar, then mix in eggs, persimmon pulp and orange juice until thoroughly combined. Slowly add the flour mixture and mix until fully incorporated. Fill cupcake liners ¾ full with batter. Bake for 30 minutes or until a toothpick can be inserted and removed clean.
| Preparation - Frosting | Place all ingredients in a medium-sized saucepan over medium heat. Stir continuously until the mixture comes to a boil. Allow to boil for approximately 1 minute. Remove from heat and allow mixture to come to room temperature. Refrigerate for at least 3 hours.
| To Serve | Pipe frosting onto cooled cupcakes using a pastry bag with a star tip.
---
Stop by Straub's to pick up more exclusive recipes featuring persimmon. Visit straubs.com for information on their four locations.