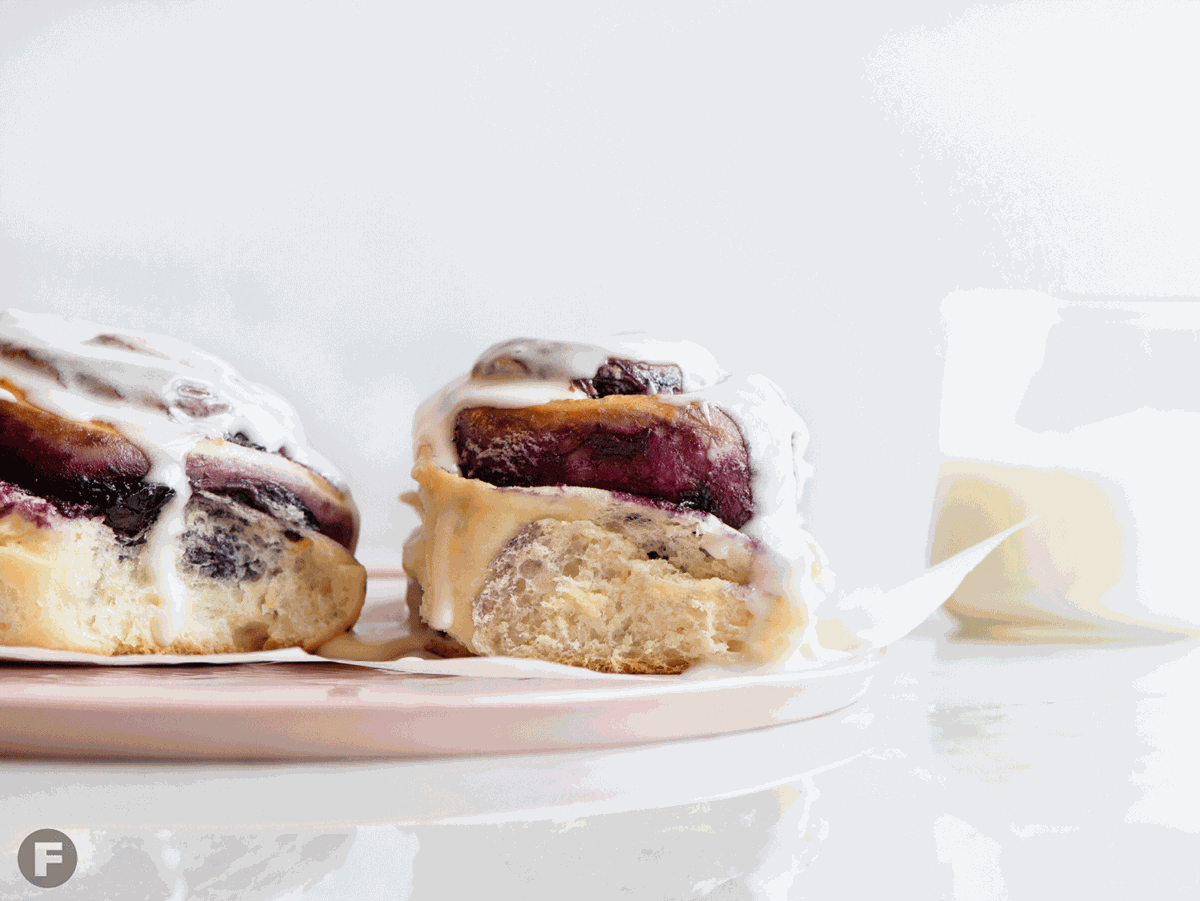 Blueberry-lovers, try to resist these fruit-packed summertime buns. A light and fluffy dough encases a fresh blueberry filling layered with sweetened cream cheese – all finished with a pool of tart lemon glaze. Is your mouth watering yet?
Blueberries & Cream Lemon Buns
Yields | 8 large buns |
Dough
1 cup buttermilk
2¼ tsp active dry yeast
3½ cups all-purpose flour
½ cup sugar
1 tsp kosher salt
2 tsp finely grated fresh lemon zest
1 large egg, room temperature
1 large egg yolk, room temperature
4 Tbsp unsalted butter, cut into tablespoon-sized pieces, room temperature
Blueberries & Cream Filling
4 oz cream cheese, room temperature
3 Tbsp unsalted butter, room temperature
2 Tbsp sugar, divided
⅛ tsp kosher salt
1 cup fresh blueberries
1 tsp fresh lemon juice
½ Tbsp cornstarch
½ Tbsp cold water
Lemon Glaze
2 cups powdered sugar
2 Tbsp fresh lemon juice
⅛ tsp kosher salt
⅓ cup heavy cream
| Preparation – Dough | In a small heatproof bowl, heat buttermilk in microwave until warm to the touch (not hot, approximately 110ºF), approximately 30 seconds. Sprinkle yeast over warm buttermilk; gently stir to combine. Let rest, 5 minutes, to activate yeast. 
In the bowl of a stand mixer fitted with the dough hook, combine flour, sugar, salt and lemon zest; add buttermilk-yeast mixture, egg, egg yolk and soft butter. On low, mix until dough has formed, 1 to 2 minutes. Increase speed to medium and continue to mix, 6 minutes. The final dough will be very soft, sticking to the bottom of the bowl, and will feel tacky to the touch. Scrape dough into a large bowl; cover bowl tightly. Set in a warm spot to rise, 2 hours or until dough has doubled in size.
Meanwhile, prepare filling and glaze (recipes follow).
| Preparation – Blueberries & Cream Filling | In the bowl of a stand mixer fitted with the paddle attachment, beat cream cheese, butter, 1 tablespoon sugar and salt until smooth, approximately 2 minutes. Stop and scrape bowl as needed. Transfer mixture to a clean bowl and set aside.
In a medium saucepan, combine blueberries, remaining sugar and lemon juice. Set over medium heat; stirring often, cook until blueberries have softened, 2 to 3 minutes. As blueberries begin to soften, lightly smash them to help them break down into smaller pieces and release their juices.
Meanwhile, add cornstarch and cold water to a bowl; stir to combine. Remove saucepan from heat; whisk in cornstarch mixture. Place saucepan over medium-high heat again and bring mixture to a boil; stirring constantly, cook until mixture has thickened, approximately 1 more minute. Pour blueberry mixture into a large, shallow, heatproof container and set aside to cool completely.
| Preparation – Lemon Glaze | In a bowl, whisk together all ingredients until smooth.
| Assembly | Line a 9-by-13-inch baking pan with aluminum foil and lightly spray with nonstick cooking oil.
Transfer dough to a well-floured work surface. Using a floured rolling pin, roll out into a 14-by-16-inch rectangle. (If dough sticks at any point, use a bench scraper to gently lift it and dust your work surface with more flour.) Using an offset spatula, spread cream cheese mixture evenly over the entire surface of the dough; top with blueberry mixture and spread evenly over the entire surface again. Starting at the short end, slowly roll dough into a tight, thick log (the dough and filling are soft, so take your time and adjust the thickness of the log as needed). Using a large knife, trim off tapered ends of dough log. Flour the blade of the knife and then cut dough log into eight equal pieces (cut log in half, then cut each half in half and so on). Carefully place pieces, cut side up, in prepared baking pan in two rows of four evenly spaced pieces. Cover pan and allow buns to rise in a warm spot, 45 minutes. 
Preheat oven to 375ºF. Bake buns until their tops are deeply golden brown, 28 to 30 minutes. Remove from oven and set on a wire rack to cool, 20 minutes. Pour lemon glaze over warm buns.
NOTE: These buns are best enjoyed the day they're made, but they can be stored in an airtight container at room temperature for up to two days.