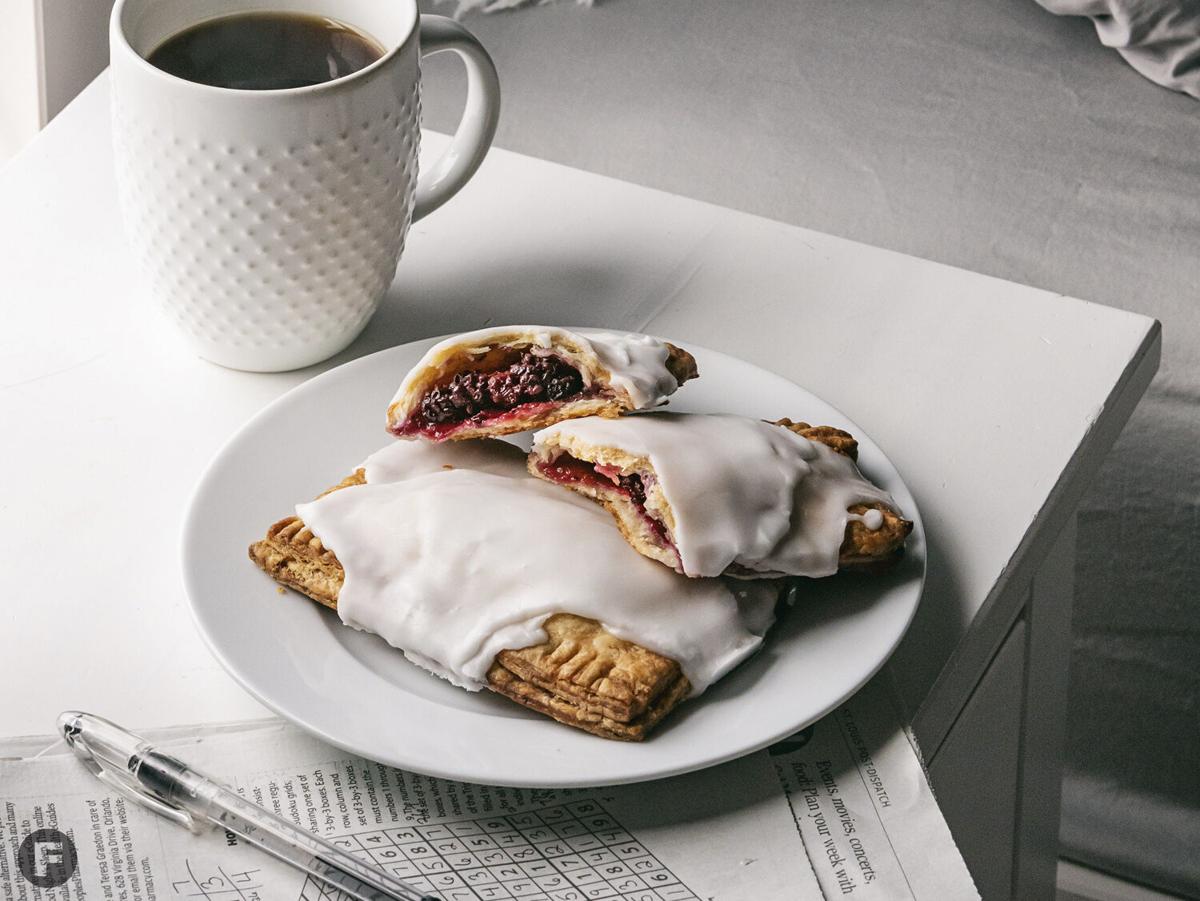 Besides raising animals for meat free from antibiotics, artificial growth hormones and GMOs, Bechard Family Farm in Conway, Missouri, makes stellar jam. Owners Armand and Teddi Bechard handcraft all 10 flavors – from blackberry to raspberry-rhubarb to strawberry – and sell them under their Ozark Jam Kitchen label. I particularly like the gooseberry jam, which highlights the tart vivaciousness of the fruit and works wonderfully in these berry pop tarts. bechardfarm.com
Berry Pop Tarts
Yields | 8 pop tarts |
Dough (adapted from King Arthur Flour recipe)
1½ cups all-purpose flour
½ cup bread flour
1 Tbsp sugar
1 tsp salt
1 cup (2 sticks) butter
2 eggs, divided
2 Tbsp sour cream
Filling
1½ cups blackberries
1½ cups Ozark Jam Kitchen gooseberry jam
1½ Tbsp cornstarch
¼ tsp black pepper
Icing
2 cups powdered sugar
¼ cup water
| Preparation – Dough | In a bowl, combine flours, sugar and salt; grate in butter. Using your hands (or a stand mixer fitted with the paddle attachment), mix until pea-sized pieces of butter form in flour. In a separate bowl, whisk together 1 egg and sour cream; add to flour mixture and mix until dough comes together. Evenly divide dough into two pieces; wrap each piece in plastic wrap and chill, 20 minutes.
Meanwhile, make filling and icing (recipes follow).
Preheat oven to 375ºF and line a baking sheet with parchment paper. Once dough has chilled, remove plastic wrap from one piece and place on floured work surface. Roll out dough until approximately ⅛ inch thick; cut out eight 3-by-5-inch rectangles and set aside. Repeat process with second piece of dough.
Whisk remaining egg with a little water to make an egg wash. Lay 8 dough rectangles on clean work surface; brush with egg wash and then add a heaping tablespoon of filling. Top with remaining dough rectangles; seal edges with fork. Carefully transfer pop tarts to prepared baking sheet; bake, 15 minutes, flipping halfway through. Remove from oven and transfer to wire rack to cool, 15 to 20 minutes. Spread icing on top and enjoy.
| Preparation – Filling | In a medium bowl, mix all ingredients until well combined. Set aside.
| Preparation – Icing | In a small bowl, add powdered sugar; mix in water. Continue mixing until a thick glaze forms and then set aside.