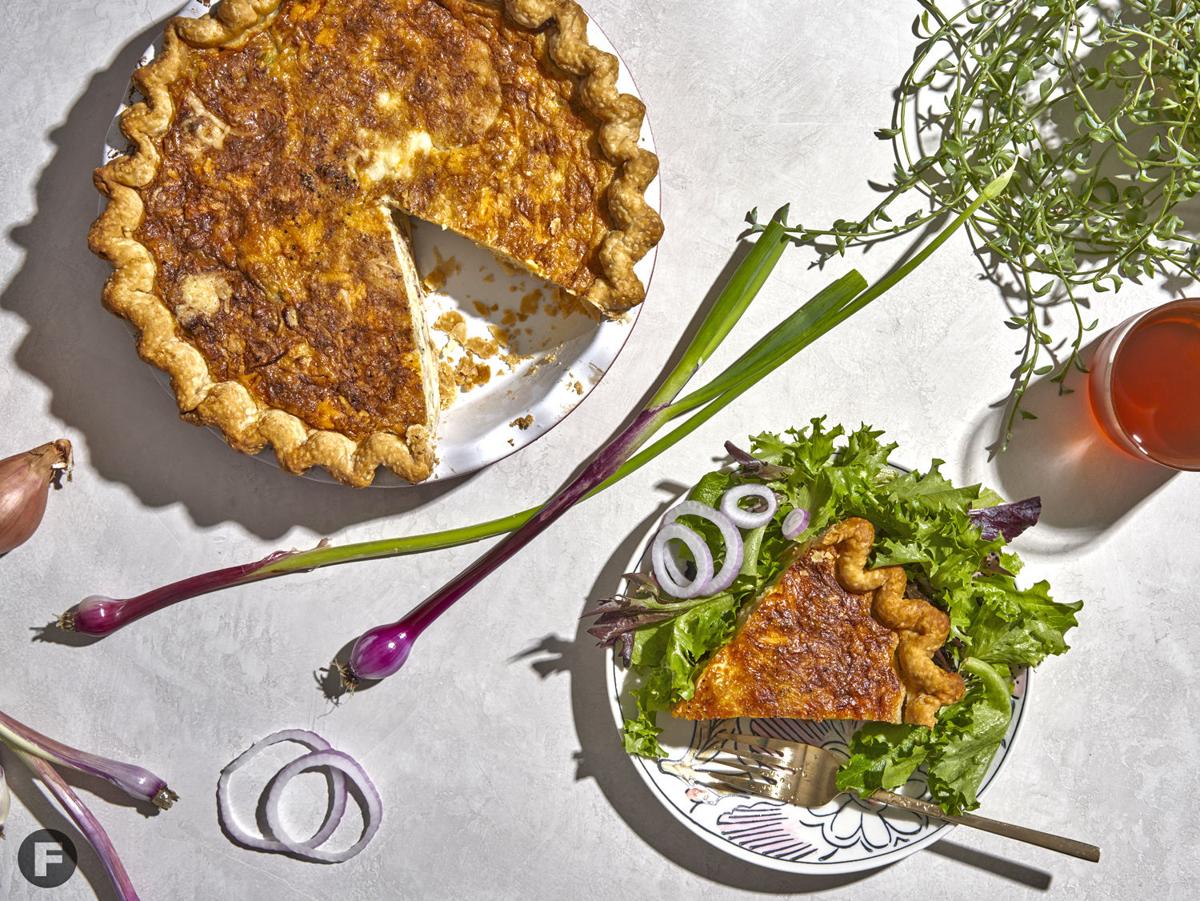 Inspired by Ruth Reichl's grilled cheese sandwich, this quiche is so flavorful, you'll want a second – or third – slice. Not just for cheese-lovers, the recipe also calls for myriad alliums, from leeks and shallots to red onion and scallions, which are still farm-fresh this time of year.
Cheesy Allium Quiche
Serves | 4 to 6 |
1 store-bought pastry crust
3 Tbsp softened butter, divided
1 small red onion, thinly sliced
4 leeks, white parts only, thoroughly washed and thinly sliced
¾ tsp kosher salt, divided
4 medium shallots, peeled and thinly sliced
6 scallions, white and light green parts only, thinly sliced
4 cloves garlic, minced
½ lb sharp white Cheddar, sliced
12 slices bacon, fried crisp and crumbled
1 cup grated extra-sharp Cheddar, divided
1 cup grated Gruyère, divided
6 eggs
1 tsp Dijon mustard
1½ cups cream
½ tsp freshly ground black pepper, divided
| Preparation | Preheat oven to 350°F. Fill a tart pan or pie plate with 2-inch sides with crust. Dock crust by pricking it with a fork; fold over the top with a high crimp to help hold in filling. Brush 1 tablespoon butter over entire crust. Set in refrigerator while you make the filling.
In a large skillet over medium heat, add remaining butter. When it starts to bubble, add onion, leeks and a pinch of salt; cook, approximately 2 minutes, stirring to break up leeks. Add shallots and another pinch of salt; cook, 2 to 3 minutes, stirring occasionally. Add scallions and garlic; cook, 1 to 2 minutes, stirring occasionally. Remove from heat and allow to cool.
Remove crust from refrigerator. Fill with white Cheddar slices and then bacon and half the grated cheeses. Add sautéed alliums; top with remaining cheese.
In a bowl, whisk eggs, mustard and cream with remaining salt and pepper. Place tart pan on a rimmed baking sheet. Carefully pour egg mixture over contents of crust. Gently slide baking sheet into oven; bake, 1 hour, turning after 30 minutes. The quiche is done when a knife inserted in the center comes out clean. Remove from oven and set tart pan on wire rack to cool, 20 minutes. Serve with greens.
GET HANDS-ON! Join Schnucks Cooking School director Gay DeMichele on Zoom at 6pm on Wed., July 22 to learn how to make the dishes on this month's menu. For more information on everything you'll need for the virtual class – from cookware to ingredients – contact the cooking school directly.
LEARN MORE: In this class, you'll learn how to use a mandoline to slice alliums super thin – and why that's so important for this recipe. Also, try different cheeses and taste how they come together to turn this quiche into a luscious dinner entrée.
MAKE THE MEAL:
Spring Greens Salad
Cheesy Allium Quiche
Marinated Tomato Salad
Candied Bacon
Pineapple Upside-Down Cake