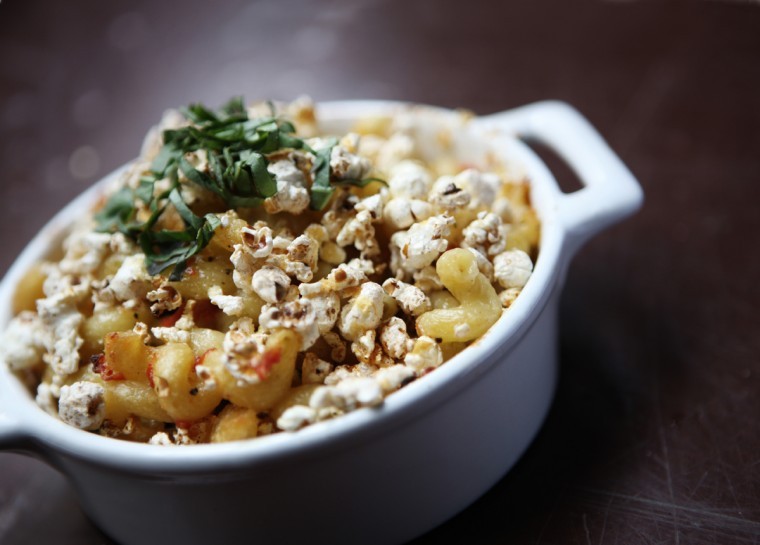 Recipe by Robin Murphy, Bridge Tap House and Wine Bar
Serves | 6 |
2 cups cavatappi pasta or elbow macaroni, cooked
1 medium red onion, diced
1 Tbsp minced garlic
2 Tbsp olive oil
1 medium tomato, diced
4 oz deli ham, minced
2 cups Cheddar cheese, shredded
3 cups small curd cottage cheese
1 cup sour cream
½ cup milk
1 tsp dry mustard
½ tsp kosher salt
¼ tsp freshly ground black pepper
¼ tsp cayenne pepper
4 cups popped popcorn
1/3 cup butter, melted
¼ tsp kosher salt
¼ tsp white pepper
chiffonade of basil for garnish
| Preparation | Preheat oven to 350°F. Sauté onion and garlic in olive oil over medium heat until translucent. Set aside in a large bowl. Use the same pan to sauté diced tomato and cook until much of the moisture has been removed. Add the ham and cook until a hint of color is added. Remove from the heat and set aside with the onions and garlic.
In a large bowl combine cheeses, sour cream, milk, dry mustard, salt, pepper and cayenne. Add cooked onion mixture and stir well. Pour the drained, hot macaroni into the cheese-onion mixture and stir until well blended. Transfer to a 9x13-inch baking dish.
Put the popcorn in a large bowl and crush it slightly with the back of a spoon or tenderizer. You can also pulse it lightly in a food processor. Drizzle melted butter over the popcorn, add salt and white pepper; toss to coat.
Sprinkle popcorn topping over the pasta mixture and bake 30 to 35 minutes, or until the top is golden brown. Garnish with the chiffonade of basil and serve immediately.