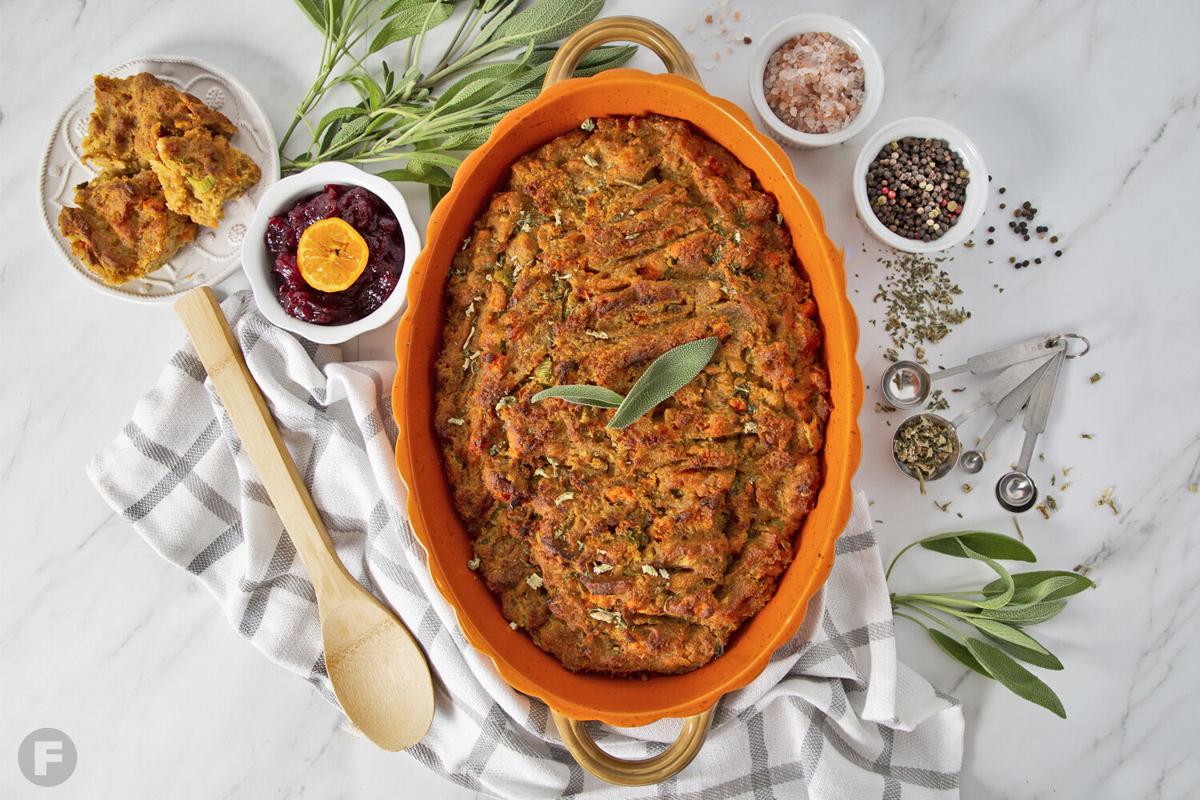 This is our mom's recipe for cornbread dressing, which goes all the way back to our grandmother, Mattie. It's traditionally made with meat, including turkey giblets, but we veganize it. The cornbread itself is a secret family recipe, but you can buy prepared vegan cornbread at local grocery stores, or make your own by using an egg substitute. After you've had dressing made this way, you won't want to eat it any other way.
Cornbread Dressing
Serves | 8 |
½ pan cooked vegan cornbread, crumbled into bite-size chunks
3 tsp celery flakes
1½ tsp onion powder, plus more for seasoning
1½ tsp garlic powder, plus more for seasoning
1½ tsp freshly ground black pepper, plus more for seasoning
1 tsp ground sage
¾ tsp salt, plus more for seasoning
2 sticks vegan butter, such as Earth Balance, divided
1 medium onion, diced
2 cloves garlic, minced
6 celery stalks, diced
1 14-oz can chickpeas, drained and rinsed
1 16-oz bag organic baby carrots, diced
2 cups organic vegetable broth
3 Tbsp plant-based egg substitute, such as Just Egg
| Preparation | Preheat oven to 350°F. In a medium bowl, combine cornbread crumbles, celery flakes, onion powder, garlic powder, pepper, sage and salt; set aside.
In a medium sauté pan set over medium heat, add 1½ sticks butter, onion, garlic, celery, chickpeas and carrots; season with approximately ½ teaspoon each of onion powder, garlic powder, pepper and salt. Sauté until onion is translucent, 6 to 7 minutes. Combine vegetable mixture with cornbread mixture. Add broth and egg; gently mix to combine. Using a spatula, transfer mixture to an 8-by-8-inch baking dish. Melt remaining ½ stick butter; drizzle over top of cornbread. Bake, 40 minutes. Remove from oven and allow to cool. Slice and serve.