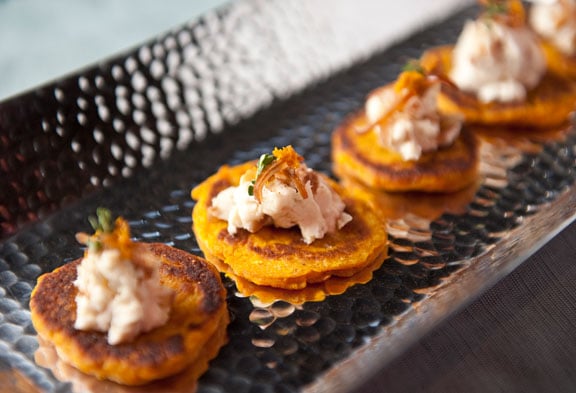 Yield | approximately 30 blinis |
Blinis
1 large sweet potato
2 tsp sea salt, divided
1 Tbsp honey
1 Tbsp fresh-squeezed lemon juice
2 Tbsp fresh rosemary, chopped fine
4 Tbsp softened butter, divided
1 cup milk
1 egg, beaten
1½ cups all-purpose flour
2 tsp baking powder
salt and freshly ground black pepper
Date Mascarpone
20 dried Medjool dates
2 Tbsp semisweet white wine
2 Tbsp honey
1 Tbsp fresh-squeezed lemon juice
1 tsp lemon zest
½ tsp freshly ground nutmeg
1 tsp fresh rosemary, finely chopped
½ tsp kosher salt
1 cup mascarpone, softened
Crispy Prosciutto
3 slices prosciutto
1 Tbsp extra-virgin olive oil
| Preparation - Blinis | Wash, peel and cube the sweet potato. Place cubed potato in saucepan and cover with cold water and 1 tsp salt. Boil potato cubes until tender. Drain and put them in a food processor or mixer. Add honey, lemon juice, rosemary and 2 Tbsp butter. Purée until smooth. Slowly add the milk. While mixing, add the egg.
In another bowl, combine flour, baking powder and remaining 1 tsp salt. Add sweet potato mixture to flour mixture. Stir just until combined.
In a large sauté pan, melt remaining 2 Tbsp butter over medium-high heat. Add sweet potato batter with a measuring spoon, 1 Tbsp for each blini. Spread the batter with the bottom of the spoon to make a thin, small pancake shape. Cook until golden brown on both sides. Remove to a cooling rack and sprinkle with salt and pepper.
| Preparation - Date Mascarpone | Put dates, wine, honey, lemon juice, lemon zest, nutmeg, rosemary and salt in a food processor. Purée until mixture becomes a thick paste. Place mixture in mixing bowl. Fold in mascarpone and blend well.
| Preparation - Crispy Prosciutto | Lay the slices of prosciutto on top of each other. Roll tightly, lengthwise. Slice prosciutto very thinly into strips. Put olive oil in medium-hot sauté pan. Add several strips of the prosciutto at a time to hot skillet. Cook until crispy. Drain on paper towels.
| To Assemble | Place blinis on a platter or plate that can fit in the refrigerator. Remove the platter about 30 minutes before your guests arrive. Top each blini with a dollop of the date mascarpone and garnish with strips of prosciutto.