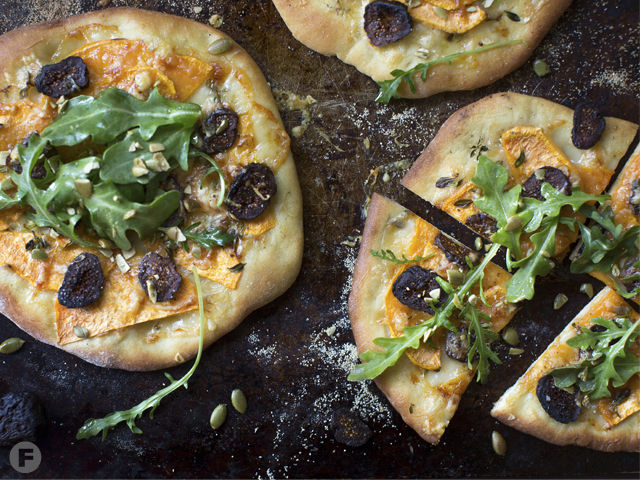 These little pizzas scream pumpkin in all the right ways: Roasted sugar pumpkins grace the top, pumpkin seeds add satisfying crunch and pumpkin-seed oil brings a smoky hit to each bite.
Serves | 6 |
Pizzetta Dough
2 tsp olive oil, divided
1 cup semolina flour
1 to 1¼ cup bread flour, plus more for work surface
1 Tbsp dry yeast
1¼ tsp kosher salt
½ tsp granulated sugar
1 cup lukewarm water
Pumpkin-Seed Oil Vinaigrette 
2 Tbsp balsamic vinegar
1 Tbsp plus 1 tsp pumpkin-seed oil
1 Tbsp maple syrup
juice of ½ a lemon
2 Tbsp olive oil
¾ tsp kosher salt
½ tsp freshly ground black pepper
Pizzettas
fresh pizza dough (recipe below)
2 Tbsp cornmeal, for dusting pans
2 cups shredded mozzarella cheese, divided
1 medium sugar pumpkin, peeled, seeds removed, thinly sliced
12 dried Mission figs, sliced tip to tip into thin rings
¾ cup shredded Parmesan cheese, divided
1 Tbsp fresh thyme leaves 1½ tsp olive oil
sea salt and freshly ground black pepper, to taste
3 cups baby arugula
²⁄₃ cup roughly chopped roasted pumpkin seeds
| Preparation – Pizzetta Dough | Oil a large mixing bowl with 1 tsp olive oil and set aside. In the bowl of a stand mixer fitted with the dough hook attachment, add semolina, 1 cup bread flour, yeast, salt, sugar and remaining oil. Add lukewarm water and stir on medium until dough begins to form. Add remaining bread flour, a little at a time, until dough forms a soft ball and pulls away from bowl; knead with dough hook on medium for another 5 minutes until dough is smooth. Remove dough and place in oiled bowl; roll to coat all over, then cover tightly with plastic wrap and proof for 1½ hours at room temperature. 
| Preparation – Pumpkin-Seed Oil Vinaigrette | In a small bowl, add first four ingredients; whisk to blend. Stream in olive oil as you whisk until mixture has emulsified; whisk in salt and pepper. Set aside.
| Preparation – Pizzettas | Preheat oven to 500°F and position racks near the middle. Lightly flour a work surface for dough. Cut dough into 6 equal pieces, shape into balls and stretch each into a 7-inch round. Dust 2 sheet pans with cornmeal. Spread ¹⁄₃ cup mozzarella on each, leaving a border. Lay a few pumpkin slices on each; divide figs over top and sprinkle each with 2 tablespoons Parmesan. Scatter thyme on top, drizzle with olive oil and season with salt and pepper. Bake for 10 to 11 minutes, until crust is nicely browned and cheese is bubbling.
| To Serve | In a large bowl, toss arugula with enough vinaigrette to coat leaves. Divide onto cooked pizzettas and top with pumpkin seeds. Serve.