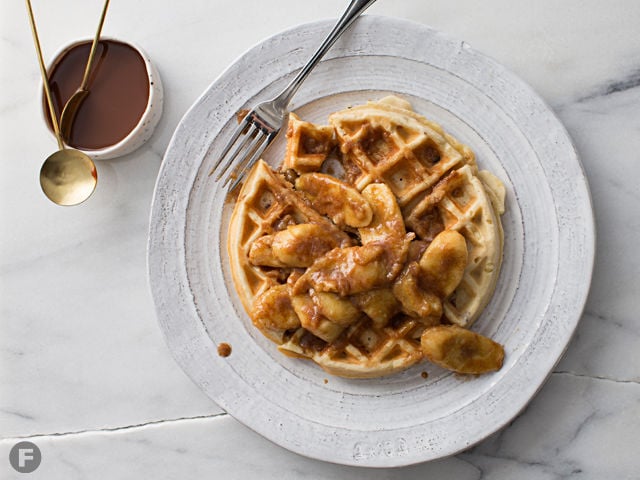 Cajeta should be Spanish for "caramel, but better." Even surrounded by all that sweetness, the distinct twang of goat's milk is undeniable. That balance is what makes cajeta addictive, and it keeps these decadent waffles from entering dessert territory.
Banana-Bacon Waffles with Sautéed Bananas and Cajeta-Maple Syrup
Serves | 6 to 8 |
Banana-Bacon Waffles
3½ cups cake flour, sifted
1 Tbsp baking powder
1 tsp kosher salt
10 Tbsp room-temperature unsalted butter
¼ cup granulated sugar
2 medium very ripe bananas, mashed
2 large eggs, separated
1½ cups buttermilk, chilled
12 oz thick-cut bacon, crisped, cooled and finely chopped, divided
pinch kosher salt
Sautéed Bananas and Cajeta-Maple Syrup
6 medium-large bananas, firm and slightly under ripe
4 Tbsp (½ stick) unsalted butter
2 Tbsp granulated sugar
1 Tbsp plus 1 tsp plus ¹⁄₃ cup salted goat's milk caramel sauce, divided
1½ tsp ground cinnamon
²⁄₃ cup pure maple syrup
| Preparation – Banana-Bacon Waffles | In a large bowl, whisk together cake flour, baking powder and salt; set aside.
Add butter and sugar to the bowl of a stand mixer and beat on high until fluffy, 4 minutes. Scrape down sides of bowl, add mashed banana and egg yolks and beat on high to incorporate, 1 minute. Scrape sides of bowl again, add flour mixture, and stir on low as you stream in buttermilk. Continue to stir until just combined, scraping sides and bottom of bowl as needed, 30 to 45 seconds. Remove bowl from mixer. Fold in all but ¼ cup bacon.
In a medium mixing bowl, use a hand-held mixer to beat egg whites with salt until stiff peaks form. Carefully fold into batter until fully incorporated and no streaks remain.
Heat waffle iron; preheat oven to 200°F. Scoop out batter evenly and cook until golden and crisp, then transfer to oven rack to keep warm. Repeat with remaining batter.
| Preparation – Sautéed Bananas and Cajeta-Maple Syrup | Slice bananas on a deep diagonal, ½-inch thick, and set aside.
Heat a large skillet over medium-high heat and add butter, sugar, 1 tablespoon and 1 teaspoon caramel sauce and cinnamon; whisk to incorporate. When butter has just melted, add banana slices and toss to coat. Heat until warmed through and slightly caramelized, with bananas still holding their shape, 3 to 4 minutes.
In a small saucepan over medium heat, add maple syrup and remaining caramel sauce and whisk to combine. Heat until very warm but not bubbling. Transfer to a syrup pitcher.
Remove waffles from oven and divide onto plates. Spoon sautéed bananas over top and drizzle with syrup. Serve.