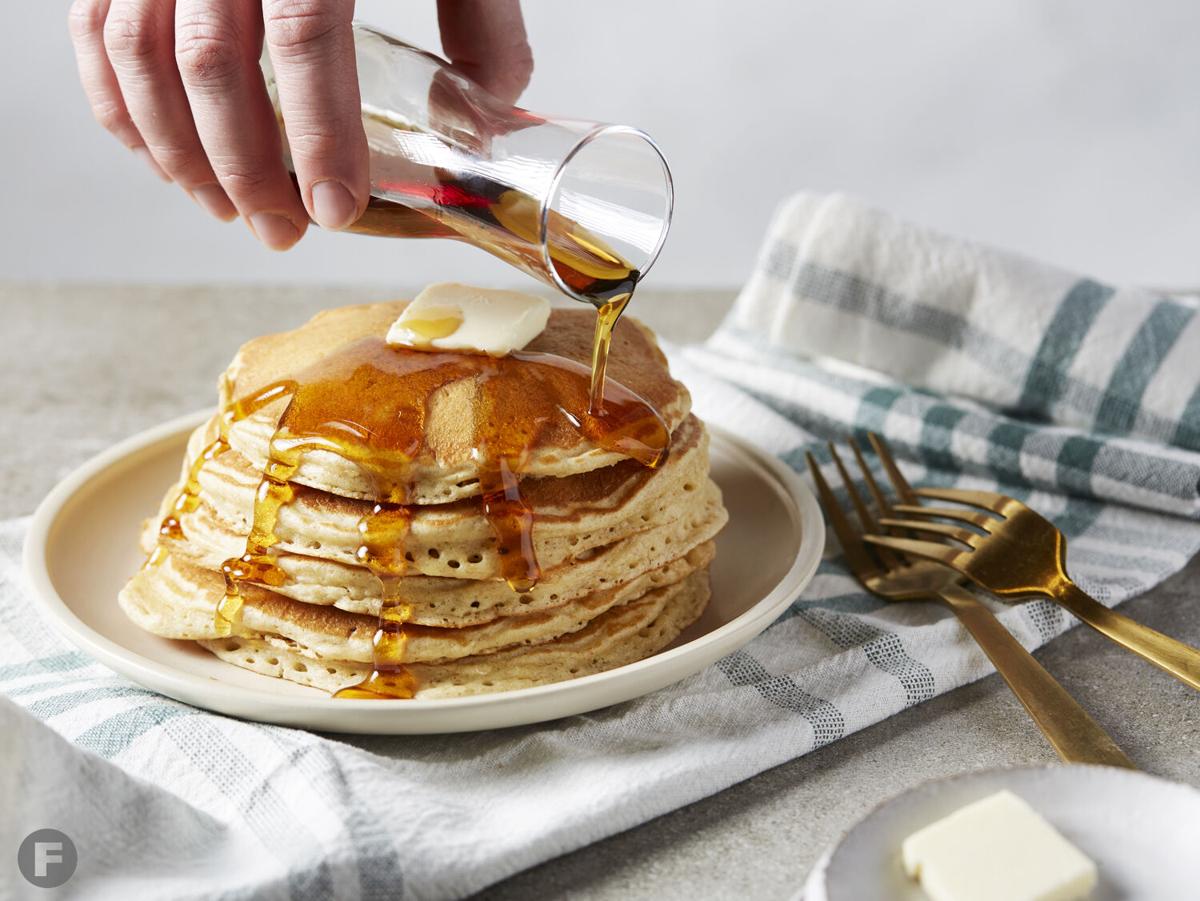 For these super-easy sourdough pancakes, I've adapted an original recipe by one of my favorite bakers, Maurizio Leo. This recipe calls for sourdough starter, which can be subbed out for buttermilk if you don't have a sourdough starter on hand.
Ancient Grain Sourdough Pancakes
Recipe courtesy of Clif Brown, Neighbor's Mill Bakery & Café
Yields | 15 to 20 pancakes |
1 cup whole milk (or plant-based alternative)
2 large eggs
¼ cup Greek yogurt
1½ cups sourdough starter or buttermilk
1 tsp vanilla extract
1½ cups whole-grain flour (such as whole wheat, spelt, buckwheat or einkorn)
1 tsp baking soda
1 tsp baking powder
1 tsp salt
1½ tsp aromatic spice (such as ground cinnamon, nutmeg or pumpkin pie spice)
¼ cup granulated sugar
¼ cup (½ stick) butter, melted
| Preparation | In a mixing bowl, whisk milk, eggs and Greek yogurt until combined. Add sourdough starter and vanilla; mix thoroughly until starter is broken up and incorporated with the other wet ingredients. In a separate bowl, mix or sift dry ingredients together; add to wet ingredients. Stir in melted butter and then allow to sit, 20 to 30 minutes, in order for the sourdough starter to begin working its magic.
Meanwhile, heat and grease a skillet or griddle. Pour batter onto griddle (depending on the size, you can use ⅛ to ¼ cup batter for each pancake). Once the surface of each pancake is completely filled with bubbles, flip. (Adjust heat and amount of batter as needed.) Serve with a warm fruit compote, maple syrup, butter or use as a "taco" shell for soft-scrambled eggs and a splash of hot sauce.