Post-taco binge, horchata is one of our favorite summertime treats. The cool, sweet drink calms down lingering heat from too much habanero hot sauce, and during Missouri's stay-at-home order, we've started making our own – the advantage is that we can utilize nut or oak milk to keep the recipe dairy-free. Here, we use macadamia milk, which adds a smooth nutty flavor to the cocktail, balancing out smoky notes from the cinnamon and mezcal.
Smoked Cinnamon Horchata
Serves | 1 |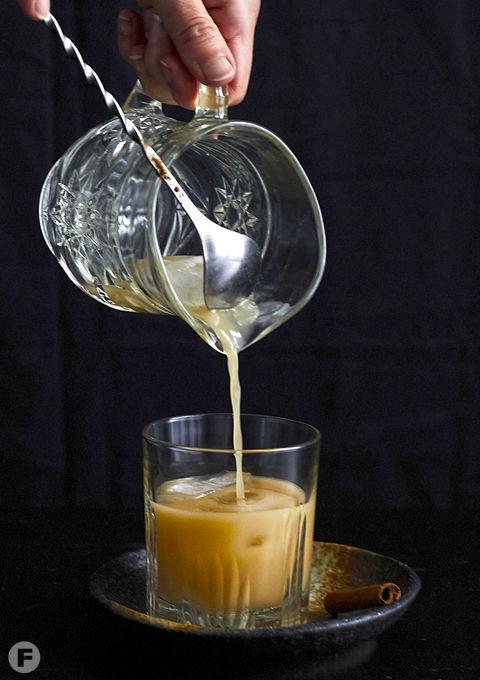 Horchata
1 cup rice
2 cups water
2 cups macadamia milk
½ Tbsp vanilla
½ Tbsp ground cinnamon
Smoked Cinnamon Horchata
2 oz mezcal 
2 oz horchata (recipe follows)
½ oz Kahlua (or other coffee liqueur)
cinnamon stick
| Preparation – Horchata | Add rice and water to a blender; blend just enough to break up rice. Let sit, a few hours or overnight.
Using a mesh strainer or cheesecloth, strain liquid; pour back into blender. Add milk, vanilla and cinnamon; blend for a few seconds for a final mix.
Note: To add earthiness or heat to the horchata, you can use other ingredients such as cocoa powder and dried chiles.
| Preparation – Smoked Cinnamon Horchata | Add all ingredients to a pitcher or shaker tin; stir to combine. Pour mixture into a rocks glass with ice. To smoke the cocktail, light cinnamon stick and burn until ¼-inch has charred; immediately, place smoking cinnamon stick and cocktail under a bowl; let sit, 1 minute. (If you're working on a wooden surface, place cinnamon stick on a plate or ramekin for safety.) Remove cocktail from underneath bowl and serve.
Note: You can use the same cinnamon stick for multiple smoked drinks, or use it as garnish for this one.