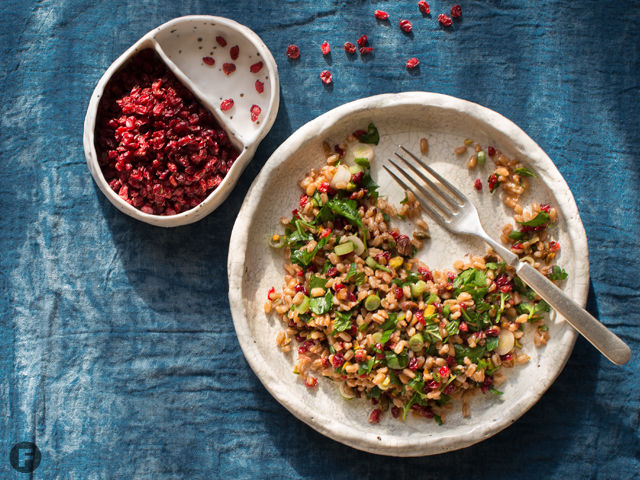 Raise the bar(berry) on your dried fruit game this winter.
Barberry-Farro Salad
Serves | 4 |
1 cup farro
3 cups unsalted chicken or vegetable stock
½ tsp kosher salt
1 tsp granulated sugar
½ cup dried barberries
zest of 1 lemon
juice of 2 lemons
½ tsp ground cumin
½ tsp chile flakes
¼ cup olive oil
sea salt and freshly ground black pepper
½ cup pistachios, dry-toasted, roughly chopped (to serve)
¹⁄₃ cup fresh mint leaves, chopped into thin ribbons (to serve)
½ cup fresh parsley leaves, roughly chopped (to serve)
4 to 5 scallions, white and light green parts only, thinly sliced into rings (to serve)
| Preparation | Rinse farro in a mesh strainer; add to large saucepan with stock and salt. Bring to a boil and cook until tender but not mushy, 25 to 30 minutes, stirring occasionally. Transfer to strainer to drain excess liquid; rinse with cold water and set aside to cool.
While farro is cooking, heat 1 cup cold water just to a boil in small saucepan. Turn off heat, stir in sugar and add barberries; set aside to plump and rehydrate, 15 minutes. Strain and set aside.
In a small 8-ounce lidded glass jar, add lemon zest and juice, ground cumin, chile flakes and olive oil; screw lid on jar and shake vigorously until emulsified. Season with salt and pepper to taste and refrigerate.
| to serve | Transfer cooked farro to a large bowl; add plumped barberries, pistachios, mint, parsley and scallions and toss to incorporate. Add half of lemon vinaigrette; toss to coat and season to taste with salt and pepper. Add more vinaigrette as needed. Divide onto plates and serve.