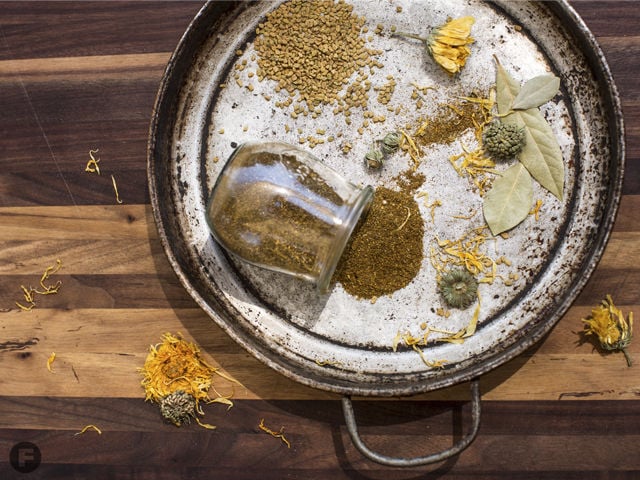 Georgian spice mixture khmeli suneli makes late-summer meals taste like sunshine.
What is It? Khmeli suneli is a traditional Georgian spice mix – a version of five-spice powder, if you will. It's popular throughout the country of Georgia and the entire Caucasus region, and exists in many variations, thanks to the litany of different dried herbs and spices used to customize each blend. Dill, coriander, bay leaf, fenugreek and mint are essential, as are dried marigold petals (also known as calendula), which taste like a hit of powdered sunshine. The finished product has the aroma and flavor of grilling on a hot summer day.
What do I do with it? The spice mixture complements any sort of meat, especially on the grill. Rub it onto lamb, beef, chicken or fish to bring an intense brightness to dishes. It's equally lovely on vegetables, including zucchini, squash and cauliflower, and a little sprinkle over hummus and olive oil perks up crudités. When the weather turns cold, do as the Georgians do and add generous amounts of khmeli suneli to stews and soups. It's an essential ingredient in kharcho, a hearty beef or lamb soup with walnuts and rice. When making the spice mixture at home, don't be tempted to add salt. Instead, season any meats or vegetables with the appropriate amount of salt during prep.