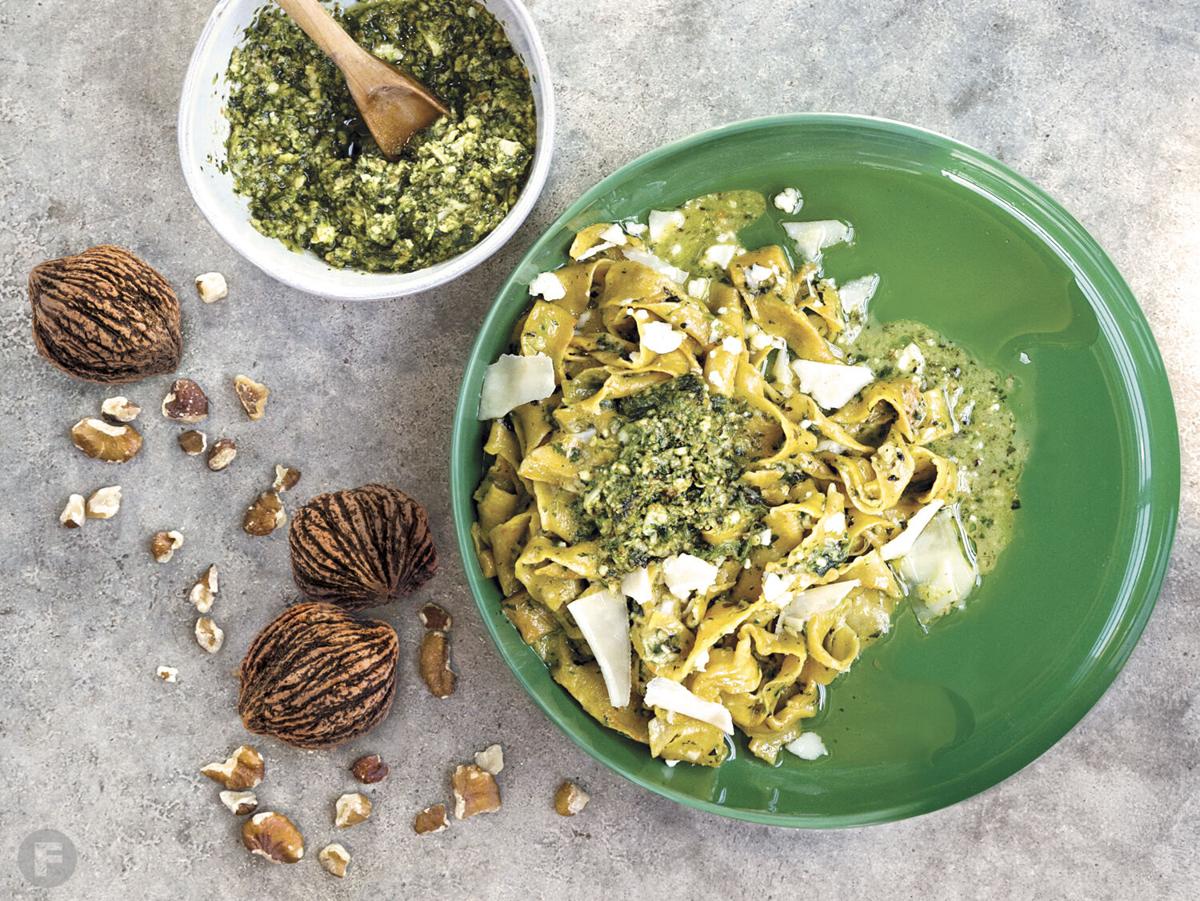 Naturally bold flavor and incredible versatility define wild black walnuts. Native to the Midwest, they're a Missouri locavore staple. Their flavor is more floral and bitter than their cousin, the English walnut, and they can be a bit trickier to crack because of their extremely hard exterior. Lucky for us, Hammons Products Co. does all the heavy lifting at its plant in Stockton, Missouri, where it shells approximately 25 million pounds of black walnuts a year.
This pesto recipe accents the earthiness of black walnuts, which is complemented by the richness of the Parmesan. And it all pairs beautifully with homemade carrot pasta.
Fresh Carrot Pasta with Black Walnut Pesto
Serves | 4 |
Carrot Pasta
2 large carrots
1 tsp olive oil
4 egg yolks
2 cups all-purpose flour, plus more for dusting
1 tsp salt, plus more to salt water
2 Tbsp shaved Parmesan, for garnish
Black Walnut Pesto (Yields approximately 3 cups)
½ cup black walnuts
10 cloves garlic, peeled
¾ cup olive oil
reserved carrot purée (recipe follows)
¾ cup shaved Parmesan
2 cups cilantro
1 cup mint
salt and freshly ground black pepper, to taste
| Preparation – Carrot Pasta | In a medium saucepan, bring 2 cups water to a boil. Add carrots and reduce heat; simmer until tender, approximately 10 minutes. Drain carrots; add to a food processor along with oil and purée. Once smooth, measure ½ cup carrot purée; set the rest aside.
In the bowl of a stand mixer, add ½ cup carrot purée, egg yolks, flour and salt. Using your hands, combine until a shaggy dough forms. Attach dough hook to mixer and mix until dough becomes smooth and elastic, 5 to 7 minutes. If dough is too sticky, add more flour as needed. Cover bowl and let dough rest, 30 minutes.
Meanwhile, make the black walnut pesto (recipe follows).
Fill a large saucepan with water and season liberally with salt; bring water to a boil. Meanwhile, divide rested dough into four equal pieces. Take one piece, covering the others; flatten slightly, flour and feed through a pasta machine, starting at the widest setting. Run dough through each setting, from 0 to 4, twice. Transfer pasta sheet to a floured work surface to dry slightly. Repeat process with remaining pieces of dough. If you don't have a pasta machine, you can roll the pieces of dough into ⅛-inch-thick sheets using a rolling pin on a floured work surface.
If your pasta machine has an attachment for linguine, feed each sheet of dough through that cutter. If not, cut each sheet of dough into ¼-inch-wide strips with a sharp knife. Separate the strips and dust with flour. Carefully slide pasta into boiling water; cook until al dente, 2 to 3 minutes. Drain pasta, reserving ½ cup pasta water. Toss pasta with ⅓ cup black walnut pesto and enough pasta water to create a creamy texture. Garnish with Parmesan and serve immediately.
| Preparation – Black Walnut Pesto | Add all ingredients to the bowl of a food processor; pulse, occasionally scraping down the sides of the bowl, until a thick pesto has formed. Check seasoning and adjust if necessary. Set aside.