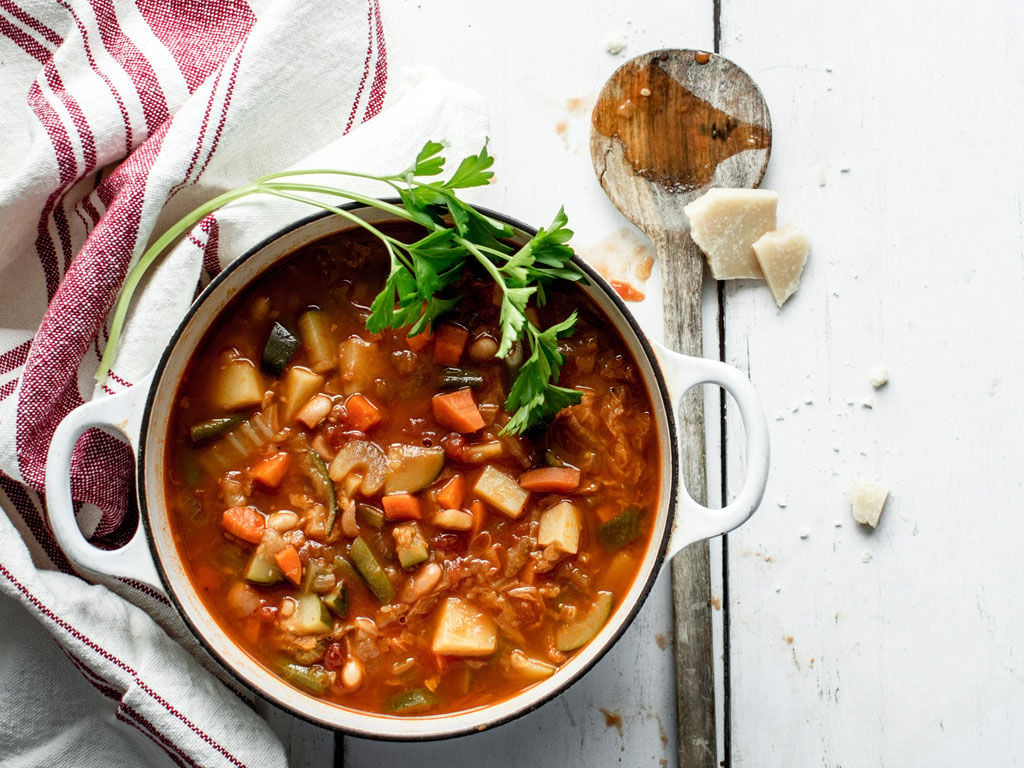 Chock-full of vegetables with deep, complex flavors, minestrone fits the bill when looking for comfort food. Minestrone is an important part of Italian food culture, so much so that it dates back to pre-Roman times and inspired the Italian word for soup, la minestra. 
There are many interpretations of minestrone, and you can add whatever ingredients you like, but the following traditional recipe was influenced by the Emilia-Romagna region of northern Italy, filled with carrots, potatoes, green beans, zucchini and savoy cabbage.
Minestrone
Serves| 6 to 8 |
2 Tbsp grapeseed oil
2 Tbsp butter
2 medium onions, diced
4 medium carrots, diced
3 celery ribs, diced
1 tsp sea salt, divided
3 medium potatoes, unpeeled and diced
¾ lb green beans, trimmed and sliced into 2-inch cuts
2 medium zucchini, washed, quartered and sliced into ½-inch dice
3 cups cored and thinly sliced savoy cabbage
6 cups unsalted beef stock
1 28-oz can San Marzano whole peeled tomatoes and juice
½ tsp freshly ground black pepper
2 pieces Parmigiano-Reggiano cheese rind
1 15½-oz can cannellini beans, drained and rinsed
2 tsp finely chopped fresh parsley
1½ cups grated Parmigiano-Reggiano cheese, divided
| Preparation | In a large heavy-bottomed pot over medium heat, add oil and butter. When heated to temperature, add onion, carrots, celery ribs and a pinch of salt. Cook for 4 to 5 minutes, stirring occasionally, then add potatoes and another pinch of salt. Cook another 2 to 3 minutes before adding green beans, zucchini and another pinch of salt; cook 2 to 3 minutes. Add cabbage and more salt; cook 2 to 3 minutes, stirring carefully to not break vegetables. Add stock, tomatoes and juice, breaking up tomatoes with a wooden spoon. Cover pot and cook for 10 minutes until pot comes to a boil. Remove lid, add pepper and cheese rinds. Reduce heat to simmer, cover and cook for 2½ hours, stirring occasionally. 
Remove lid, add rinsed beans and cook for 15 minutes. Add parsley and 1 cup grated cheese. Heat for 10 minutes. Remove rinds from soup and adjust seasoning to taste.
| To Serve | Ladle minestrone into serving bowls, garnish with remaining grated cheese and serve hot with crusty bread.
CHEF'S TIPS
SHAKE IT UP. Adding a pinch of salt with the addition of each vegetable, and then letting it cook for several minutes, will allow the flavor of the vegetables to shine and develop more complex nuances in the soup.
CHEESE, PLEASE. Buying Parmigiano-Reggiano in large pieces and grating it as you need it will not only increase the shelf life of your cheese, but also the rinds can be used to flavor and thicken soups. Not making soup for a while? Cut off the rind, seal it tightly in plastic wrap and freeze for future use.
TAKING STOCK. Adding beef and veal stock to your minestrone will build the soup's flavor. If the liquid in the pot starts to cook away, add more unsalted stock (if you're using stock with salt, add water instead). Minestrone should never be watery.
GET HANDS-ON!
Join Feast Magazine and Schnucks Cooks Cooking School on Wed., Jan. 20, at 6pm at the Des Peres, Missouri, location, to make the dishes in this month's menu. Tickets are just $40 for a night of cooking, dining and wine. RSVP at schnuckscooks.com or call 314.909.1704.
MAKE THE MEAL
Mixed Greens and Roasted Red Pepper Salad
Minestrone
Black Forest Ham and Italian Fontina Flatbread
Housemade Vanilla Ice Cream Topped with Espresso
LEARN MORE
In this class you'll learn how to thicken soups with cheese rinds and properly chop vegetables so they cook evenly. You'll also learn how to make fresh affogato, a coffee-based Italian dessert, at home.