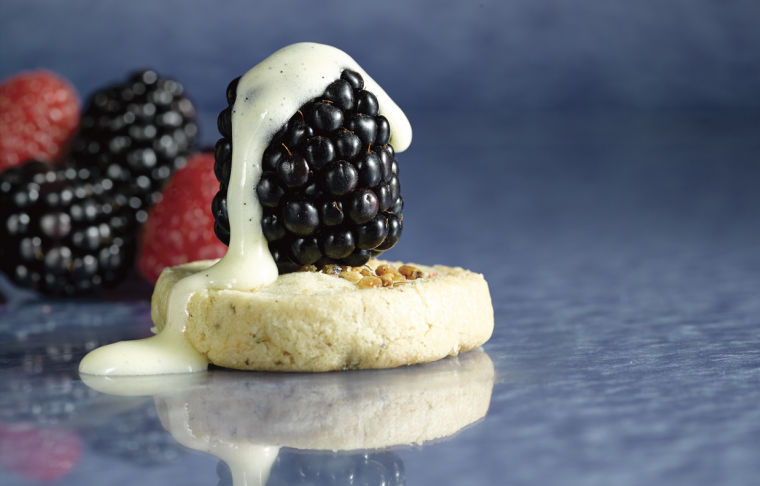 The world of haute cuisine owes an enormous debt to Catherine de' Medici, or so the legend goes. The Queen of France in the 1550s was an Italian noblewoman with a generous Florentine father. He sent her to the French court at the age of 14 with chefs, gardeners and vintners. Their influence dramatically changed French cooking, which means the backbone of all good pastry technique may be truly Italian.
One of the best examples of this is found in the dessert sauce sabayon – known in Italy as zabaglione. It is rich, decadent and boozy. Dessert wine or sparking wine will shine in this recipe; I once even used reposado tequila and added melted chocolate at the end to create a Mexican chocolate mousse. Italians start with Marsala, but in the spirit of our local wine issue, we opted for Missouri-based Montelle Winery's 2012 Vidal Icewine.
Traditionally, sabayon is prepared immediately before eating and served warm over berries or other fresh fruit. However it also makes a wonderful semifreddo by simply freezing the custard, which results in a frozen mousse the texture of ice cream. The finished sabayon might also be combined with Mascarpone cheese to make tiramisu.
Sabayon is a fluffy custard made by whipping eggs, sugar and wine over a water bath. You will need a saucepot of simmering water with a medium-sized metal or glass bowl to set on top, without the bottom touching the water, to create the water bath, or bain-marie. While the eggs are gently cooked, the final temperature is only in the range of 140°F to 145°F, making this dessert safest for those with a hardy immune system.
Amaretti or biscotti are classic accompaniments, but I have included an easy recipe for brown sugar-pistachio shortbread that can be rolled and cut like a sugar cookie or sliced from a log that you store in the freezer. Frozen dough keeps for 3 months. The richness of this dessert pairs well with strong coffee or espresso.
Missouri Icewine Sabayon with Pistachio Shortbread
If you're not a fan of pistachios, substitute with an equal portion of another nut or with chocolate chips. Vanilla bean can be substituted with 1½ tsp vanilla extract.
Serves | 4 to 6 |
Pistachio Shortbread
4 oz unsalted butter, room temperature
¼ cup brown sugar
1/3 cup granulated sugar
¼ tsp kosher salt
½ lemon, zested (optional)
1 egg yolk
½ tsp vanilla extract
1¼ cup unbleached all-purpose flour
¼ tsp baking soda
1 cup pistachios, lightly toasted, coarsely chopped
Sabayon
water for water bath
¾ cup heavy cream
5 egg yolks
1 whole egg
pinch kosher salt
1 cup granulated sugar
1 vanilla bean, split, scraped
½ cup Missouri icewine
fresh berries for serving
| Preparation – Pistachio Shortbread | Preheat oven to 350°F.
Using a stand mixer fitted with a paddle attachment, cream butter, sugars, salt and lemon zest until light and fluffy. Beat in egg yolk and vanilla, followed by flour and baking soda until well mixed. Add nuts at the end and mix until just combined. Roll finished dough into a log approximately 1½-inches wide and 12-inches long, wrap in parchment and freeze for several hours.
To finish shortbread, slice rounds ¼-inch thick and bake for 6 to 8 minutes until lightly golden.
| Preparation – Sabayon | Preheat water bath by filling a saucepot with 2 inches of water, placing it on the stove top burner set to high, covered with a lid.
In a separate bowl, whip cream to medium peaks. Set aside in the refrigerator.
In the bowl for the water bath, whisk egg yolks, egg, salt, sugar and vanilla until combined, then add wine. Place bowl on top of the pot of simmering water and turn heat down to medium. Whisk constantly until custard is thick, light and airy – 12 to 15 minutes – taking care to scrape the bottom and edges to prevent over-coagulated egg. It will be the consistency of warm pudding when finished. Remove from heat and fold in whipped cream.
| To Serve | Place fresh berries in a small glass or dish and spoon sabayon on top. Serve with shortbread on the side or crumbled on top.
---
FEAST TV DEMO!
Producer Cat Neville takes you step-by-step through the recipe in the May 2014 episode.