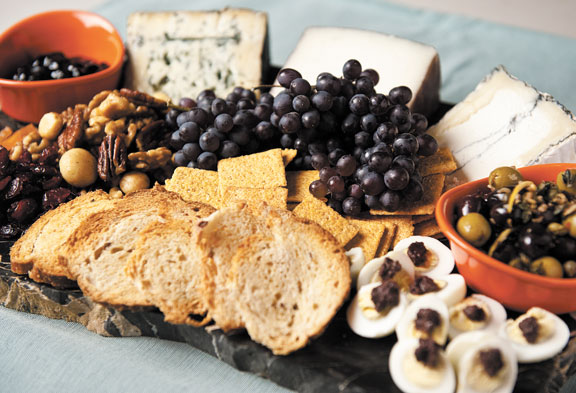 Choose three to five cheeses for your platter. For the most interesting selection, offer a range of flavors, milks and textures. My favorite combination is Humboldt Fog (a soft goat's milk cheese), Valdeón (a semisoft blue cheese made from cow's and goat's milk and wrapped in sycamore leaves) and Manchego (a semihard cheese made from sheep's milk).
Cut each cheese into a wedge of desired weight, depending on amount of guests served. A general rule of thumb is 3 ounces of cheese (total) per person. Arrange wedges on a platter, with a small knife for each type of cheese and good-quality crackers or bread. Dried cranberries are great with Humboldt Fog. The Valdeón is exceptional with honey and honeycomb. Serve the Manchego with toasted salted almonds and marinated olives. Freshly made fig compote is a sweet foil to any of these cheeses.
Toasted Salted Almonds
1 Tbsp butter
2 Tbsp olive oil
2 cups whole blanched almonds
¼ tsp cayenne pepper
2 Tbsp sea salt or kosher salt
| Preparation | Melt the butter and olive oil in a large sauté pan. Add almonds and toast in the skillet for about 5 minutes or until golden brown. Toss in the cayenne and salt. Mix well. Let cool and serve or store in an airtight container.
Marinated Olives
1 cup black olives
1 cup green olives
1 Tbsp orange zest
1 Tbsp lemon zest
1 Tbsp fresh rosemary, finely chopped
1 tsp fennel seed
1 Tbsp fresh parsley, finely chopped
2 Tbsp extra-virgin olive oil
2 tsp minced fresh garlic
1 Tbsp sherry vinegar
| Preparation | Mix all ingredients together, cover and let marinate 8 hours or overnight.
Fig Compote
Yield | approximately 1½ cups |
1 cup dried figs, roughly chopped
¾ cup apple cider
½ cup white wine
2 Tbsp honey
4 whole cloves
1 cinnamon stick
1 star anise pod
1 Tbsp orange zest
1 Tbsp fresh-squeezed lemon juice
½ tsp kosher salt
| Preparation | Put all ingredients in medium saucepan and bring to a simmer over medium heat. Reduce the heat to low, cover and simmer for 1 to 1½ hours. Remove cloves, cinnamon stick and star anise. Purée figs and remaining liquid in a food processor or blender. Chill before serving.