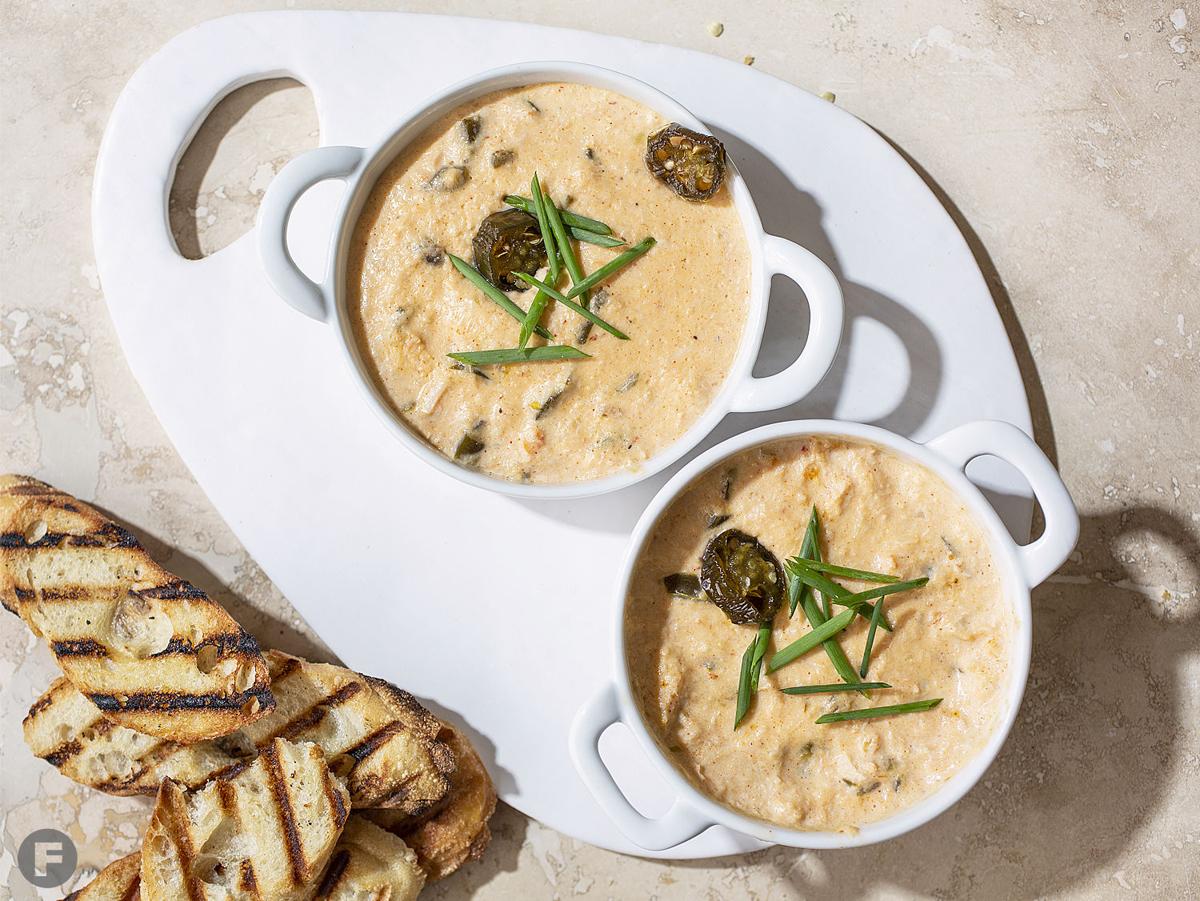 Not into crab? This is just as summery and delicious with cooked and finely chopped shrimp.
Summer Crab Dip With Candied Jalapeños
Serves | 8 to 10 |
Candied Jalapeños (Yields 4 cups)
2 cups apple cider vinegar
6 cups granulated sugar
2 lbs fresh jalapeños, stems removed and discarded, sliced into ¼-inch rounds
Summer Crab Dip
8 oz (1 cup) room-temperature cream cheese
1 cup mayonnaise
¾ tsp smoked paprika, divided
½ tsp Old Bay seasoning
¼ tsp dry mustard
½ tsp kosher salt
1 cup grated sharp white Cheddar cheese
1 lb fresh crab meat
½ cup candied jalapeños, drained of syrup, roughly chopped (recipe below)
1 baguette (to serve)
melted unsalted butter (to serve)
fresh chives, sliced into matchsticks (for garnish)
| Preparation – Candied Jalapeños | In a large saucepan over medium-high heat, add apple cider vinegar and sugar, stirring mixture until sugar dissolves and comes to a boil. Boil for 5 minutes; stir in jalapeño rounds, bring back to a boil and let bubble for 5 minutes. Remove from heat and use a slotted spoon to transfer jalapeños to canning jars. Set liquid back over heat, increase heat to high and bring to a boil for 5 minutes or until liquid thickens slightly; pour over jalapeños. Let cool to room temperature; seal and refrigerate.
| Preparation – Summer Crab Dip | Preheat oven to 350°F. In a large bowl, stir together cream cheese, mayonnaise, ½ teaspoon smoked paprika, Old Bay, dry mustard and salt until evenly combined. Fold in Cheddar cheese, crab meat and candied jalapeños; spread into a casserole dish and bake until bubbly and golden around the edges and heated through to center, 15 to 20 minutes.
While dip is cooking, brush both sides of baguette with melted butter using a silicone brush. In a grill pan over high heat, grill bread until crisp. When cool enough to handle, cut into slices. Set aside.
| To Serve | Dust crab dip with remaining smoked paprika and garnish with chives; serve warm with grilled bread.