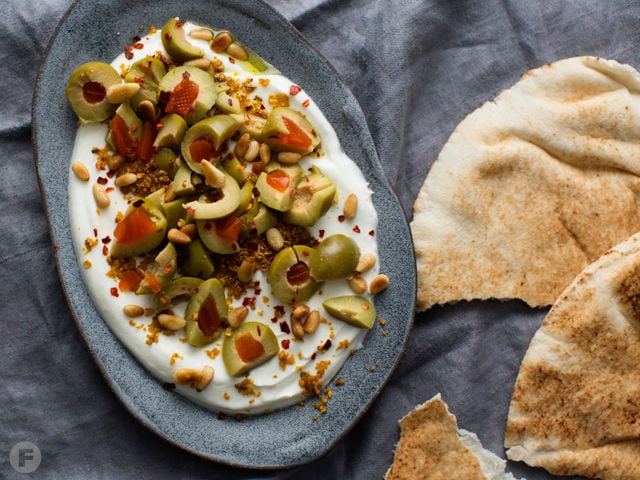 Labneh is the dairy product Greek yogurt doesn't want you to know about.
Labneh With Green Olives, Pine Nuts and Dukkah 
Dukkah is a nut and spice mix popular in the Middle East. Like labneh, you can find it in specialty and international markets, or make your own using the powers of the internet. Each recipe is a little different, which means you can customize it with your favorite flavors and ingredients.
Serves | 4 to 6 |
1 cup labneh, drained of excess liquid
2 Tbsp plus 2 tsp fruity olive oil, divided
sea salt and freshly ground black pepper
1 Tbsp dukkah
½ cup large Spanish manzanilla olives (with pimentos), roughly chopped
3 Tbsp pine nuts, pan-toasted
¼ tsp chile flakes
toasted bread, pita chips or crackers (to serve)
| Preparation | In a medium bowl, whip together drained labneh and 2 teaspoons olive oil until incorporated; season generously with salt and pepper. Spread out into a 6-inch round on a serving platter, swirling top. Drizzle 1 tablespoon olive oil over labneh and sprinkle dukkah on top. Scatter chopped olives and pine nuts evenly over top, then sprinkle with chile flakes.
Drizzle remaining 1 tablespoon olive oil over mixture. Season to taste with salt and pepper. Serve with an assortment of warm or room-temperature toasted bread, pita chips or crackers.