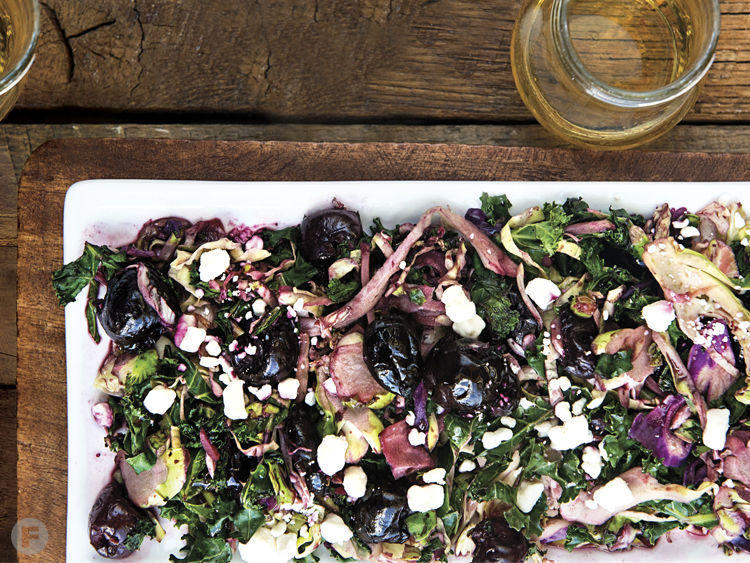 It's finally cherry season – from May to June in Missouri – and one of my favorite ways to work with the fruit is grilling, roasting or simply sautéing it. The inherent tartness and sweetness of cherries provides an ideal foil for savory flavors; use the fresh fruit to make a glaze for chicken or as the base of a salad dressing.
This wilted vegetable and sautéed cherry salad is more than a side dish: The shredded vegetables are very lightly cooked in a blend of fresh cherries, cherry juice and white balsamic vinegar, resulting in a salad full of crunch and naturally sweet flavor. The tartness of cherries pairs well with jammy, dry local Norton wines; throw this salad together, pour a glass of wine and make the most of warm spring weather by dining alfresco.
Sautéed Cherry and Wilted Vegetable Salad
The easiest and fastest way to shred these hearty vegetables and greens is using a mandoline. Feel free to try a different combination of vegetables in the salad; other hearty vegetables and greens such as cauliflower, arugula, bok choy, kohlrabi and radishes would work well.
Serves | 4 |
4 Tbsp white balsamic vinegar, divided
2 cups fresh dark sweet cherries, pitted, deseeded
1 cup Brussels sprouts, shredded
1 cup broccoli, shredded
1 cup red cabbage, shredded
1 cup green cabbage, shredded
1 cup kale, shredded
¼ cup crumbled goat cheese
| Preparation | In a large saucepan over medium heat, add 2 tablespoons white balsamic vinegar and cherries. Sauté until cherries start to soften and cherry juice begins to thicken, 7 minutes. Add Brussels sprouts, broccoli, red and green cabbages and kale and sauté for an additional 2 minutes or until vegetables become wilted and slightly soft.
Divide mixture evenly between 4 salad plates or bowls. Drizzle with remaining white balsamic vinegar and top with crumbled goat cheese. Serve.