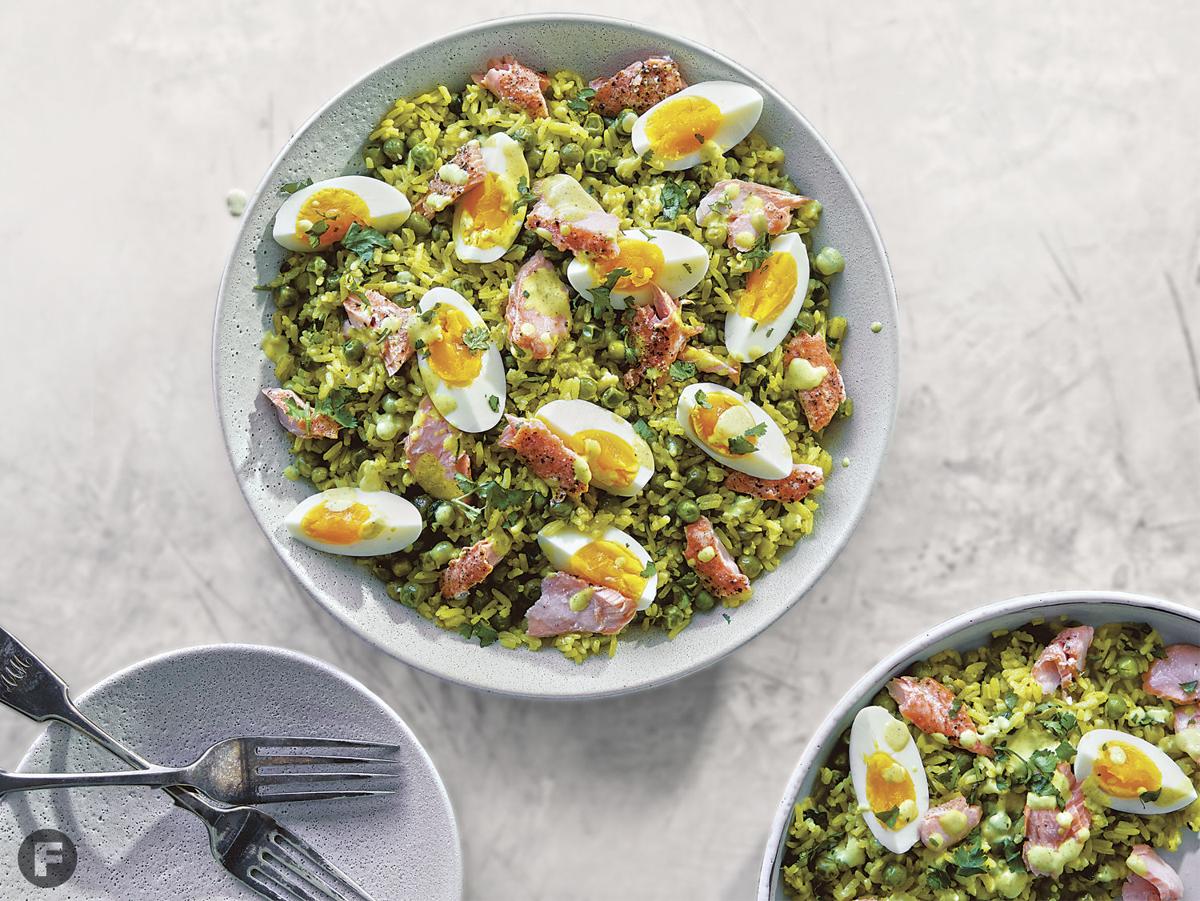 Brunch season is upon us, which means it's the perfect time to give kedgeree a spin. The dish typically consists of flaked white fish, basmati rice and egg. My Thai-inspired galangal- and lemongrass-infused coconut milk version is unapologetically inauthentic, but warming and delicious just the same. Don't overthink this one: There are a few moving parts, but most can be done ahead of time or while the rice cooks.
Galangal has deep notes of pine needles, pepper and a floral undercurrent reminiscent of unripe pears, with a citrus finish.
Thai-Inspired Salmon Kedgeree
Serves | 6 |
1 14.5-oz can coconut milk
1 2-inch piece fresh galangal, peeled and thinly sliced
1 to 2 stalks lemongrass (outer leaves removed), chopped
2 tsp curry powder
2 Tbsp coconut oil, divided
1 cup jasmine rice, uncooked
1 tsp kosher salt, divided, plus more for seasoning
1 cup vegetable broth
2 small shallots, finely diced (about ⅓ cup)
2 cups sweet green peas, warmed
⅓ cup lightly packed fresh cilantro, finely chopped, plus more for serving
2 large limes
freshly ground black pepper
6 large eggs, hard boiled, warm or at room temperature
1 to 1¼ lbs salmon fillet, roasted and at room temperature
| Preparation | In a small saucepan, heat coconut milk, galangal, lemongrass and curry powder over medium heat until steaming; reduce heat and let simmer for 10 minutes. Strain solids.
In a medium saucepan, heat 1 tablespoon oil over medium high heat; add rice and ½ teaspoon salt and stir until toasted, 3 minutes. Add broth and 1 cup coconut milk mixture; bring to a boil, cover and reduce heat to low, cook 18 to 20 minutes. Remove from heat and let sit for 5 minutes; fluff with fork.
Heat remaining oil in a large skillet over medium heat; add shallots and cook until soft, 2 minutes. Add rice, peas and cilantro and increase heat to medium high; stirring occasionally, cook for 5 minutes, or until warmed through. Remove from heat and stir in juice of 1½ limes. Season generously with salt and pepper.
| To Serve | Transfer rice to a pan or low dish; halve eggs and set around rice. Flake salmon over top and check seasoning. Squeeze remaining ½ lime into coconut milk mixture and season with ½ teaspoon salt; drizzle over everything and garnish with cilantro. Serve warm.