Popping out to the bar for a relaxing post-work cocktail isn't an option right now, so why not put a little extra effort into home bartending? Spending so much time in the house lately, Rebecca Norden and I have turned to exploring what I like to call "long-form bartending." Essentially, this means crafting more of the individual ingredients that you eventually mix together to make a cocktail.
My family has a long history of soaking ingredients in alcohol to A) infuse the alcohol or B) infuse the ingredient with the flavor of the alcohol. Some of these processes take months, but this infused whiskey is tasty after a day – although we think three days is the ticket.
With these types of infusions, don't forget to taste-test. Add whichever ingredients you're using to the alcohol and taste it right away. Then, try a spoonful every day or so to see how it's progressing. When developing this recipe, for example, we added a whole star anise but quickly realized that just a few pods would have been sufficient, so we pulled it out after a day and allowed the whiskey to finish infusing without it.
If you don't have all the ingredients in the recipe, improvise! Use a substitute or just leave out anything you don't have at home. We encourage experimentation – think of these as guidelines that will hopefully spur your own creativity.
Infused Whiskey
Yields | 32 oz |
¼ cup dried fruit
3 pods star anise 
1 stick Mexican cinnamon
peel of 1 tangerine
32 oz whiskey
2 Tbsp honey
| Preparation | In a glass canning jar or bottle big enough to hold all ingredients, add dried fruit, star anise, cinnamon and tangerine peel. Pour in whiskey. Add honey and stir until well-mixed. Set aside and allow to infuse, 1 to 3 days.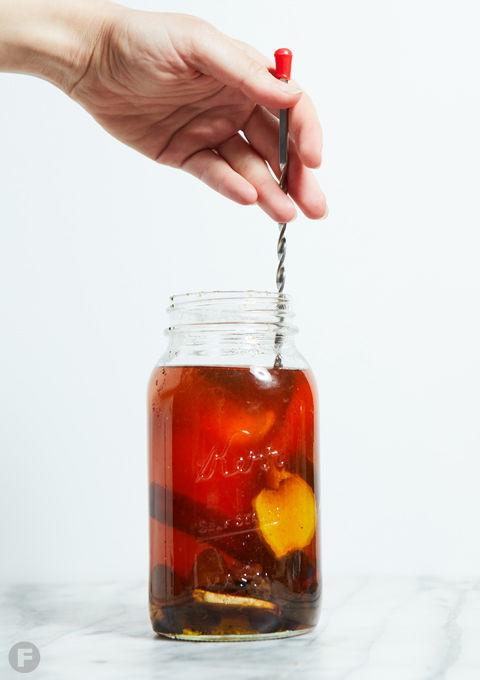 After you've found a flavor profile you like, try the infused whiskey in an Old Fashioned. We used 2 ounces of infused whiskey, the juice of ½ a tangerine and 4 to 8 dashes of Angostura aromatic bitters. You can also mix the infused whiskey with regular whiskey or try different garnishes. We dropped in a classic dark cherry and more tangerine peel – and admittedly drank a second because it was so good.