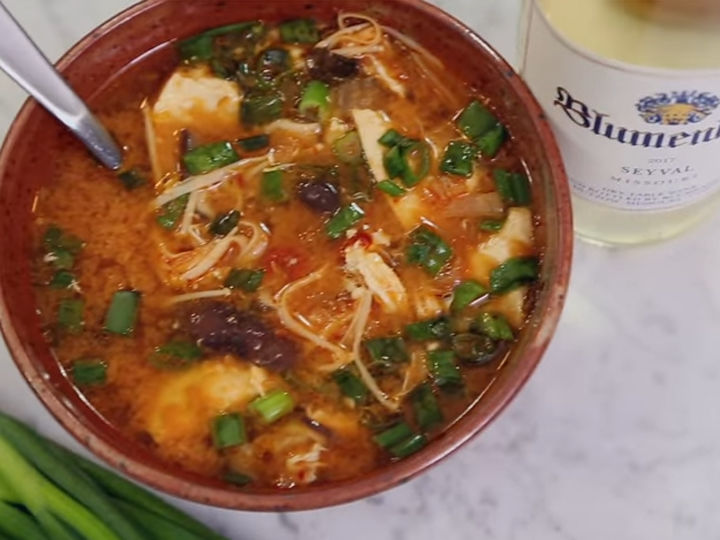 Watch Feast TV host Cat Neville make this recipe from start to finish in our Fermented episode. Produce and dairy provided by Ole Tyme Produce, wine provided by Missouri Wines with additional sponsorship provided by Kaldi's Coffee Roasting Co. and The Raphael Hotel. Thank you to our sponsors, who make the show possible.
Korean-Style Kimchi and Tofu Stew
Recipe by Catherine Neville
1 Tbsp vegetable oil
2 tsp Korean chile paste
2 cloves garlic, minced
1 teaspoon soy sauce
6 shrimp, cleaned and sliced in half lengthwise
2 to 3 cups seafood stock (or chicken or beef stock or broth)
½ cup sliced shiitake mushrooms
½ cup enoki mushrooms
1 cup coarsely chopped kimchi
1 (14- to 16-ounce) package silken tofu, drained
3 eggs
Sesame oil
2 medium scallions, thinly sliced
Steamed white or brown rice, for serving
| Preparation | In a medium saucepot, heat the oil, then add the chile paste, garlic and soy sauce, stirring to release the oils and aroma of the chiles and garlic. Add the shrimp and stir, then add the seafood stock and bring to a boil. Add in the mushrooms and the kimchi. Using a large spoon, pull big chunks of the tofu off of the block and add the tofu to the stew, being sure not to break it into small pieces. Break eggs into the pot, allow to set and serve. Ladle the stew into bowls, one egg per bowl, and top with a couple dashes sesame oil and sliced scallions. Serve with hot white or brown rice.