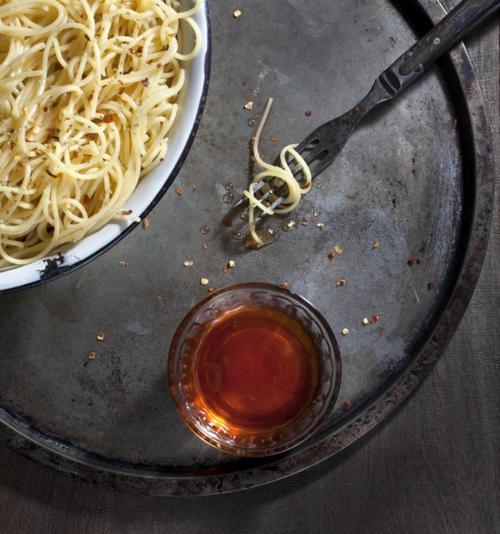 Though legend has it the Italian explorer Marco Polo brought the idea of pasta back to his native country after experiencing the ubiquitous noodles of Asian cuisine, Italians were slurping pasta well before his 13th-century takeout run. And noodles weren't the only familiar fare Polo was likely to have tried on his trip. Many Asian countries have their own versions of fish sauce, and since at least early Roman days, so has Italy. It's called colatura.
What is it?
Colatura is, basically, fish juice. More elegantly, it's the essence of Mediterranean anchovies, extracted by a centuries-old practice. Wood casks called terzigni are filled with alternating layers of sea salt and anchovies, and then the top of the cask is weighted with stones, creating a gentle pressure on the fish and salt. After five months to a year, a small hole is drilled in the bottom of the cask, and the rich reddish-brown essence drains out, drop by drop. This pungent, oily sauce is an umami flavor bomb - all the rich, fishy flavor of hundreds of anchovies in a few precious ounces.
How do I use it?
Colatura is made with the simplest of ingredients, using a time-honored, traditional method. The fish used to make it have an equally simple, equally traditional use. Where you would normally find anchovies, you can use colatura. Drizzle it on pastas, pizzas, or grilled or roasted fish, or use it to add a salty punch to sauces and dressings.
Just be sure to go easy on the colatura - it's potent and pungent. You don't need to use it as sparingly as, say, Tabasco, but you don't want to blow the doors off with anchovy overload either.
Spaghetti Aglio e Olio
By Mark Sanfilippo, Salume Beddu
Serves | 4 to 6 |
1 lb good-quality imported Italian spaghetti
½ cup olive oil
3 cloves garlic, sliced lengthwise
1 pinch red chile flakes, plus more for garnish
½ cup reserved pasta water
1/3 cup chopped flat-leaf parsley
1 lemon, juiced and zested
1 to 2 tsp colatura, to taste
| Preparation | Bring cold water to boil in a large pot. Salt the water and add spaghetti. Cook according to directions on package. Reserve ½ cup pasta water before draining. Meanwhile, in a large skillet, combine olive oil, garlic and red pepper flakes. Heat over low heat, stirring occasionally, until the garlic softens and turns golden, about 8 to 10 minutes. Add pasta water and heat through. Add cooked pasta to the skillet. Toss with parsley, lemon juice and lemon zest. Remove from heat and divide into bowls. Drizzle with colatura. Serve with extra red chile flakes on the side.
---
WEB EXTRA RECIPES!
Italian Salsa Verde
By Mark Sanfilippo, Salume Beddu
Serves | 4 to 6 |
½ cup chopped flat-leaf parsley
¼ cup chopped fresh oregano (buds and small leaves)
¼ cup chopped fresh mint
2 cloves garlic, finely minced
1 cup extra-virgin olive oil
2 lemons, juiced and zested
freshly ground black pepper, to taste
2 Tbsp salt-packed capers (soaked in cold water for 30 minutes, then rinsed)
¾ to 2 tsp colatura, to taste
| Preparation | In the bowl of a food processor, combine parsley, oregano, mint and garlic. Pulse to puree. Add olive oil in a slow drizzle and pulse to blend. Remove to a small bowl; add lemon juice, lemon zest and pepper. Rough-chop capers and mix in. Stir in a small amount of colatura. Sample, and adjust colatura to taste. Serve over pasta, alongside crudités or tossed with salad greens.
Roasted Brussels Sprouts with Pancetta
By Mark Sanfilippo, Salume Beddu
Serves | 4 |
3 Tbsp olive oil
½ lb Salume Beddu pancetta, diced
6 to 8 small cippolini onions, peeled, trimmed and quartered (or 2 medium shallots, sliced)
1 lb brussels sprouts, trimmed and halved
freshly ground black pepper, to taste
1 to 2 tsp colatura, to taste
| Preparation | Preheat oven to 450ºF. Heat olive oil in a large oven-proof skillet on stovetop. Add pancetta and cook until browned and crisped. Remove pancetta to a paper towel to drain. Add onions and cook until softened. Add Brussels sprouts and pepper. Toss to combine. Transfer skillet to the oven and roast for 20 to 30 minutes, until the sprouts soften and brown a bit. Remove vegetables to a serving dish. Drizzle with colatura and toss. Top with pancetta and serve.
Fennel Salad with Colatura Vinaigrette
By Mark Sanfilippo, Salume Beddu
Serves | 4 |
3 Tbsp lemon juice
freshly ground black pepper, to taste
1 tsp Dijon mustard
½ cup extra-virgin olive oil
1 small shallot, diced fine
½ tsp colatura, or to taste
4 cups mixed baby greens
1 bulb fennel, thinly shaved
freshly grated Parmigiano-Reggiano, to taste
| Preparation | In a small, deep bowl, whisk together lemon juice, pepper and mustard. Add olive oil in a slow drizzle, whisking to emulsify. Add shallots. Whisk in colatura. Taste, and adjust seasonings as needed. Divide baby greens on four plates. Top with shaved fennel. Add dressing and grated cheese.