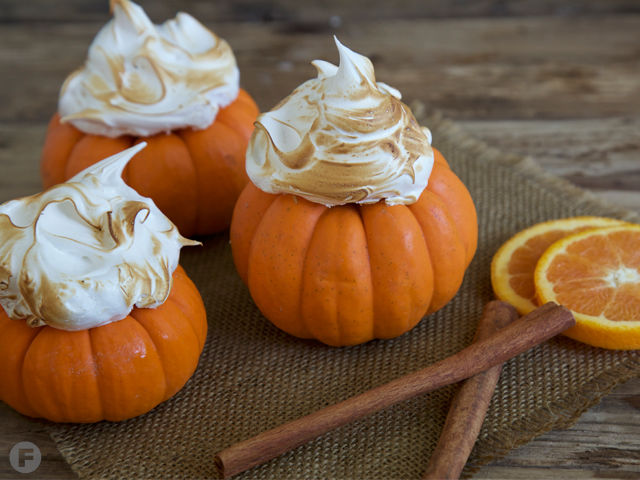 What makes this pumpkin pie so special isn't just the addition of orange or the generous spoonful of toasted Swiss meringue: It's special because each is served in a miniature pumpkin. You don't have to share these pies with anyone because you get your very own.
Pumpkin-Orange Pie in Mini Pumpkins with Toasted Swiss Meringue
Yields | 6 mini pumpkins |
Pumpkin-Orange Filling
6 mini pumpkins
4 large eggs
1½ cups granulated sugar
zest of 4 large oranges
1 29-oz can pumpkin
1 tsp kosher salt
2 tsp ground cinnamon
1¼ tsp ground ginger
¼ tsp ground cloves
⅛ tsp grated nutmeg
16 oz evaporated milk
½ cup heavy whipping cream
Toasted Swiss Meringue
1½ cups granulated sugar
6 egg whites
1 tsp vanilla extract
| Preparation – Pumpkin-Orange Filling | Preheat oven to 425°F.
Cut a hole in tops of each mini pumpkin to remove stems. Using a teaspoon, scoop out seeds, and scrape out meat from insides of each; don't scrape pumpkin walls too much as this will make them too thin, and they must be sturdy to bake in oven.
In a large mixing bowl, whisk together eggs, sugar and orange zest. Add pumpkin, and whisk in salt and spices until incorporated. Very carefully and slowly whisk in evaporated milk and cream; you don't want to incorporate any air into filling.
Reduce oven to 400°F. Place prepared mini pumpkins on a roasting pan, and fill each almost to top with filling. Place in oven, and pour a bit of water into pan, no higher than halfway up pumpkins. Bake for 10 minutes, reduce heat to 350°F and continue baking for 30 or 40 more minutes. Filling should slightly jiggle like Jell-O when finished baking; it shouldn't be a liquid consistency. Remove pumpkins from pan, and allow cool for a few hours.
| Preparation – Toasted Swiss Meringue | In a large metal mixing bowl using an electric mixer, combine sugar and egg whites until frothy.
In a saucepot over high heat, heat water until boiling, and then reduce to a simmer. Place bowl with egg whites and sugar over top of pot, and continue whisking until mixture is very warm to the touch. Transfer to the bowl of a stand mixer with the whisk attachment, and mix on high until meringue is white, shiny and holds its shape. Add vanilla extract, and mix for a few more seconds.
Generously spoon meringue on top of mini pumpkin pies. If you own a kitchen blowtorch, use it to toast meringue. If you don't, place pies under oven broiler for 1 or 2 minutes to add color to meringue, or simply serve untoasted.