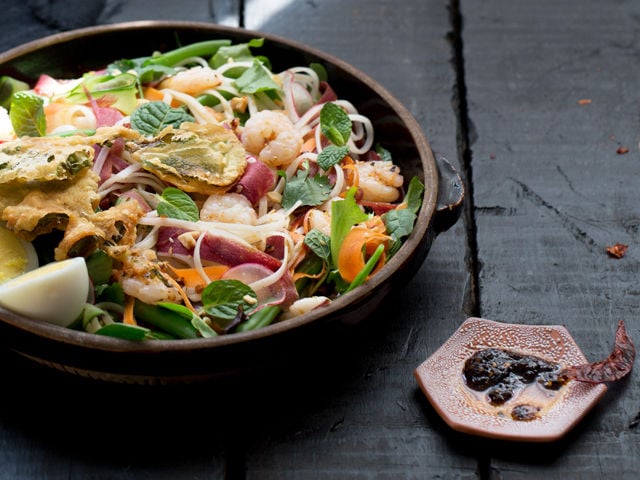 Yum Yai salad is a flavorful mélange of vegetables, herbs and proteins featuring a distinct combination of fresh, steamed and fried ingredients. Together, the dish captures the five taste senses, or flavors, elemental to Thai food: bitter, sweet, sour, salty and spicy. Although there are many components to the dish, it comes together as an entire meal.
This dish is inspired by a recipe by Mark Bittman, who adapted it for The New York Times from a dish served at Kin Khao, a Thai restaurant in San Francisco owned by restaurateur Pim Techamuanvivit. Here, we've taken the salad a step further, adding shrimp, hard-boiled eggs, and more vegetables and herbs for a fresh and hearty meal.
Yum Yai Salad
Serves | 4 |
Chile Jam Dressing
¼ cup chile jam
2 Tbsp fresh lime juice
2 Tbsp fish sauce
2 tsp chopped palm sugar
Yum Yai Salad
2 oz mung bean (glass) noodles
cold water
pinch chopped bird's-eye chile
1 English cucumber, peeled
1 large carrot, peeled
2 cups vegetable oil
¾ cup ice-cold water
¾ cup all-purpose flour
1 large egg yolk
1½ cups baby kale or arugula
6 oz green beans, blanched
3 radishes, very thinly sliced
2 cups torn lettuce leaves
¼ cup chopped cilantro
¼ cup chopped mint
1 cup cooked shrimp
¼ cup chopped scallions
¼ cup toasted cashews
2 hard-boiled eggs, sliced
| Preparation – Chile Jam Dressing | In a medium bowl, whisk all ingredients until well combined. Set aside.
| Preparation – Yum Yai Salad | Cook noodles according to package directions. Dunk in cold water to cool, drain and toss in a drizzle of dressing and bird's-eye chile. Set aside.
Use a vegetable peeler to cut cucumber and carrot into long ribbons; set aside.
In a large skillet over medium-high heat, add vegetable oil. While it heats, in a medium bowl, lightly whisk together cold water, flour and egg yolk; batter should be lumpy and quite thin. When the oil is ready for frying, start dipping baby kale leaves (1 at a time) into batter to coat and carefully add them to oil, making sure not to crowd pan (fingers or chopsticks are the best tools for the job). Fry in batches, turning once, until golden brown and crisp – just a few minutes. With a slotted spoon, transfer to paper towels to drain; repeat process until all kale is fried. Set aside.
To assemble, layer ingredients in a large shallow bowl by weight: noodles on bottom, followed by green beans and radishes, with lettuce, herbs and vegetable ribbons mixed in between. Drizzle each layer with dressing as you go. Add fried kale on top, then shrimp, scallions, cashews and egg. Drizzle with dressing and serve.
CHEF'S TIPS
SEND IN THE SUBS. If you can't find bird's-eye chiles, substitute them for fried or dried cayenne peppers or serrano chiles. For palm sugar, substitute 1 cup dark brown sugar plus 2 teaspoons maple syrup.
GET HANDS-ON!
Join Feast Magazine and Schnucks Cooks Cooking School on Wed., April 27, at 6pm at the Des Peres, Missouri, location, to make the dishes in this month's menu. Tickets are just $40 for a night of cooking, dining and wine. RSVP at schnuckscooks.com or call 314.909.1704.
MAKE THE MEAL
Yum Yai Salad
Pad Thai
Fortune Cookies
LEARN MORE
Learn to make Yum Yai salad, a Thai dish made with raw, steamed and fried vegetables, as well as chile jam. You'll round out the meal with pad thai and fortune cookies.