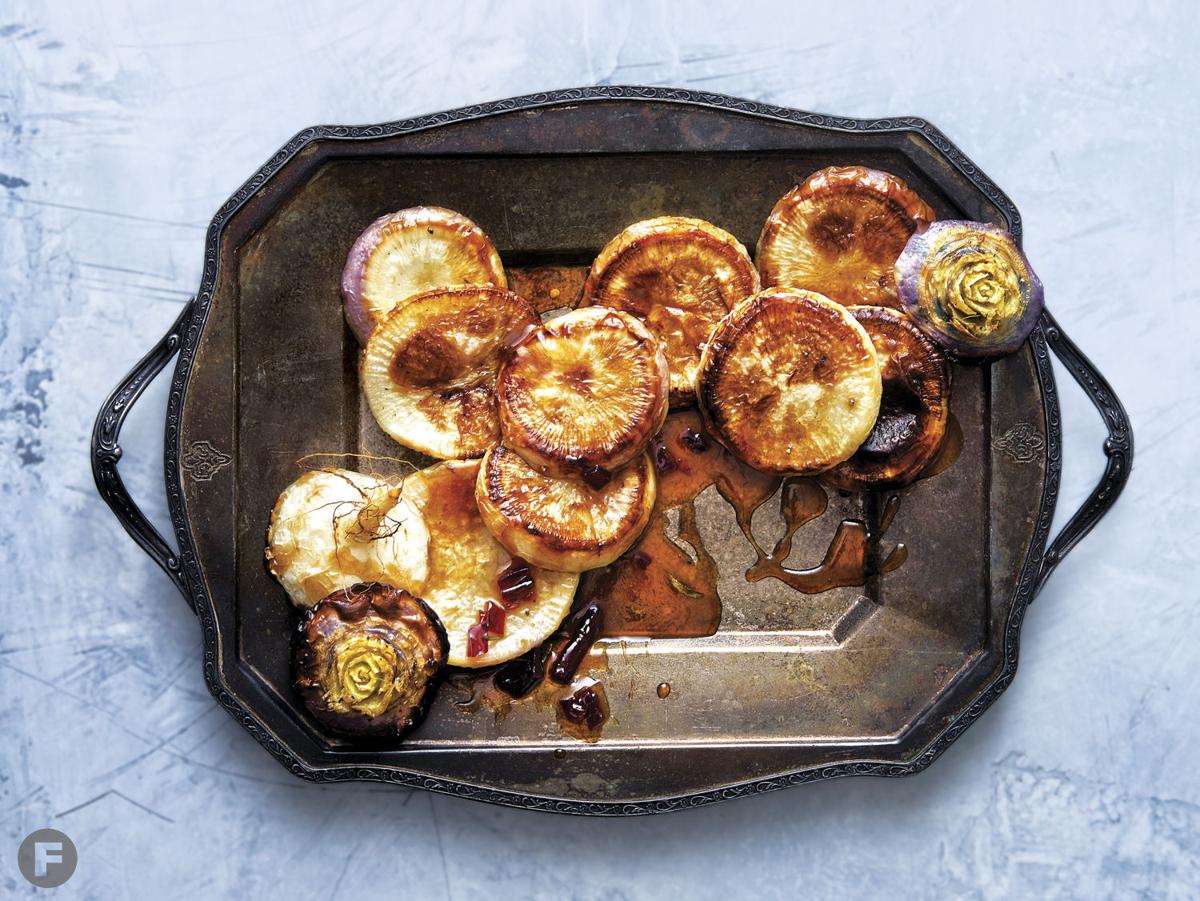 Cascara is subtle, but as it reduces, the flavors become brighter. In this recipe, be sure to roast the turnips to just fork-tender to keep them from becoming too soft during the glaze. You can find dried cascara online or at some specialty coffee roasters.
It's the husk surrounding coffee beans. 
Cascara-Glazed Turnips with Rosemary and Chile
Serves | 4 to 6 |
Cascara Simple Syrup (Yields 2½ cups)
2 cups sugar
2 cups cold water
1 cup dried cascara
Cascara-Glazed Turnips
2 to 2½ lbs white globe turnips, peeled and sliced into ¼-inch slices
1½ Tbsp olive oil
kosher salt and freshly ground black pepper
4 Tbsp unsalted butter
1 Fresno (red) chile, diced
2 to 3 sprigs fresh rosemary
¹⁄₃ cup cascara simple syrup (recipe follows)
| Preparation - Cascara Simple Syrup | Combine sugar and water in a large saucepan and set over medium-high heat, stirring until sugar has completely dissolved. Add cascara and bring to a boil; remove from heat and allow to steep, 1 hour. Strain solids from syrup and refrigerate until ready to use.
| Preparation - Cascara-Glazed Turnips | Preheat oven to 400°F. Toss turnips with olive oil and spread across two sheet pans in a single layer. Season generously with salt and pepper and roast until just tender and deep golden on underside, 18 to 20 minutes.
While turnips roast, melt butter in a large skillet over medium heat. Add chile and rosemary sprigs to butter and stir until fragrant, 1 minute. Add syrup and whisk to combine. Remove turnips from oven and add to butter mixture; increase heat to high. Toss frequently until turnips are golden and caramelized and syrup has reduced, 5 to 7 minutes.
| To Serve | Transfer into large, shallow bowl with rosemary sprigs on top. Check seasoning and serve hot.