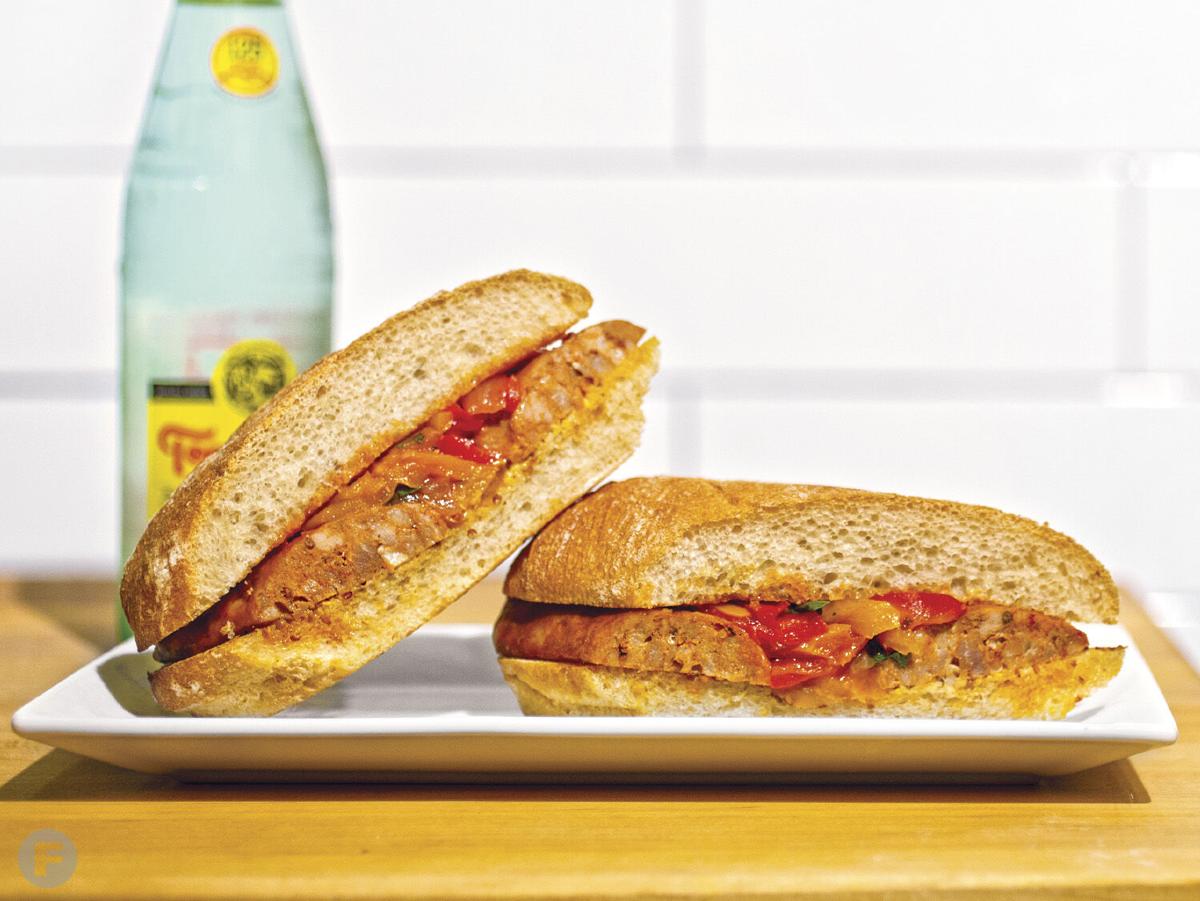 If you appreciate exquisite wine, small-batch chocolate, local cheese and all other manner of artisanal goods, stop by Parker's Table in Richmond Heights, Missouri, the next time you need to restock your pantry. The small, independent business also offers some of the city's best sandwiches, thanks to a partnership with local cured meat company Salume Beddu. Its compact kitchen dishes out fan favorites such as The Beast made with Salume Beddu salsiccia fiama – a southern Italian-style sausage packed with garlic, chile, smoked paprika, toasted fennel seeds and red wine. Smothered in housemade peperonata – a sweet and spicy combination of peppers and onion – and whole-grain mustard, The Beast takes the humble sausage to the next level.
The Beast
Recipe courtesy of Steven Caravelli, head chef, Parker's Table
Yields | 4 sandwiches |
Peperonata
1 red bell pepper
1 yellow bell pepper
1 poblano pepper, optional
¼ cup olive oil
2 cloves garlic, minced
1 white onion, sliced
2 Tbsp tomato paste
1 splash white wine
The Beast
4 links Salume Beddu salsiccia fiama
4 ciabatta rolls
whole-grain mustard
peperonata (recipe follows)
| Preparation – Peperonata | Position cooking rack in top third of oven and set broiler to high. Place peppers on a lipped baking sheet; transfer to oven. Broil peppers until blackened and blistered all over, approximately 5 to 10 minutes, flipping peppers and rotating baking sheet as needed for even charring. Remove from oven and transfer peppers to a large bowl; cover to steam, 10 minutes. Uncover bowl and scrape blackened skin off peppers with a paring knife; remove cores and seeds and slice into strips. Heat a frying pan over medium heat, 2 to 3 minutes, before adding oil; tilt pan to coat bottom. Add garlic; cook until fragrant, approximately 1 minute. Add onion and peppers; stirring occasionally, cook until onion has softened, 4 to 5 minutes. Add tomato paste; stirring occasionally, cook until paste turns a deep brick red, 3 to 4 minutes. Add wine and scrape any brown bits off bottom of pan. Continue cooking until wine has completely evaporated and then transfer peperonata to a heatproof bowl. Set aside.
| Preparation – The Beast | Place salsiccia fiama in a pot (or Dutch oven); add enough water to cover links. Set pot over low medium heat and bring water to a simmer (do not boil); poach salsiccia fiama, 10 to 12 minutes.
Meanwhile, preheat oven to 450ºF. Using tongs, remove salsiccia fiama from water and place on a lipped baking sheet. Transfer to oven to crisp, 5 minutes. Remove from oven and allow to cool. Once cooled, slice each link in half lengthwise and then cut into bite-size pieces. On a clean work surface, slice rolls in half; slather top and bottom halves of each with mustard. On bottom half of each roll, add a heaping spoonful of peperonata; top with a heaping spoonful of salsiccia fiama. Finish with top half of each roll. Slice on an angle and serve.