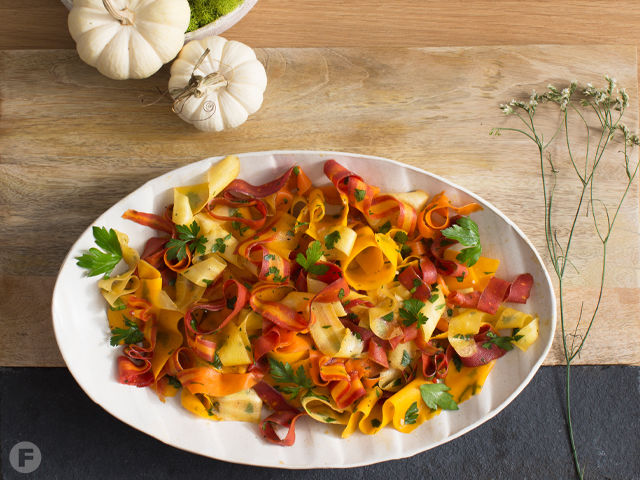 Be honest: Thanksgiving can get a little heavy on the roasted vegetables, and you know it. This salad lets you use seasonal roots in a fresh, unexpected way – a little palate cleanser, if you will, not to mention your guests will be superimpressed by your vegetable-ribboning skills. We eat this salad all year long; make it once, and you'll know why.
Make It Yours Not a fan of walnuts? Pecans or even toasted hazelnuts make a great substitute here.
Vinegary Root Ribbon Salad with Fresh Herbs and Toasted Walnuts
Serves | 8 to 10 |
Vinegar Dressing
¼ cup white wine vinegar or Champagne vinegar (or combination of the two)
2 Tbsp maple syrup
1½ Tbsp walnut oil
1 clove garlic, minced
½ tsp kosher salt
¼ tsp freshly ground black pepper
Root Ribbon Salad
2 to 2½ lbs butternut squash (long-necked if possible), peeled
1 lb rainbow carrots, scrubbed and trimmed
1 lb parsnips, scrubbed, trimmed, lightly peeled as needed
⅔ cup roughly chopped fresh parsley leaves, plus more for garnish
⅔ cup plus 2 Tbsp dry-toasted, roughly chopped walnuts, plus more for garnish
| Preparation – Vinegar Dressing | Add all ingredients to a lidded jar. Secure lid, and shake to combine. Transfer to refrigerator to chill, at least 1 hour.
| Preparation – Root Ribbon Salad | Separate neck from bottom of butternut squash; reserve bottom for another use. Lay neck on cutting board, and peel firmly with vegetable peeler into thin ribbons. Repeat process with carrots and parsnips, tip to tail, and add all peels to a large bowl. Add parsley and walnuts; toss well to evenly distribute ingredients. Pour vinegar dressing over top, and toss to combine; check seasoning, garnish with parsley leaves and additional walnuts, and serve immediately.