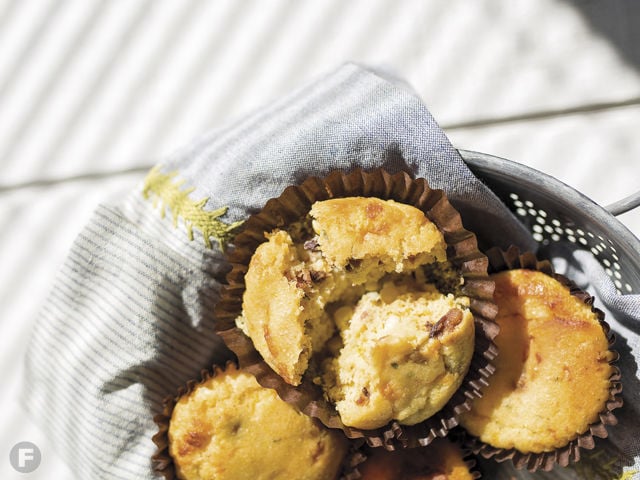 Cornbread is a staple in Southern cooking, with more variations than there are stars in the sky. Some folks prefer sweet cornbread accented with caramelized nuts and maple syrup or citrus-tinged with orange zest and fresh cranberries. My favorite cornbread is one that's savory, a little spicy and hearty enough to sop up chili or barbecue sauce.
This cornbread is delicious with or without bacon crumbles, Cheddar cheese and jalapeños: The browned butter gives the cornbread a nuanced flavor and the buttermilk adds just the right amount of tang. Feel free to swap in whatever ingredients you prefer, too: scallions, roasted chile peppers, chorizo or different types of cheese all work well.
Bacon-Cheddar-Jalapeño Cornbread Muffins
These muffins are flavored with crispy, salty bacon, sharp Cheddar and fiery jalapeño, but feel free to substitute whatever ingredients you prefer.
Yields | 10 to 12 muffins |
¹⁄₃ cup plus 2 Tbsp unsalted butter, divided
2 Tbsp honey
1 cup cornmeal
1¼ cups unbleached, all-purpose flour
2 Tbsp granulated sugar
1½ tsp baking powder
¹⁄₈ tsp baking soda
1½ tsp kosher salt
2 eggs
1¼ cups low-fat buttermilk
¼ cup whole milk
¹⁄₃ cup shredded sharp Cheddar cheese
1 ear fresh corn, kernels removed from cob
½ jalapeño, deseeded and finely diced
¹⁄₃ cup finely chopped cooked bacon
| Preparation | Preheat oven to 375°F. Line a muffin tin with paper muffin cups.
In a nonstick skillet over medium-high heat, melt ¹⁄₃ cup butter until it begins to sizzle. Stir constantly until butter begins to foam and turns a nutty brown. Immediately pour browned butter into a heat-proof container, scraping brown bits from the bottom of pan. Add honey to browned butter and set aside.
In a medium bowl, whisk together the next 6 ingredients. In a separate bowl, combine eggs, buttermilk and whole milk. Pour wet ingredients into dry and whisk until smooth. Add browned butter and whisk to combine. Stir in remaining ingredients and spoon batter into prepared muffin cups until ²⁄₃ full. Bake 15 to 20 minutes or until tops of muffins are a light golden brown and spring back to the touch.
Spread remaining butter over top of muffins while still warm. Serve.