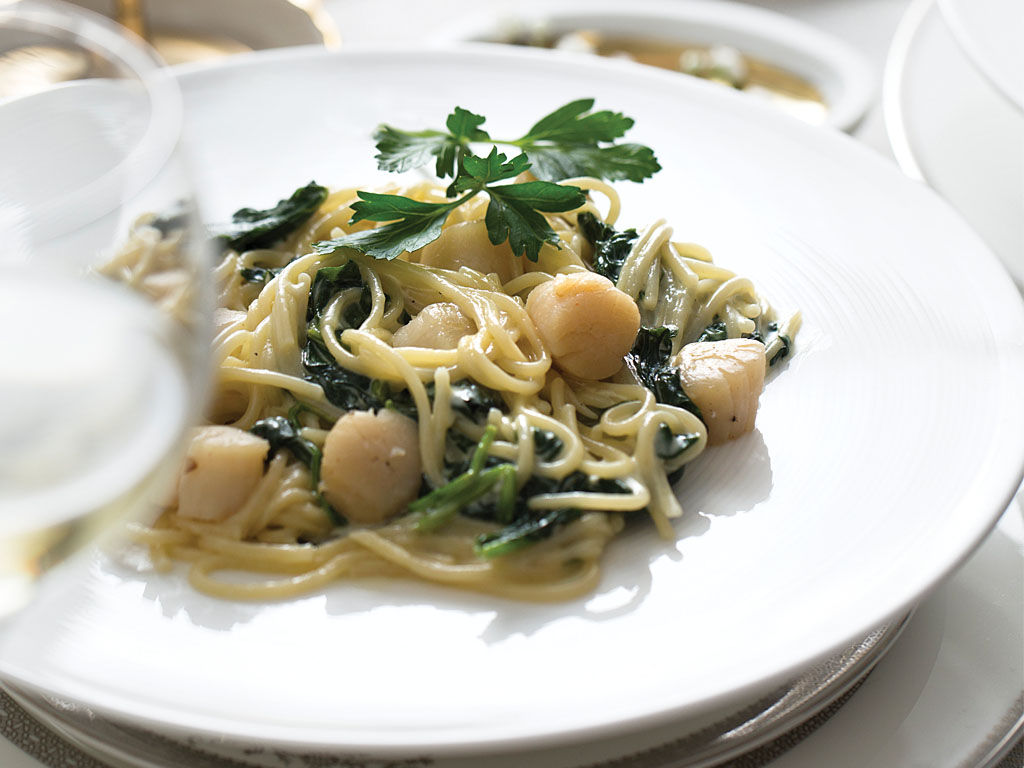 Bay scallops are inexpensive and can be just as gorgeous as their larger counterparts; they just need the right dish. Here, they float atop a spinach-swirled pasta like jewels in the ocean.
Serves | 6 to 8 |
2 Tbsp olive oil, divided
2 cloves garlic, minced
¼ cup dry white wine
2 2⁄3 cups heavy cream
3 oz finely grated Parmigiano-Reggiano cheese
sea salt and freshly ground black pepper
salted water
16 oz capellini or thin spaghetti
8 oz washed baby spinach leaves
1½ lbs bay scallops
2 to 3 Tbsp roughly chopped fresh parsley leaves (for garnish)
fat pinch chile flakes (for garnish)
| Preparation | In a large, heavy-bottomed skillet over medium heat, heat 1 tablespoon olive oil; stir in garlic and cook until fragrant, 30 seconds. Add wine and let bubble; reduce heat to medium low and cook, 1 minute. Add cream and heat until sauce begins to reduce and thicken. Add cheese, whisking to melt and incorporate. Season generously with salt and pepper. Keep sauce warm until ready to serve.
In a large pot, bring salted water to a boil; add pasta and cook according to package directions; drain. While pasta cooks, add spinach to cream sauce and cook over medium-low heat until just wilted. Add cooked pasta; toss to combine.
In a large skillet, add remaining 1 tablespoon olive oil and heat over medium high. Add scallops and cook, stirring frequently, until opaque and cooked through, 2 minutes. Season with salt and pepper.
Pile pasta into a large, shallow bowl; pour scallops over top. Scatter parsley leaves and chile flakes over top; serve immediately.