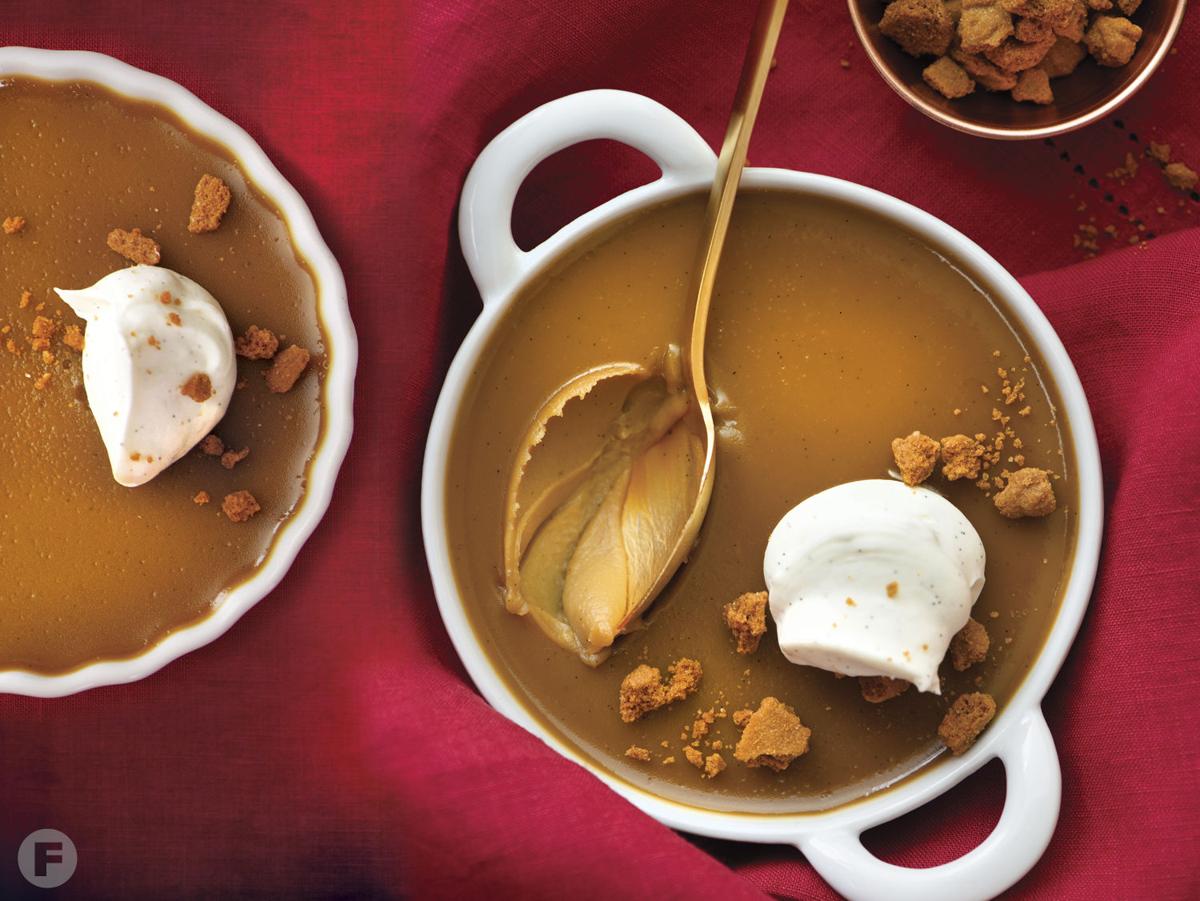 Pot de crème is a French custard akin to American pudding, only richer and more luxurious. The custard base is baked in a water bath ensuring a gentle and even heat that prevents curdling. These pots de crème have a deeply caramelized butterscotch flavor with an ultra-silky texture. The whipped mascarpone cream on top has a hint of acidity to balance out the sweet custard, and it's all garnished with crumbles of spiced Speculoos cookies.
Butterscotch Pots de Crème with Mascarpone Cream
Serves | 6 |
3 cups heavy cream
½ tsp kosher salt
½ vanilla bean, split and seeded
7 large egg yolks
3 Tbsp unsalted butter
1 cup packed dark brown sugar
mascarpone cream, for garnish (recipe follows)
Speculoos cookies, crumbled, for garnish
Mascarpone Cream
½ cup mascarpone
½ cup heavy cream
½ vanilla bean, split and seeded
¾ tsp sugar
| Preparation – Butterscotch Pots de Crème | Preheat oven to 300°F. Bring a pot of water or large tea kettle to a simmer and set aside. Set 6 ramekins, each with a 5-ounce capacity, in a large baking pan. In a medium saucepan, combine cream, salt, vanilla bean seeds and scraped pod. Bring to a simmer over medium heat, stirring occasionally. Remove from heat and set aside. Add egg yolks to a large bowl and set aside.
In a medium saucepan, over low heat, melt butter. Add sugar and increase to medium heat; cook, stirring occasionally, until sugar melts and mixture turns a dark amber color and begins to smoke, 3 to 5 minutes. Remove from heat and slowly whisk in cream mixture to avoid splattering. Return to heat and whisk mixture until smooth, approximately 1 minute. Whisking constantly, gradually pour the hot butterscotch mixture into the yolks. Strain through a fine-mesh sieve into a large bowl or pitcher. Divide the custard evenly among the ramekins and carefully pour hot water into the baking pan until it reaches halfway up the sides of ramekins. Lightly cover pan with aluminum foil. Bake for 60 to 70 minutes, or just until custard has set in the center and no longer ripples when you nudge the edge of the pan.
Remove pan from oven, set on cooling rack and uncover. Let cool for 20 minutes, then carefully remove each ramekin from water bath and set back on cooling rack to cool completely. Cover and chill in the refrigerator for up to 5 days.
| Preparation – Mascarpone Cream | In a bowl, combine mascarpone, cream, vanilla bean seeds and sugar. Using a hand-held mixer, beat mixture until it forms medium peaks.
| To Serve | Add a dollop of mascarpone cream to the top of each butterscotch pot de crème and sprinkle generously with crumbled Speculoos cookies.