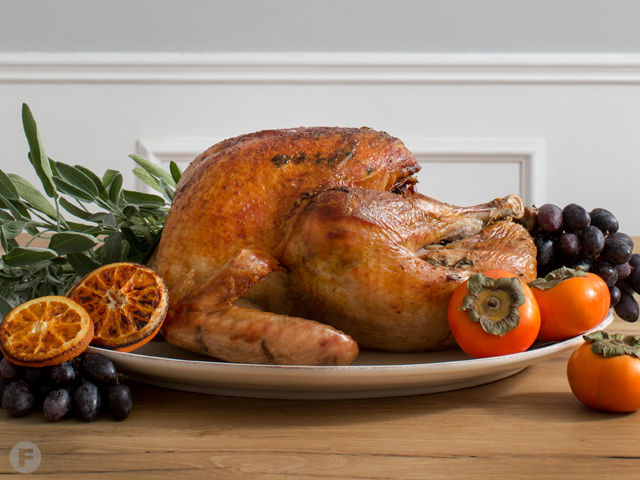 There are many ways to roast a turkey; a quick Google search will prove it. This is the way our family has done it for a long as I can remember, with the brine being a new (and welcome) addition in recent years. Making the brine is like pregaming Thanksgiving – the aroma of all those warming herbs and spices is sure to get you pumped for the big day.
Research cooking times for the size of bird you buy, and bear in mind that brined turkeys tend to take slightly less time to cook, as do unstuffed birds. You will need kitchen twine to truss the turkey's legs prior to roasting.
Make It Yours Switch up the spices in your brine; fennel seed, lemon peel and ginger give your bird a rich and warm fall flavor.
Classic Roasted Turkey
Yields | 1 whole turkey |
Brining Liquid
1 quart cold water
1 cup kosher salt
8 dried bay leaves
3 Tbsp peppercorns
1½ Tbsp yellow mustard seeds
1 Tbsp juniper berries
1 Tbsp whole allspice berries
1 medium red onion, peeled and quartered
1 head garlic, peeled and crushed
peel of 1 large orange, peeled with a vegetable peeler into 1-inch wide strips
20 sprigs fresh thyme
3 sprigs fresh rosemary
Roasted Turkey
1 whole turkey, 12 to 20 lbs, neck and giblets removed and reserved for giblet pan gravy (see next page)
3 to 6 quarts cold water (enough to submerge turkey)
1 large sweet yellow onion, peeled and quartered
1½ cups celery leaves and tops, chopped in 1-inch sections
4 to 6 cloves garlic, peeled and crushed
3 sprigs fresh rosemary, divided
small handful fresh thyme sprigs, divided
½ cup (1 stick) melted unsalted butter
kosher salt and freshly ground black pepper
4 juniper berries
4 whole allspice berries
1½ cups unsalted chicken or turkey stock
| Preparation – Brining Liquid | In a large saucepan over high heat, add cold water, salt, bay leaves, peppercorns, mustard seeds, and juniper and allspice berries, and bring to a boil, stirring to dissolve salt. Remove from heat; add red onion, garlic, orange peel, and thyme and rosemary sprigs, stir to combine and allow to cool to room temperature. Set aside.
| Preparation – Roasted Turkey | Place turkey in a large stockpot or other large vessel able to accommodate brine and turkey. Place turkey in vessel, pour brine over top and fill with cold water (enough to submerge turkey), weighing it down with a heavy dinner plate if needed. Cover with lid, and secure with kitchen twine as needed to keep bird submerged. Brine in refrigerator for 24 hours, flipping bird halfway.
Remove turkey from brine, and pat inside and out with clean kitchen towels or paper towels to dry. Let sit 1 to 2 hours before roasting to take chill off; when ready, preheat oven to 425°F.
Place turkey in roasting pan, breast-side up, and stuff cavity with segments of onion, celery, garlic, 2 sprigs rosemary and half of thyme; truss legs together with twine. Loosen skin all over the breast, and tuck a few thyme sprigs underneath, then tuck wings under body. Brush turkey all over with melted butter, and season very generously with salt and pepper; throw remaining thyme sprigs, rosemary sprig, and juniper and allspice berries in bottom of roasting pan, and add stock. Roast for 30 minutes, reduce heat to 325ºF and continue roasting until breast meat registers 165ºF on a meat thermometer, covering loosely with aluminum foil if top begins to get too brown. (This will depend on turkey size.) Remove from oven, tent with foil and allow to rest at least 30 minutes.
Allow pan drippings to cool until fat comes to surface; skim off fat from surface, and reserve drippings for giblet pan gravy.