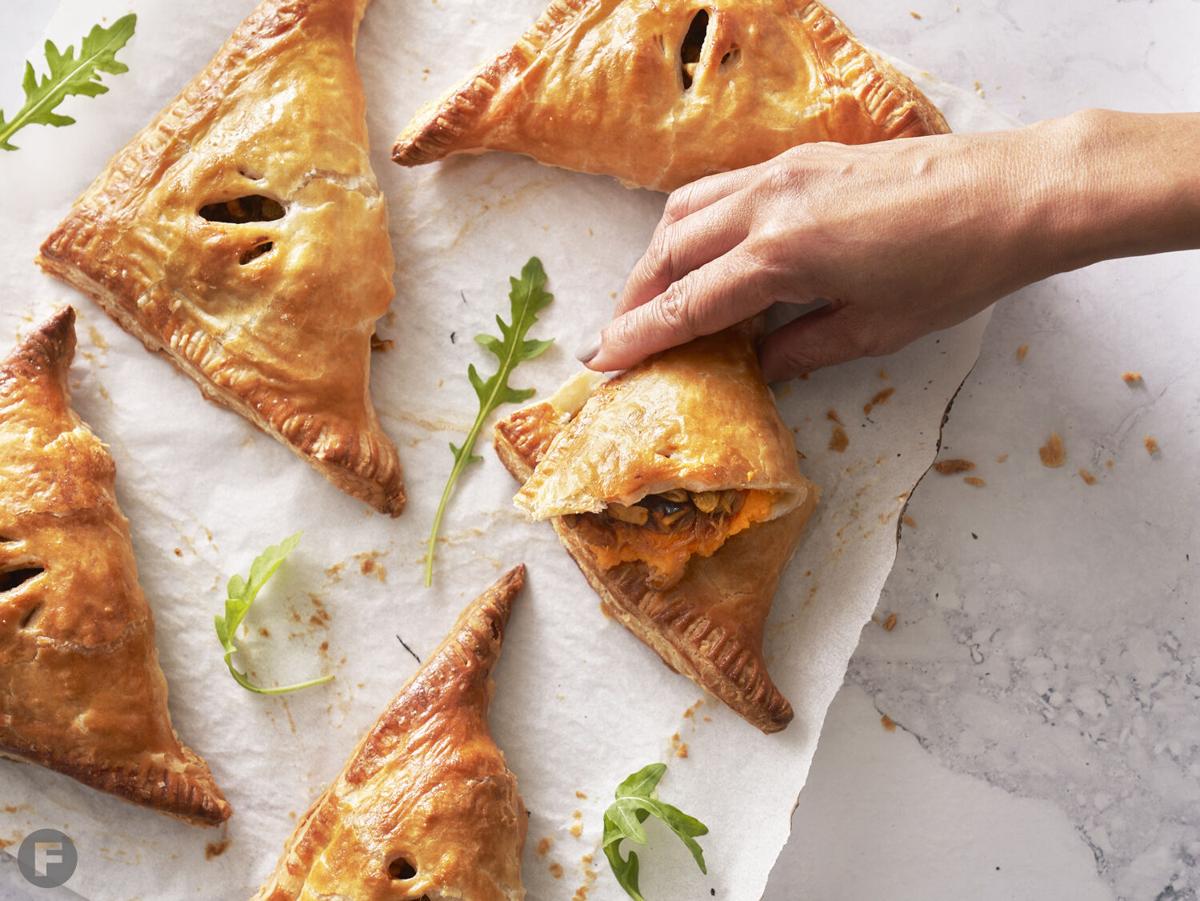 These pockets of goodness insulate themselves, so you can wait 15 to 20 minutes to serve them and they'll still be piping hot. Once the holiday season is over, pair them with a green salad for a delicious weeknight dinner.
Sweet Potato Hand Pies
Serves | 8 |
Filling
1¼ lbs sweet potatoes, peeled and cut in 1-inch chunks
3 Tbsp butter
2 Tbsp honey
½ tsp, plus 1 large pinch, kosher salt
1 cup water
¾ cup golden raisins
¾ cup gold rum
2 Tbsp grapeseed or vegetable oil
2 lbs sweet yellow onions, sliced pole to pole in ¼-inch slices
2 Tbsp apple cider vinegar
Sweet Potato Hand Pies
filling (recipe follows)
2 sheets frozen puff pastry, thawed in refrigerator overnight
flour, for dusting
⅓ cup walnuts, toasted and chopped
1 large egg, beaten
| Preparation – Filling | Add sweet potatoes, butter, honey, ½ teaspoon salt and water to a large saucepan and set over high heat; bring to a boil, cover and then reduce heat to simmer. Cook until potatoes are tender, 20 minutes. Remove from heat and set aside to cool slightly, 30 minutes. Remove potatoes from liquid and add to a mixer or food processor; blend until mashed and smooth. (A hand or stand mixer will give the potatoes a little texture while a food processor will create more of a purée.)
Add raisins and rum to a small saucepan and set over medium heat; cook until mixture bubbles. Reduce heat and simmer until raisins are plump and soft, 20 minutes. Remove from heat and set aside to cool completely in liquid.
Heat oil in a cast-iron skillet or large stainless-steel skillet over medium heat. Add onion and remaining salt and stir to coat; cover and cook until onion has softened, 10 to 15 minutes. Uncover and continue to caramelize; cook until onions are deeply golden, 45 minutes to 1 hour, stirring every 5 minutes to scrape bits from bottom of pan. (If moisture evaporates, add a little water at a time to pan.) Add raisins, 1 tablespoon raisin-rum liquid and apple cider vinegar to pan; cook until liquid has evaporated, 3 to 4 minutes. Remove from heat and set aside to cool.
| Preparation – Sweet Potato Hand Pies | Preheat oven to 400°F and place filling components within reach. Remove both sheets of puff pastry from refrigerator and transfer to a floured work surface; roll each sheet into a 10-by-10-inch square. Using a sharp knife or pizza cutter, slice each sheet into four equal squares. Leave one square on work surface and place remaining squares back in refrigerator until ready to use. Roll square into a 6-by-6-inch square. Spoon 3 separate tablespoons of processed sweet potato onto half of square in a triangle formation, leaving a ¾-inch border around the edge. Add 1 heaping tablespoon of onion-raisin mixture on top and spread to cover sweet potato; sprinkle with a few walnut pieces. Dip fingers in water and wet all four edges of pastry square; stretch pastry and fold over filling to form a triangle, pressing edges together to seal. Use a fork to firmly crimp edges and then transfer hand pie to a baking sheet. Repeat process with each remaining square. Brush hand pies all over with egg wash; using a thin knife, slice three small slits in center to vent. Bake until deep golden in color, 20 to 24 minutes. Remove from oven and set aside to cool slightly, 5 to 10 minutes. Serve hot.