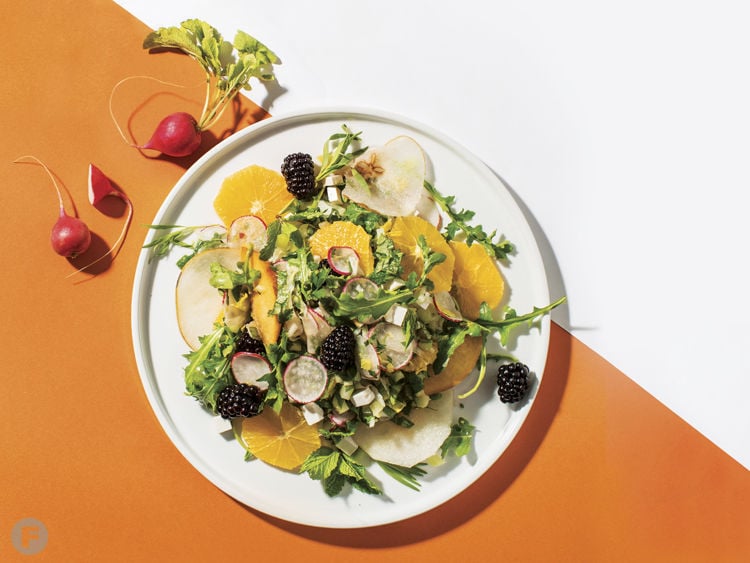 Not every fresh ingredient in this robust and flavorful salad can be grown locally – specifically the Asian pears and citrus – but much of it thrives in Midwest soil. Take full advantage of our early summer growing season by combining fennel, shallots, celery, radishes, arugula, herbs and blackberries, which first come into season this month and stick around through August.
Fruit and honey add sweetness to the salad, while citrus adds a pop of acid. This is balanced by the saltiness of ricotta salata, or salted ricotta cheese made from pasteurized sheep's milk. While you won't find it on a cheese board, ricotta salata shines when combined with a range of other ingredients and flavors, as in this salad. Feel free to play with other fruit, vegetable and herb combinations to pair with this sweet and tangy dressing; almost any combination of seasonal produce should work nicely.
FRESH START. Fennel will oxidize if left out at room temperature for too long. If you won't be serving the salad within 30 minutes of shaving fennel, place it in cold water with a little lemon juice to avoid browning.
WHAT A PEAR. Asian pears remain fairly hard, even when ripe. To determine if an Asian pear is ripe, give it a sniff: A beautiful fragrance indicates that it's ready to serve. A ripe Asian pear should keep in the refrigerator for at least a month or two.
Fresh Herb and Shaved Fennel Salad With Honey-Lime Dressing
This hearty salad is meant to serve as a main course. Sautéed fresh shrimp, scallops, prawns or squid would complement it nicely.
Serves | 3 to 4 |
Honey-Lime Dressing
zest of 3 limes
¼ cup freshly squeezed lime juice
2 Tbsp honey
1 tsp Dijon mustard
2 shallots, minced
¼ cup olive oil
sea salt and freshly ground black pepper, to taste
Herb and Shaved Fennel Salad
1 orange, peeled and supremed
1 cup thinly sliced celery hearts
2 Asian pears, halved, deseeded and thinly sliced
8 radishes, thinly sliced
2 white nectarines, halved and pitted
3 medium-sized fennel bulbs, cored and shaved lengthwise
1 cup lightly packed baby arugula
¼ cup roughly chopped fresh flat-leaf parsley
¼ cup roughly chopped fresh mint
¼ cup fresh basil, chiffonade
2 tsp finely chopped fresh tarragon
5 oz ricotta salata cheese, cut into small cubes
½ pint fresh blackberries
toasted bread, to serve
| Preparation – Honey-Lime Dressing | In a small mixing bowl, add all ingredients and stir to combine. Set aside to allow flavors to develop, 1 to 2 hours. Refrigerate if not using within a couple of hours.
| Preparation – Herb and Shaved Fennel Salad | In a large mixing bowl, add all ingredients except cheese and berries and toss lightly to combine. Drizzle enough honey-lime dressing to just coat ingredients; add cheese and blackberries and gently toss once more. Divide between 3 to 4 large salad bowls and serve immediately with warm toasted bread.
GET HANDS-ON! Join Feast Magazine and Schnucks Cooks Cooking School at 6pm on Thu., June 14, at the Des Peres, Missouri, location to make the dishes in this month's menu. Tickets are just $45 for a night of cooking, dining and wine. RSVP at nourish.schnucks.com/schnucks-cooking-school or call 314.909.1704.
MAKE THE MEAL:
Fresh Herb and Shaved Fennel Salad With Honey-Lime Dressing
Garlicky Green Beans
Melting Potatoes
Cornbread-Stuffed Pork Chops
Strawberry Lazy Sonker
LEARN MORE: In this class you'll learn how to make melting potatoes, potato rounds tossed in melted butter and then roasted in a very hot oven before finishing them with chicken stock. You'll also prepare a strawberry Lazy Sonker, a favorite dessert in North Carolina that blends the best of pie and cobbler.