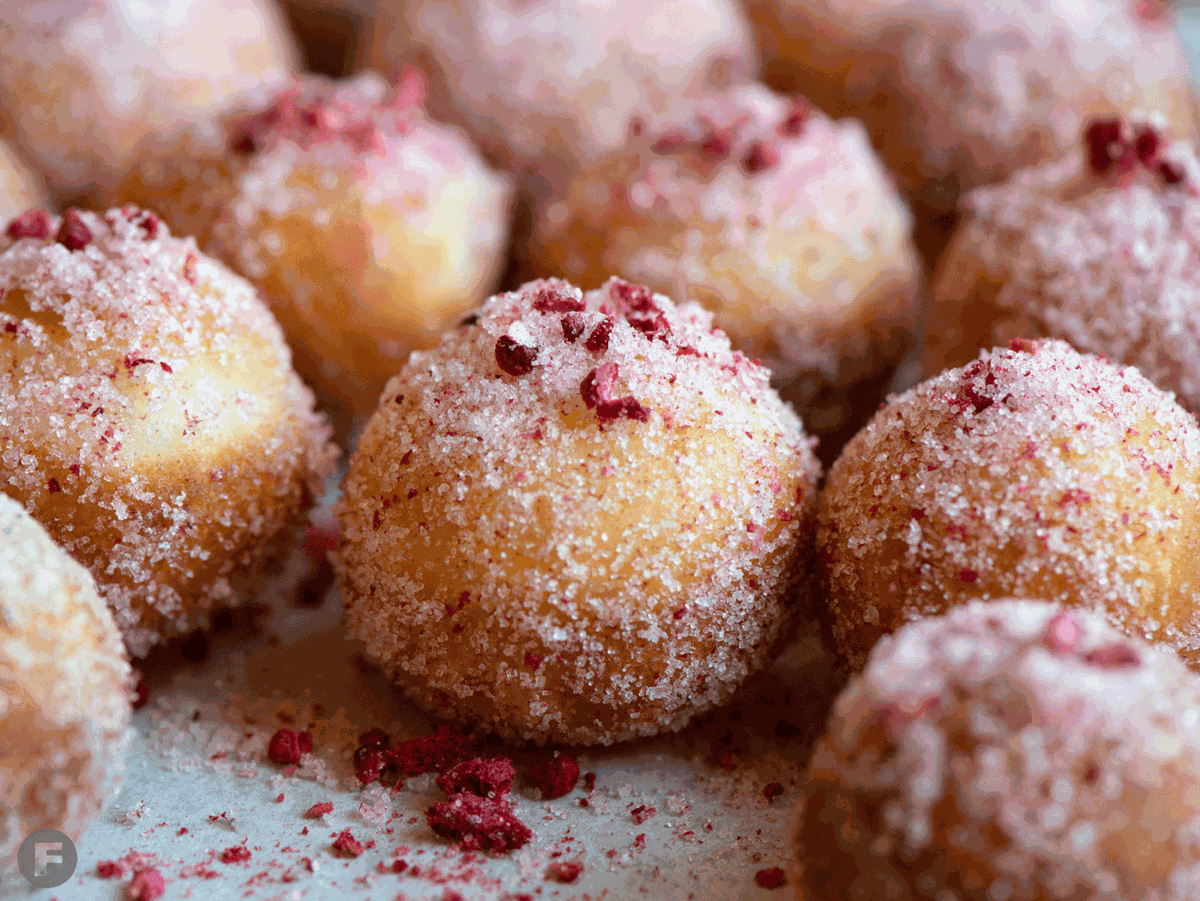 Let's get to the heart of the matter: warm, sugary, bite-size donut holes. Rolled in an aromatic mixture of dried raspberries and sugar, they're almost too pretty to eat.
Raspberry Sugar Donut Holes
Yields | 4 dozen donut holes |
Raspberry Sugar
1 cup sugar
½ cup crushed freeze-dried raspberries
¼ vanilla bean, split and seeds scraped (optional)
Dough
¾ cup whole milk
1½ tsp instant dry yeast
½ cup all-purpose flour
1⅓ cups bread flour, plus more as needed
2 Tbsp sugar
¼ tsp kosher salt
½ large egg
½ tsp vanilla extract
3 Tbsp unsalted butter, room temperature
| Preparation – Raspberry Sugar | In a large bowl, combine all ingredients. Set aside until ready to use.
| Preparation – Donut Holes | In a heatproof container, warm milk in microwave until slightly warm to the touch (not hot), approximately 30 seconds. Pour milk into the bowl of a stand mixer; sprinkle in yeast and lightly whisk to combine.
In a large bowl, combine flours, sugar and salt. Add flour mixture to milk mixture. Add egg, vanilla and butter. Using the dough hook attachment, mix dough on low until combined. Increase speed to medium and continue to mix, approximately 6 minutes. Stop and scrape down the sides and bottom of the bowl as needed. The final dough will be soft and slightly tacky. If it appears too wet and sticky, add an additional tablespoon of bread flour and continue to mix until it begins to pull away from the sides of the bowl (the bottom of the dough should still stick to the bowl). Transfer dough to a large bowl and cover with a clean kitchen towel. Set in a warm spot on the counter and allow dough to rise, 30 minutes.
Meanwhile, prepare a deep-fryer with oil; heat to 350°F. Alternatively, fill a large heavy-bottomed pot with at least 2 inches of oil and attach a deep-fry thermometer to the inside. Line a large baking sheet with aluminum foil and place a wire rack on top. Set aside.
Transfer dough to a well-floured work surface and sprinkle the top with more flour. Flour a rolling pin and roll out dough to approximately ½ inch thick. Using a 1¼-inch round cutter, cut out dough rounds. Gather leftover dough scraps and gently knead into a uniform dough ball; repeat rolling and cutting steps to get as many dough rounds as possible. Cover rounds with a clean kitchen towel.
Fry five to six donut holes at a time, turning regularly in the oil, until deeply golden brown, 1 to 2 minutes. Once done, immediately toss donut holes in raspberry sugar. Set raspberry sugar donut holes on prepared baking sheet. Repeat process with remaining donut holes, allowing fryer oil to reheat to 350°F between each batch. Serve warm.