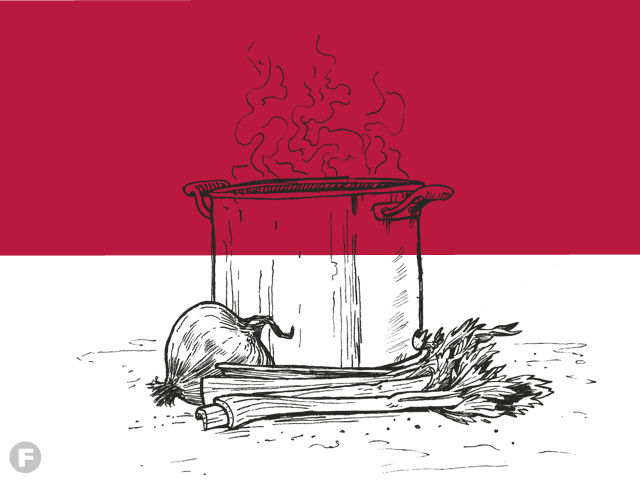 You've busted out a massive meal with a laundry list of ingredients; stock is a fantastic way to use up all the bits and bobs still hanging out in the refrigerator.
Add fresh herbs or any extra vegetables you'd like here. I always have a sweet potato or two to add, which gives the stock a lovely color and a little extra body. Remember: You don't have to pick your turkey carcass clean before simmering; as always, a little meat on the bones is definitely a plus. You will need a tall stockpot to make your turkey stock.
Yields | 16 cups |
1 roasted turkey carcass and thigh bones
3 celery stalks and leafy tops, sliced into large pieces
2 carrots, sliced into large pieces
1 large sweet yellow onion, peeled and quartered
1 medium sweet potato, scrubbed and sliced into large pieces
1 tsp black peppercorns
leftover giblet stock
cold water to fill stockpot
| Preparation | Add all ingredients to stockpot, plus enough water to fill pot. Set over high heat and bring to a boil; reduce heat to medium and allow to simmer steadily for 3½ to 4 hours.
Remove bones, strain solids from stock and allow to cool to room temperature.
Freeze for later use.