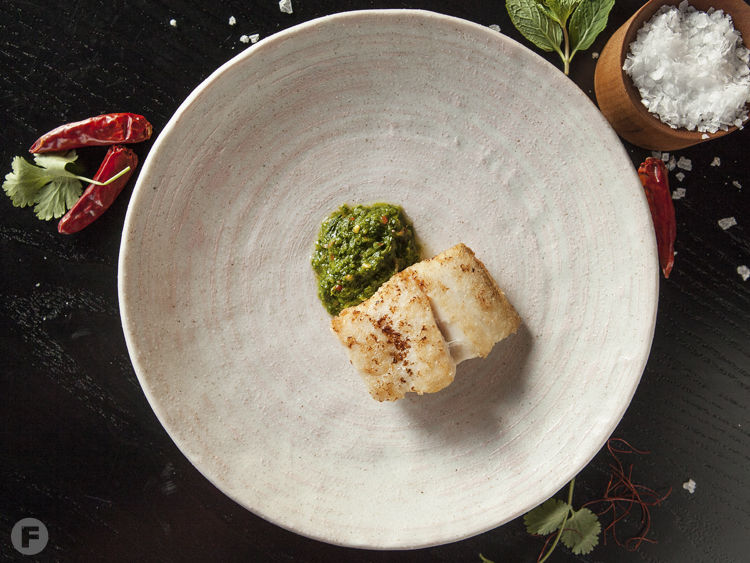 The brine in this recipe is used in all of the broiled, roasted or pan-seared fish dishes served at Corvino Supper Club & Tasting Room in Kansas City. Chef-owner Michael Corvino says the salt seasons and firms the fish and pulls moisture from the skin so it sears nicely when broiled in oil.
Recipe by Michael Corvino, chef-owner, Corvino Supper Club & Tasting Room in Kansas City
Serves | 2 to 3 |
Brined Cod
1 qt warm water
1 cup kosher salt
2 lbs ice
1 lb Pacific black cod fillets
canola oil (for assembly)
room-temperature unsalted butter (for assembly)
Chimichurri
3 garlic cloves
1 large shallot
¾ cup rice wine vinegar, divided
2 bunches fresh parsley, stems removed and roughly chopped
1 bunch fresh cilantro, stems removed and roughly chopped
1 cup fresh mint leaves
1 cup fresh Thai basil leaves
1 Tbsp chile flakes
2 tsp kosher salt
¼ cup olive oil
| Preparation – Brined Cod | In a large mixing bowl filled with warm water, add salt and ice. Once salt has dissolved and water has cooled completely, add to a container large enough to submerge fish fillets; submerge fillets for 1 hour. Remove fish and pat dry with paper towels. Refrigerate uncovered for a minimum of 1 hour or up to 8 hours.
| Preparation – Chimichurri | In the bowl of a food processer, add garlic, shallot and 6 tablespoons vinegar and pulse until chopped but not puréed. Add parsley and pulse a few times. Add cilantro, mint, Thai basil and chile flakes and pulse a few more times. Add salt and remaining vinegar and pulse. With processor running, slowly add olive oil, and switch processor to emulsify setting; emulsify for a few seconds.
| Assembly | Remove fish from refrigerator 1 hour prior to cooking. Set oven to broil. Oil a rimmed sheet pan; add fish to pan. Using a silicone brush, coat top of fish with butter. Place pan in the middle of oven and broil until golden with dark charred edges, approximately 5 to 7 minutes. Fillets should start to flake apart when ready. Top fish with chimichurri and serve.