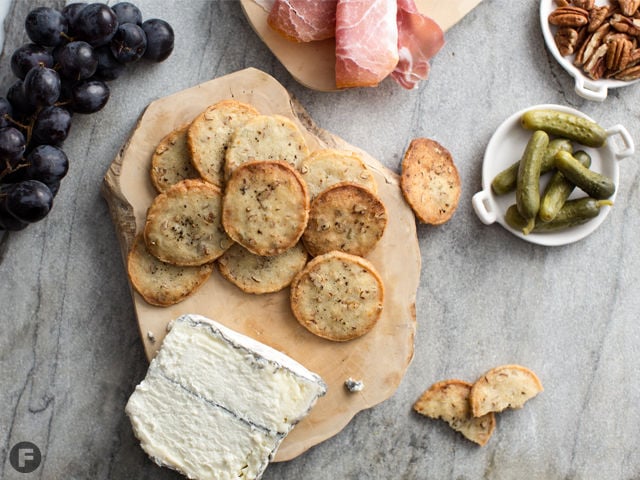 Bloomy-rind cheese is an amazing thing. It's versatile and flavorful yet not overbearing, and an ideal companion to spring produce. Remember those sumptuous charcuterie platters you dove into over the holidays? Give them a spring makeover with a pop of fresh fruit, snappy vegetables, and these toasty crackers, which not only use a bloomy-rind cheese as their base, but beg for more to be thrown on top.
Savory Bloomy-Rind Toasted Cheese Crackers
Yields | 50 to 60 crackers |
6 oz bloomy-rind cheese
6 Tbsp unsalted butter
¹⁄₃ cup pecans, finely chopped
½ tsp kosher salt
¼ tsp freshly ground black pepper, plus more for sprinkling
¾ cup plus 2 Tbsp all-purpose flour
| Preparation | Roughly chop cheese, including rind, and place in the bowl of stand mixer fitted with paddle attachment. Add butter and beat on high until creamy and light, 4 minutes. Scrape down sides of bowl with spatula, add pecans, salt and pepper and beat again until combined, 1 minute. Add flour and blend on low until dough is damp, crumbly and just comes together. Remove bowl from stand mixer and use spatula to incorporate any dry patches. Transfer to a lightly floured work surface and shape into a ball. Roll ball into a log 12 inches long, pressing firmly as you roll to ensure no pockets form. Wrap tightly in plastic wrap and refrigerate until very firm, 4 hours or overnight.
Preheat oven to 400°F. Line a sheet pan with parchment paper. Unwrap dough log on a workspace. Use a thin-bladed knife to slice dough into very thin wafers between ¹⁄₁₆ - and ¹⁄₈-inch thick. Lay on prepared sheet pan 1 inch apart and sprinkle more black pepper over top. Bake for 8 to 9 minutes, until just golden around edges. Remove and allow to cool completely before serving.
| To Serve | Serve at room temperature with cheese, or as part of a charcuterie platter.