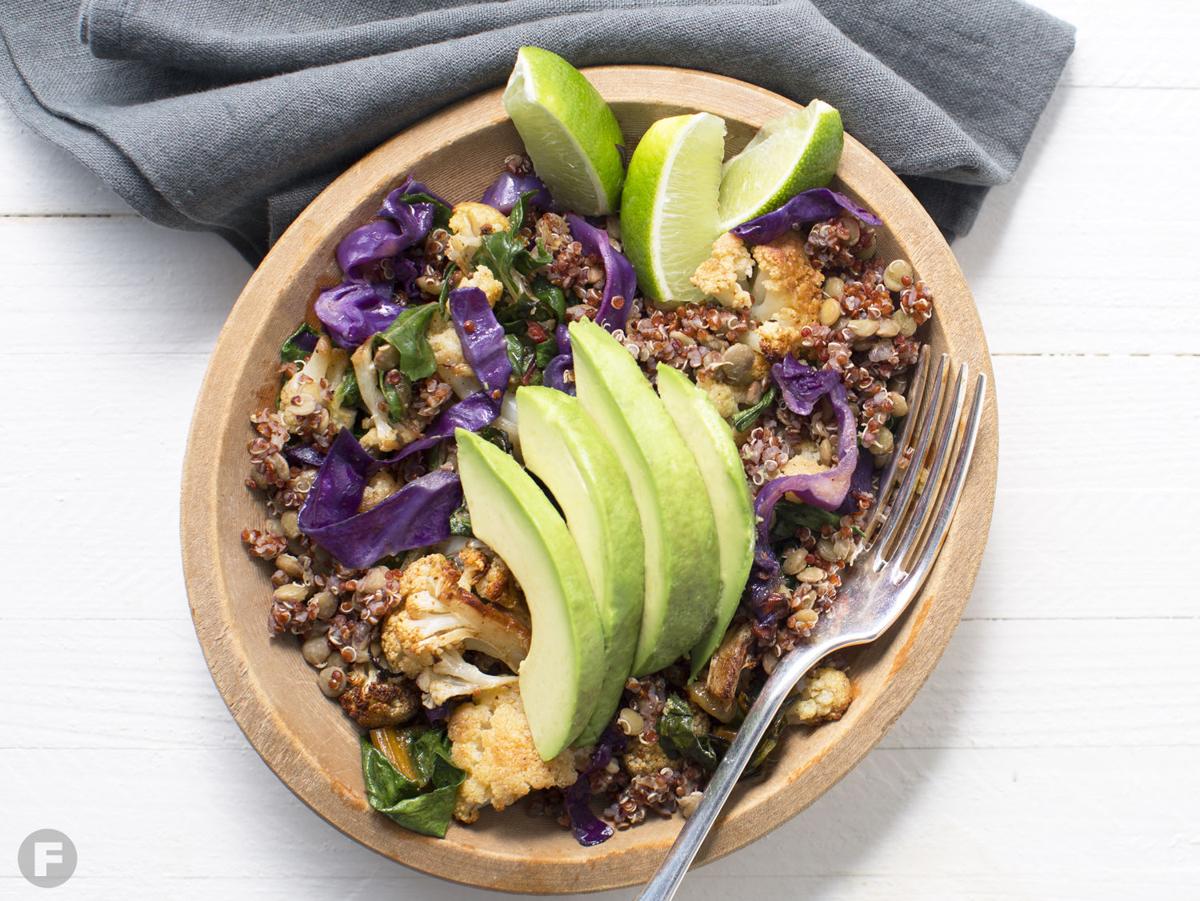 After a long day at the office or a grueling workout, it's not always easy to motivate ourselves to cook a healthy meal – even if that's exactly what we're craving. This warm Southwestern-inspired salad offers plenty of what's good for you in one dish: hearty lentils and red quinoa; flavorful roasted cauliflower, Swiss chard and cabbage; and fresh avocado tossed in a bright lime-red wine vinegar dressing. Although extremely filling, this sunny salad will leave you feeling light. If you're cooking for just one or two, pack up your leftovers and enjoy them for lunch throughout the week.
THE CUTTING WEDGE. To properly slice a lime into wedges, first remove the top and bottom of the fruit. Place lime on its flat end and slice in half. Slice each half into three equal wedges. Remove pith from wedges before squeezing out juice.
Lentil-Quinoa-Swiss Chard Salad With Avocado and Lime Vinaigrette
Serves | 4 to 6 |
6 cups vegetable stock
1 cup lentils, rinsed
1 cup red quinoa, rinsed
¾ tsp ground cumin
½ tsp chile powder
½ tsp ground chipotle pepper
1 tsp kosher salt, plus more to taste
½ tsp freshly ground black pepper, plus more to taste
1 cup olive oil, divided
3 cups cauliflower, sliced into small florets
2 cloves garlic, smashed
½ sweet onion, sliced into half moons
1 bunch Swiss chard, rinsed, stalks removed, sliced into 1-inch shreds, divided
½ head red cabbage, sliced into 1-inch pieces, divided
¼ cup fresh lime juice (from 2 to 3 limes)
2 Tbsp red wine vinegar
2 avocados, pitted, cut into slices and scooped out
2 limes, sliced into wedges
| Preparation | Preheat oven to 425°F. In a large saucepan with a lid over medium heat, add stock. Bring to a boil and add lentils and quinoa. Cook according to package directions. Set aside.
In a large mixing bowl, combine next 5 ingredients and ½ cup olive oil. Toss cauliflower florets, garlic and onion in oil mixture. Using a slotted spoon, transfer vegetables to a rimmed baking sheet and roast for 15 to 20 minutes, tossing halfway through, until cauliflower takes on some color and onion is tender. Remove baking sheet from oven and spread ½ Swiss chard and cabbage over cauliflower. Roast for 3 to 5 minutes more. Remove from oven and transfer to a large serving bowl. Toss roasted vegetable mixture with cooked lentils and quinoa and remaining raw Swiss chard and cabbage until evenly combined.
In a small mixing bowl, combine remaining oil, lime juice and vinegar. Drizzle salad with oil mixture and toss; taste and adjust seasoning as desired. Evenly distribute among 4 to 6 salad bowls; serve with avocado slices over top and lime wedges on the side.
GET HANDS-ON! Join Feast Magazine and Schnucks Cooks Cooking School at 6pm on Thu., March 29, at the Des Peres, Missouri, location to make the dishes in this month's menu. Tickets are just $45 for a night of cooking, dining and wine. RSVP at nourish.schnucks.com/schnucks-cooks or call 314.909.1704.
MAKE THE MEAL: 
Tortilla Soup With Avocado
Lentil-Quinoa-Swiss Chard Salad
Chicken Quesadillas
Stewed Berries With Vanilla Bean Ice Cream
LEARN MORE: In this class you'll learn how to make warming and flavorful tortilla soup from scratch. You'll also learn how to stew fresh berries to top your favorite vanilla bean ice cream.