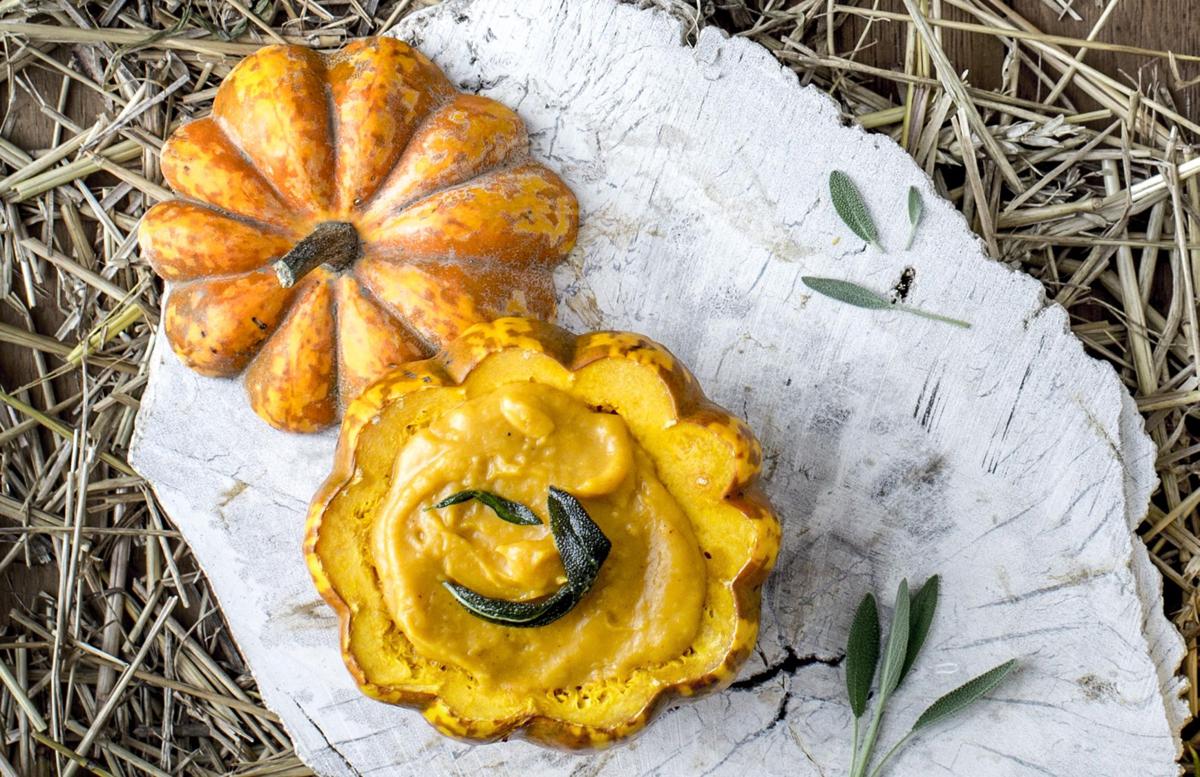 After a long, hot summer, the striking colors of autumn leaves, crisp aroma of fall air and chilly temperatures are rejuvenating changes. Comforting baking spices such as cinnamon, cardamom and nutmeg flavor the season, as do the root vegetables that overflow at farmers' markets this time of year. I love the varieties of squash available in autumn; we actually plant winter squash in May, giving them enough time to vine out and mature.
Standing among a butternut squash patch and seeing hundreds of beige beauties is certainly one of the many joys of farming. Winter squash start out as single green vibrant plants, tidy in rows, and within weeks create a beautiful green quilt covering the rich soil. The blossoms are bright orange and yellow, and baby squash emerge like magic between stems and blooms. We harvest them during late summer, and they store for a few months. There are several dozen varieties of edible winter squash, but acorn and butternut are a sure bet for your fall dinner table.
Crystal Stevens is a farmer at La Vista CSA Farm on the bluffs of the Mississippi River in Godfrey, Illinois, where she farms with her husband, Eric. They have two children. Crystal is an advocate of integrating creativity into sustainability through writing, art, photojournalism and seed-to-table cooking. Find more of her work at growingcreatinginspiring.blogspot.com, which she created to launch her forthcoming book, Grow Create Inspire.
Thick Butternut and Acorn Squash Soup with Pan-Fried Sage
You can also pan-fry sage in butter for a richer flavor.
Serves | 6 |
1 butternut squash, cut in half lengthwise and deseeded
1 acorn squash, cut in half lengthwise and deseeded
6 Tbsp extra virgin olive oil, divided
6 small pumpkins, tops removed and reserved, deseeded
1 onion, sliced and caramelized
3 cups coconut milk
1 Tbsp sea salt
1 Tbsp freshly ground black pepper
1 tsp ground nutmeg, plus more for garnish
½ tsp ground cinnamon
¼ tsp ground cardamom
¼ tsp ground ginger
¼ tsp ground sage
12 to 20 fresh sage leaves
| Preparation | Preheat oven to 425°F. Grease a baking sheet and set aside.
Cut butternut and acorn squash into quarters and place in a mixing bowl. Drizzle with 2 Tbsp olive oil and place on prepared baking sheet. Transfer to oven to bake for 20 to 30 minutes or until tender. Remove from oven and allow to cool to room temperature.
Transfer pumpkins to a separate baking sheet and brush insides of each with olive oil. Set pumpkin tops aside for later use. Bake pumpkins for 15 to 20 minutes or until tender.
While pumpkins are baking, in a food processor or blender, combine cooled acorn and butternut squash, caramelized onions, coconut milk and spices and blend for 2 minutes or until thick and creamy. You can add more coconut milk to achieve your desired texture; for a thinner consistency add more milk. Transfer soup to a large pot with a lid over medium heat and simmer to keep warm.
When pumpkins are tender, remove from oven. Fill each pumpkin with soup and cover with pumpkin tops to keep warm.
In a skillet over medium heat, heat remaining olive oil and pan-fry sage leaves until slightly golden and crispy, taking care not to burn. Top each serving of soup with 2 fried sage leaves and a dusting of nutmeg. Serve.