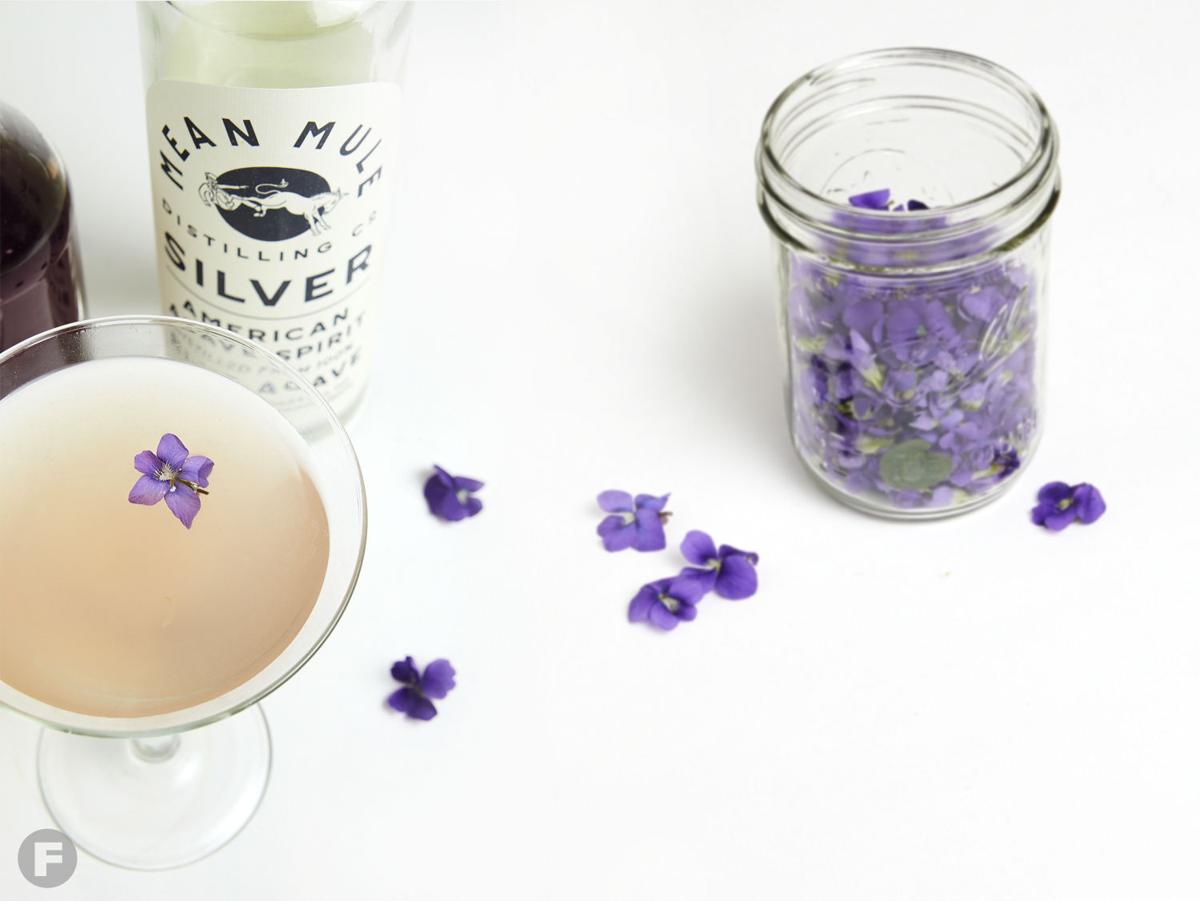 Craving a new spring cocktail, we looked to our front yard for inspiration, realizing the potential of the edible plants – particularly, violets – that grow there. The bright purple flowers of wild violets are a fun and resourceful way to spruce up homemade simple syrups, and they impart sweet, floral notes to this pink Martini that will help you decompress at the end of the day.
Spotting the purple flowers of wild violets is fairly easy, but make sure you're not foraging in places where they may have absorbed vehicle exhaust emissions or been sprayed with pesticides – or your neighbor's dog who's now going on 10 walks a day.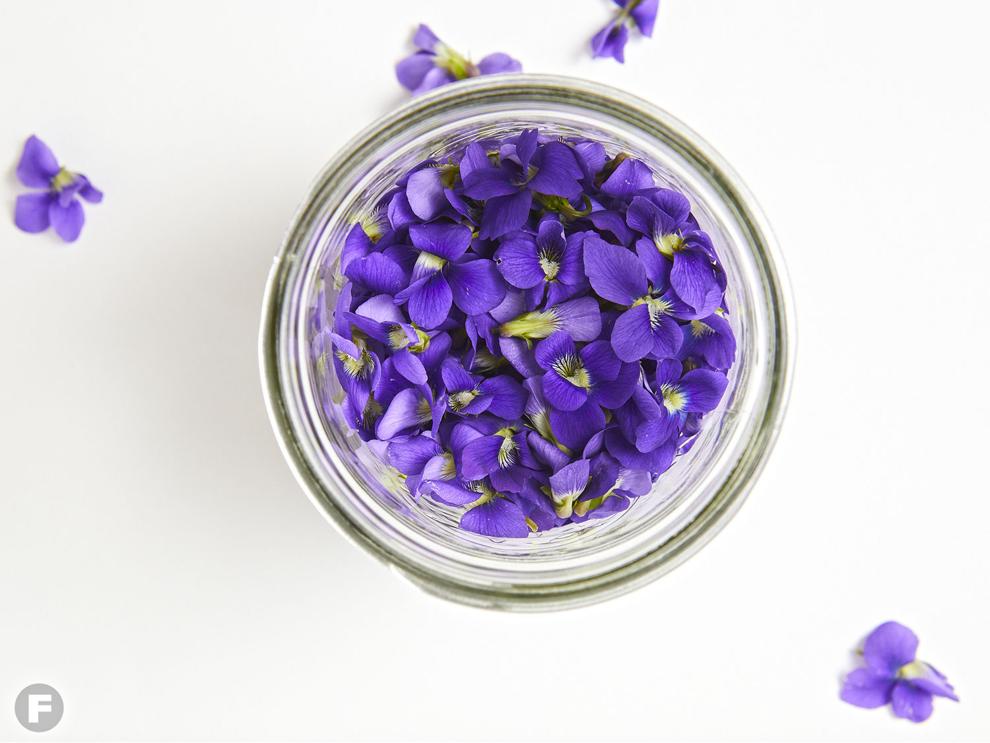 The violet syrup will have the best color if you use only the flower heads without the stems. Gather a few cupfuls and store them in the refrigerator – but remember that they wilt quickly, so starting your syrup within a couple hours of harvest is ideal.
Note: When foraging for wild edibles, you must be 100 percent sure that what you're picking is safe to eat. A good reference is this list on the Missouri Department of Conservation's website.
When you're ready to start the syrup, bring a saucepan or teapot of water to a boil. Fill Mason jars with flower heads. Once the water boils, remove from heat and allow to cool, 5 minutes, so you don't scald the flowers. Pour hot water over flowers, leaving approximately 1 inch of space at the top of the jar; seal lids. (You should see the water immediately begin to change to a beautiful blue color.) Allow to sit, 24 hours.
After 24 hours, strain flowers from liquid; squeeze out any remaining liquid by pushing flowers against the strainer with a spoon. Measure liquid and then add it to a saucepan. Add equal parts sugar. Stirring constantly, heat mixture over extremely low heat until sugar dissolves completely. (Do not boil mixture, as that might affect the color and flavor of the syrup.)
Now comes the fun part: playing with color. If you want to keep your syrup blue, then you're finished. If you want it to be purple, slowly add lemon juice, stirring occasionally, until you get the color you want. If you continue to add lemon juice, the syrup will eventually turn pink.
Note: If you plan to use the violet syrup in a cocktail with citrus, it will likely change color once in the drink, which is a fun party trick to try post-COVID-19.
Once you've achieved your desired color, transfer violet syrup to a glass jar or bottle with a lid. Store in refrigerator for up to 6 months.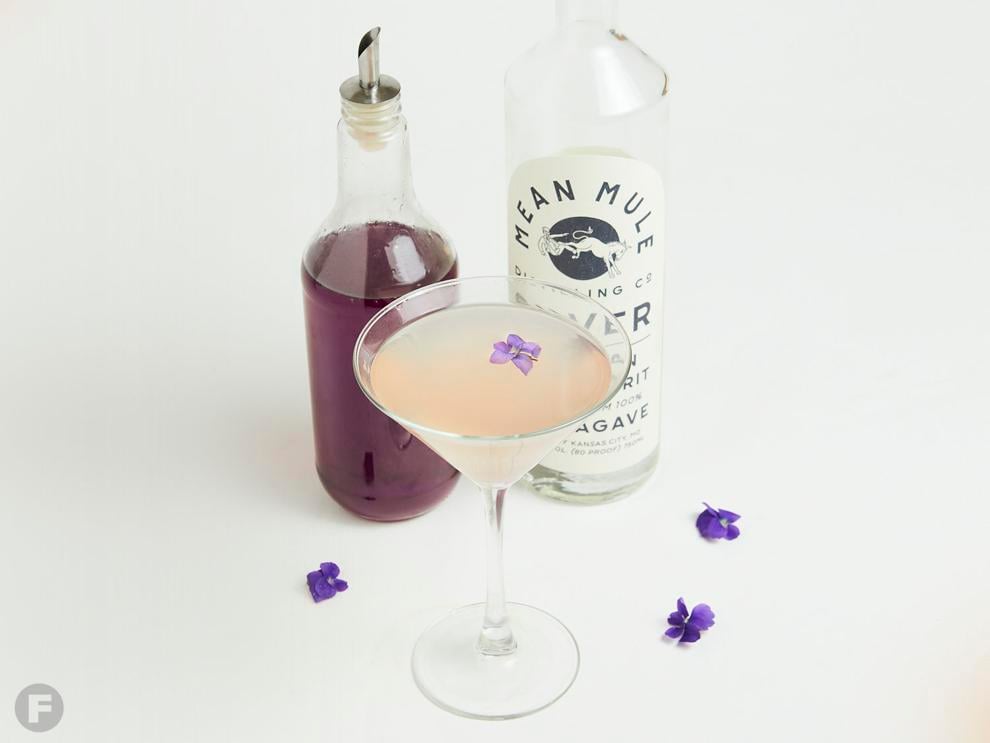 Thinking about the perfect spring cocktail to go with our violet syrup, we were reminded of our visit to Mean Mule Distilling Co. around this time last year. We sampled numerous cocktails – all of which were bright and refreshing – but nothing stood out quite as much as the Paloma. Here, we use Mean Mule's Silver American Agave Spirit with our violet syrup to put a spin on that Paloma. The distillery's version is still available for carryout if you want to try the two side by side.
Pink Martini with Violet Syrup
Serves | 1 |
2 oz agave spirit
1 oz grapefruit juice 
½ oz violet syrup (recipe above)
ice 
1 oz soda water 
2 to 4 dashes Angostura aromatic bitters
violet flower, for garnish
| Preparation | Add agave spirit, grapefruit juice and violet syrup to a shaker tin with ice; stir until liquid is nice and cold. Strain into a chilled Martini glass. Top with soda water and bitters. Garnish with violet flower and enjoy.