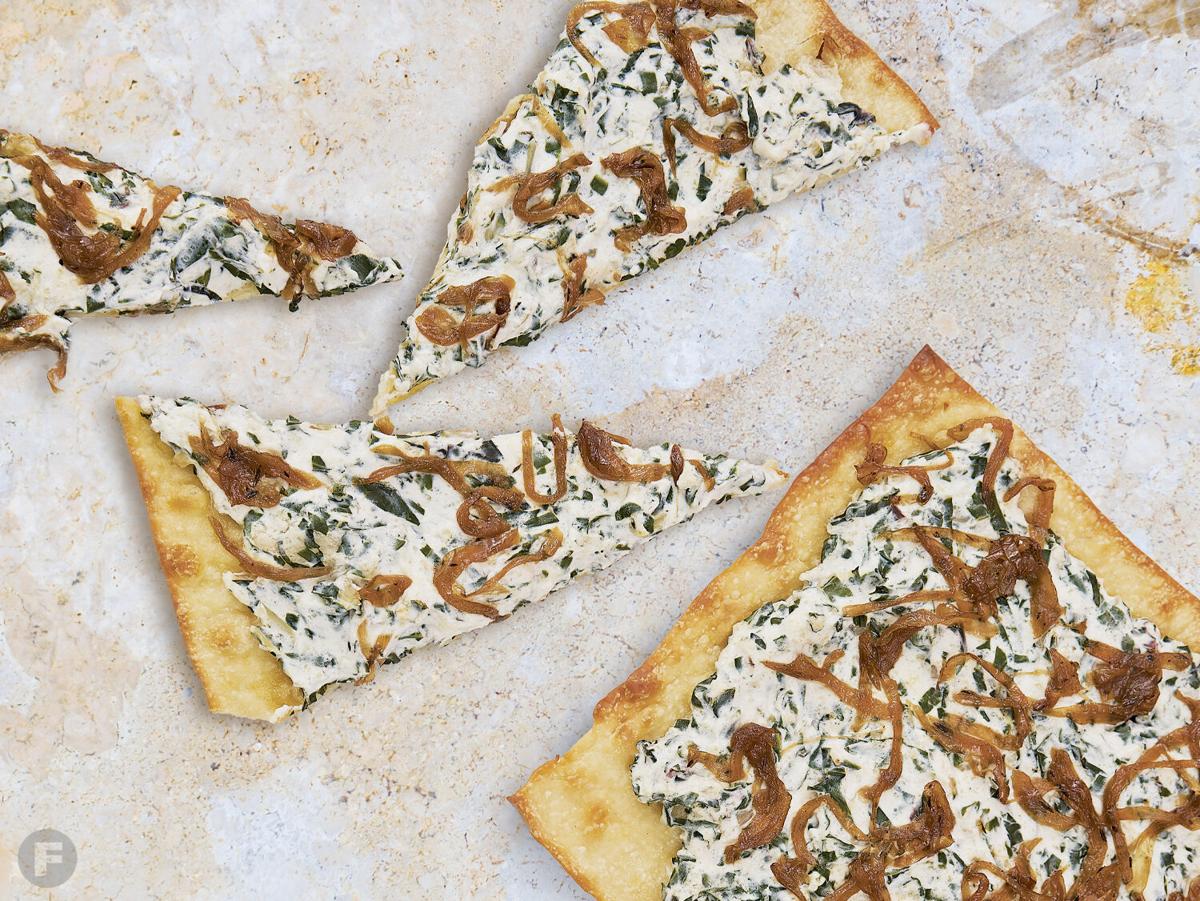 With milk, lemon juice or vinegar, salt and a little time, you can make fresh ricotta that's more delicious than any store-bought selection. For this version, I've also added heavy cream, which makes the cheese richer and better suited for spreading on pizza or lasagna, filling cannoli or serving with berries.
There's an added bonus to making ricotta at home: the leftover whey, which is fantastic in baked goods. Try using the whey from this recipe instead of water in your next loaf of bread or ball of pizza dough. You can also use a few spoonfuls to jump-start the lacto-fermentation process when making items such as sauerkraut and kvass.
Pizza with Caramelized Onions, Ricotta and Chard
Yields | 1 14-inch pizza |
Ricotta (Yields 2 cups)
4 cups whole milk
2 cups heavy cream
1 tsp kosher salt
4 Tbsp lemon juice
Pizza with Caramelized Onions, Ricotta and Chard
2 Tbsp unsalted butter
1¼ lb onions, sliced
2 cloves garlic, minced
1 tsp chopped fresh thyme leaves
2 Tbsp sherry
salt and freshly ground black pepper, to taste
½ lb chard, stemmed, leaves washed
¾ cup ricotta (recipe follows)
½ cup grated Parmesan, tightly packed
1 14-inch parbaked pizza crust
| Preparation – Ricotta | Set a strainer over a bowl and line the strainer with a damp cheesecloth. In a small saucepan, add milk and cream; bring to a gentle boil and then remove from heat. Stir in salt and lemon juice. Let mixture sit until it separates into milky white curds and thin, watery, yellowish whey. Using a slotted spoon, gently scoop the big curds out of the pot and place them in the cheesecloth-lined strainer; pour remaining curds and whey through the strainer. Allow curds to drain (the longer you let them drain, the thicker your ricotta will become). Fresh ricotta can be used immediately or refrigerated in an airtight container for up to one week.
| Preparation – Pizza with Caramelized Onions, Ricotta and Chard | Preheat oven to 450°F. In a large, heavy-bottomed skillet set over medium low heat, melt butter. Add onion; stirring occasionally, cook until onion begins to caramelize, approximately 10 minutes. Add garlic and thyme; continue cooking until onion is soft, sweet and caramelized, 20 to 25 minutes. If onion begins to burn, add a little water and continue to cook and stir. Once onion is caramelized, add sherry; cook until liquid has evaporated and then remove from heat. Season with salt and pepper to taste.