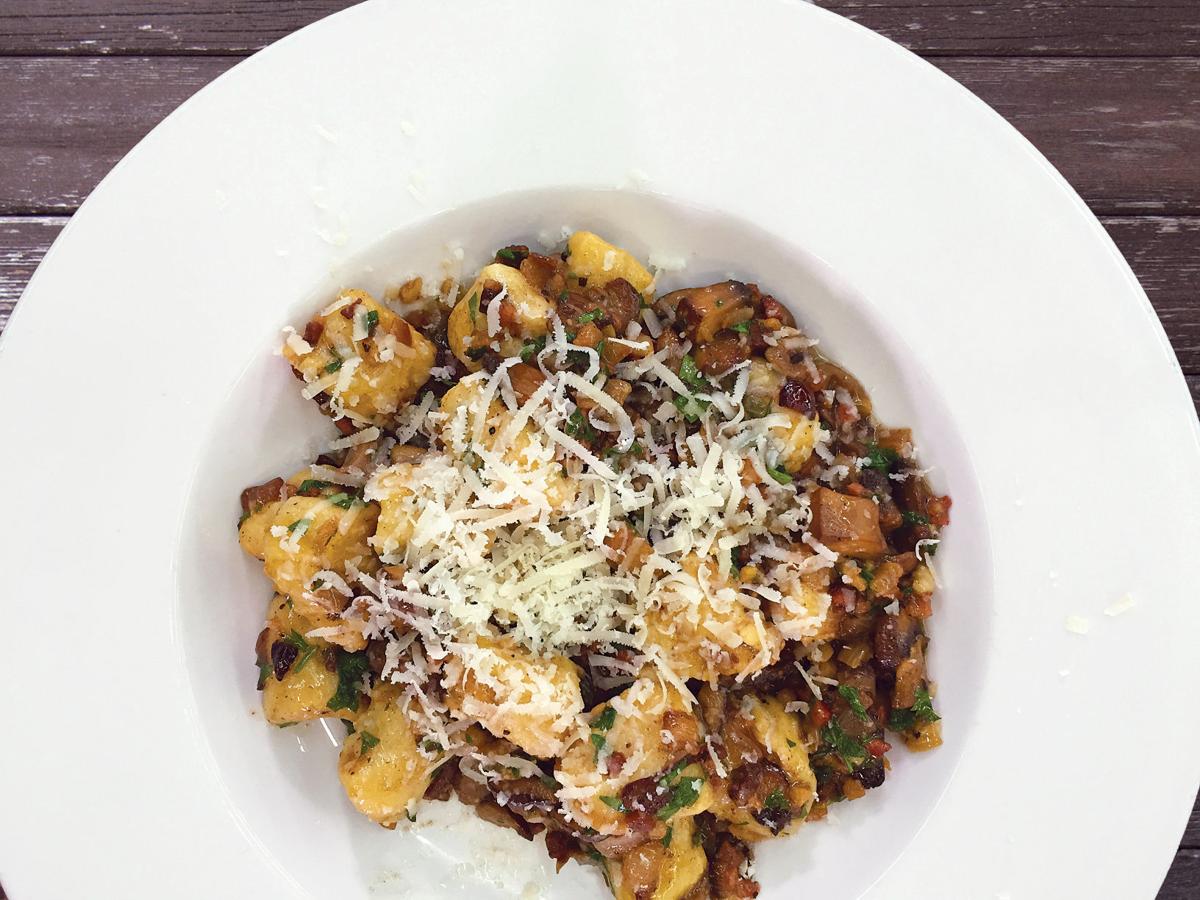 Gnocchi with Caramelized Mushroom-Volpi Pancetta Sauce
Yields | 6 |
Gnocchi
salted water
2 russet potatoes
2 cups all-purpose flour
1 egg
Caramelized Mushroom-Pancetta Sauce
4 Tbsp extra virgin olive oil, divided
½ lb Volpi pancetta
¼ lb crimini mushrooms, small dice
¼ lb shiitake mushrooms, small dice
¼ lb chanterelle mushrooms, small dice
¼ lb portabella mushrooms, small dice
sea salt and freshly ground black pepper
1 small onion, small dice
2 tsp minced fresh garlic
2 tsp chopped fresh thyme
½ cup chicken stock
2 Tbsp unsalted butter
2 oz grated Parmigiano-Reggiano (for garnish)
1 Tbsp chopped fresh Italian parsley (for garnish)
| Preparation – Gnocchi | Bring a large pot of salted water to a boil. Peel potatoes and add to pot. Cook until tender but still firm, about 15 minutes. Drain, cool and mash with a fork or potato masher.
Combine 1 cup mashed potato, flour and egg in a large bowl. Knead until dough forms a ball. Shape small portions of dough into long, thin logs. On a floured surface, cut logs into ½-inch pieces.
Place 2 Tbsp olive oil and pancetta in a large sauté pan and set to medium heat. Cook to render fat from pancetta; allow to caramelize and turn golden brown. Remove from pan and place on paper towel to drain.
| Preparation – Caramelized Mushroom-Pancetta Sauce | In the same sauté pan, add remaining olive oil and turn heat to high. Add mushrooms to pan in batches and in a single layer. Toss once, then let sit to allow proper cooking and caramelizing. Season with salt and pepper. As mushrooms cook and shrink in size, add remaining mushrooms to pan.
Once all mushrooms are caramelized, add onion and cook until translucent and soft, about 3 minutes. Add garlic; cook for 1 minute. Add thyme and cooked pancetta. Toss to mix. Add chicken stock and bring to a simmer, reduce heat and cook for 2 minutes. Add butter to finish sauce.
| To Serve | While sauce cooks, bring a large pot of lightly salted water to a boil. Drop in preformed gnocchi and cook for 3 to 5 minutes or until gnocchi rise to top; drain. Drop cooked gnocchi into sauce pan; toss to incorporate. Divide evenly between serving plates. Garnish with cheese and parsley.