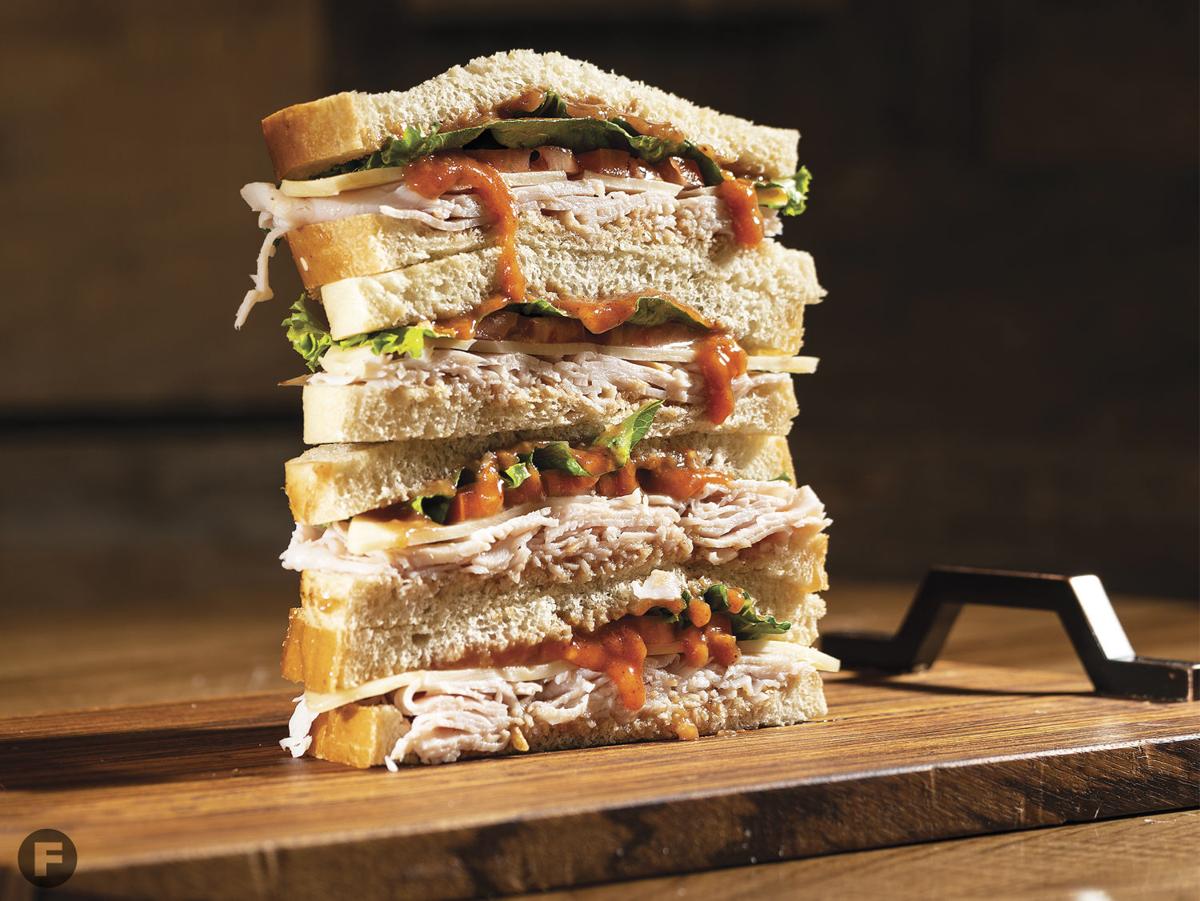 At Neighbor's Mill Bakery & Café in Springfield, Missouri, the cranberry-turkey sandwich captures the flavors of everyone's favorite food holiday: Thanksgiving. "Our cranberry mustard makes this sandwich one of our crowd favorites at Neighbor's Mill," says co-owner Lauren Brown. "It has a nice, tangy kick, but we temper that with the addition of honey and brown sugar. The diced apples are also a surprising flavor element that give the condiment a slightly thicker texture and body, so anyone who's usually standoffish about mustard might find they actually enjoy this flavor!"
This recipe is based on using one 14-ounce can of cranberry sauce, but you could easily make cranberry sauce from scratch and use it here.
"Use the cranberry mustard as a base for a vinaigrette dressing. Just whisk a smaller amount of it with olive oil until smooth and toss over a salad." –Lauren Brown
Turkey Sandwich with Cranberry Mustard
Recipe by Lauren Brown, co-owner, Neighbor's Mill Bakery & Café
Serves | 1 |
Cranberry Mustard (Yields 2 cups)
2½ cups, plus 2 Tbsp, spicy mustard
2 Tbsp brown sugar
¹⁄₈ tsp ground cloves
¹⁄₃ cup Fuji or Gala apples, peeled and diced
2 Tbsp honey
1½ tsp white vinegar
1 14-oz can cranberry sauce
Turkey Sandwich
cranberry mustard (recipe follows)
2 slices thick-cut country white bread
4 to 5 slices smoked turkey
1 slice Swiss cheese
2 tomato slices
1 piece leafy lettuce
| Preparation – Cranberry Mustard | In the bowl of a food processor, add all ingredients except cranberry sauce and purée. Pour mixture into a large bowl and slowly add cranberry sauce, mixing by hand until well-blended.
Store in an airtight container or use it immediately on a sandwich or as a spread.
| Preparation – Turkey Sandwich | Spread 2 ounces of cranberry mustard on bread. Layer turkey, cheese, tomato slices and lettuce between bread and serve.