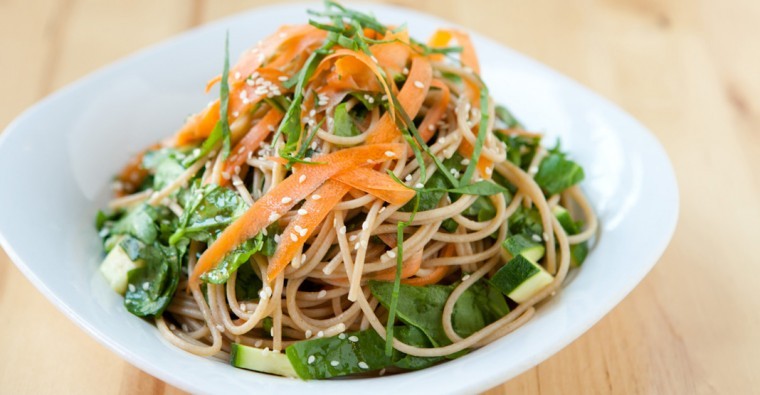 The inventive and flavorful smoothies, wraps, pastas, sandwiches, salads and starters on the menu at VegaDeli Café proffer so many selections, all of them vegan, that a diner might have trouble choosing.
Yet new owner Gina Gerber whips up daily specials as well at her cafe, at 117 Hilltop Village Center in Chesterfield.
Recipe from Gina Gerber, VegaDeli Café
Yield | 1 large serving |
salt
6 oz dried spaghetti (see note below)
¼ cup coarsely shredded zucchini
½ medium carrot, cut into thin matchsticks
¾ cup baby spinach leaves, roughly chopped
2 Tbsp freshly squeezed lemon juice
2 Tbsp toasted sesame oil
1 Tbsp liquid aminos (see note below)
finely chopped spinach, for garnish
| Preparation | Bring a pot of salted water to a boil. Add pasta; cook according to package directions until it reaches the al dente stage. Drain, but don't rinse. Transfer cooked pasta to a mixing bowl.
Add zucchini, carrots and roughly chopped spinach to warm pasta. Toss lightly.
Add lemon juice, sesame oil and liquid aminos; toss well to coat spaghetti and vegetables.
Garnish with a pinch of finely chopped spinach. Serve immediately.
Note: VegaDeli Café owner Gina Gerber suggests Barilla Pasta, but any pasta that does not contain eggs or dairy will do. Bragg's Liquid Aminos are available at Whole Foods and at most health-food stores.
---
Inspired by July's Veritably Veg, this recipe was featured in the St. Louis Post-Dispatch's Let's Eat section. Be sure to check out Let's Eat every Wednesday for more recipes from FEAST!