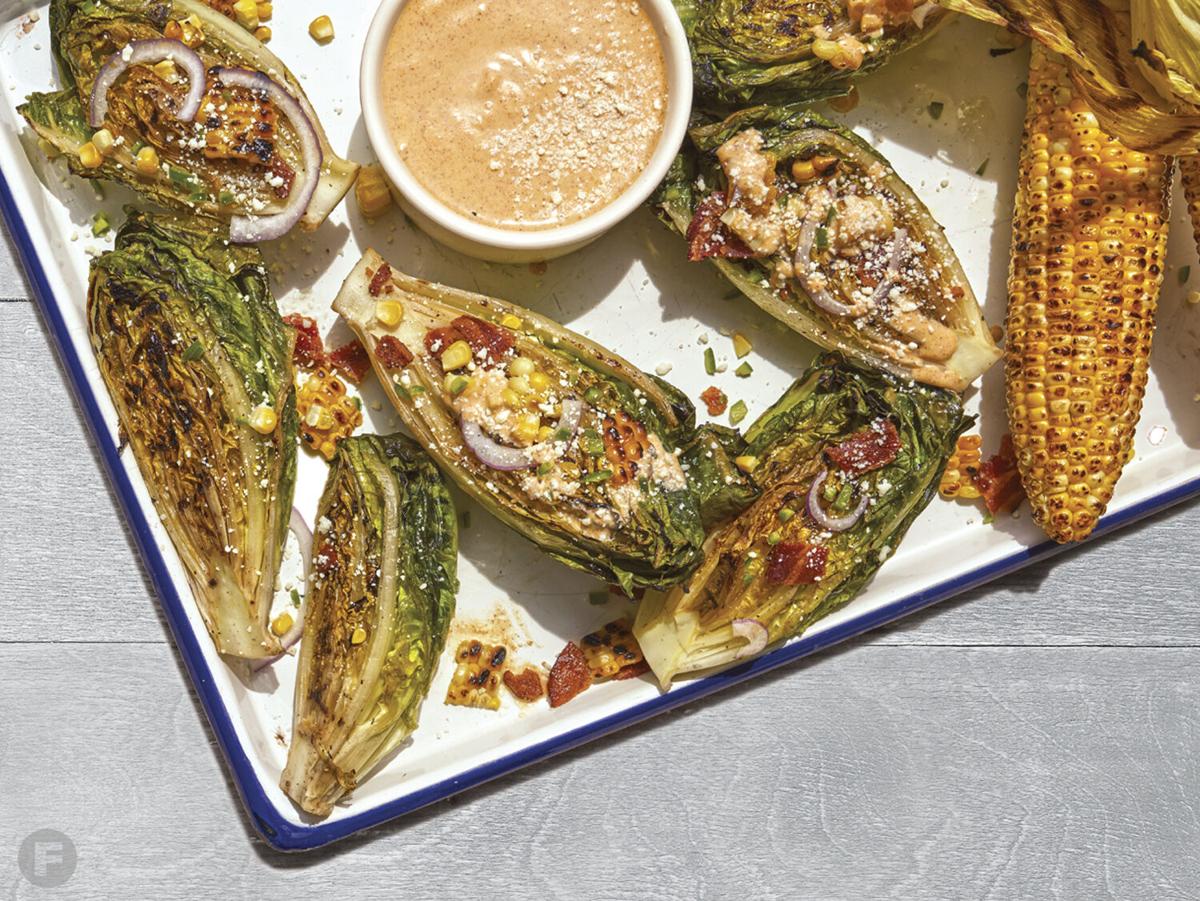 Sweet gem lettuce is a cross between romaine lettuce and butter lettuce. The outer leaves have a silky quality while the inner leaves are crunchy and slightly sweet. It holds up well to a lot of cooking techniques, including grilling, and the char on the lettuce and corn is almost its own ingredient in this salad. Combined with bacon, jalapeño and red onion as well, this might be the dish you bring to every backyard barbecue this year.
Grilled Sweet Gem Lettuce Salad with Bacon, Corn and Jalapeño
Serves | 8 |
4 ears corn
8 heads little gem lettuce, washed and dried, roots trimmed, cut in half lengthwise
olive oil, for drizzling
salt and freshly ground black pepper, to taste
1 cup mayonnaise or Mexican crema
½ cup lime juice
2 tsp chile powder
2 tsp garlic salt
½ tsp ground cumin
¼ red onion, thinly sliced
1 jalapeño, minced
8 oz bacon, cooked and chopped
¾ cup Cotija cheese
| Preparation |Preheat grill. With each ear of corn, peel back the husk, but leave it attached. Thoroughly rinse ear and remove silks. Replace husk and soak the whole ear in water, at least 30 minutes. After allotted time, transfer ears to hot grill; grill, approximately 15 minutes, turning every few minutes. Remove from grill; allow to cool enough to handle and then use a sharp knife to remove kernels from cob. Set aside.
Drizzle cut-side of lettuce with olive oil; season with salt and pepper. Add lettuce to grill, cut-side down; grill just to mark, approximately 3 minutes. Remove from grill and set aside.
In a bowl, whisk together mayonnaise or crema, lime juice, chile powder, garlic salt, cumin and black pepper to taste.
| To Serve | Lay lettuce on a platter, cut-side up. Top with corn, onion, jalapeño, bacon and Cotija; drizzle with mayonnaise or crema mixture.