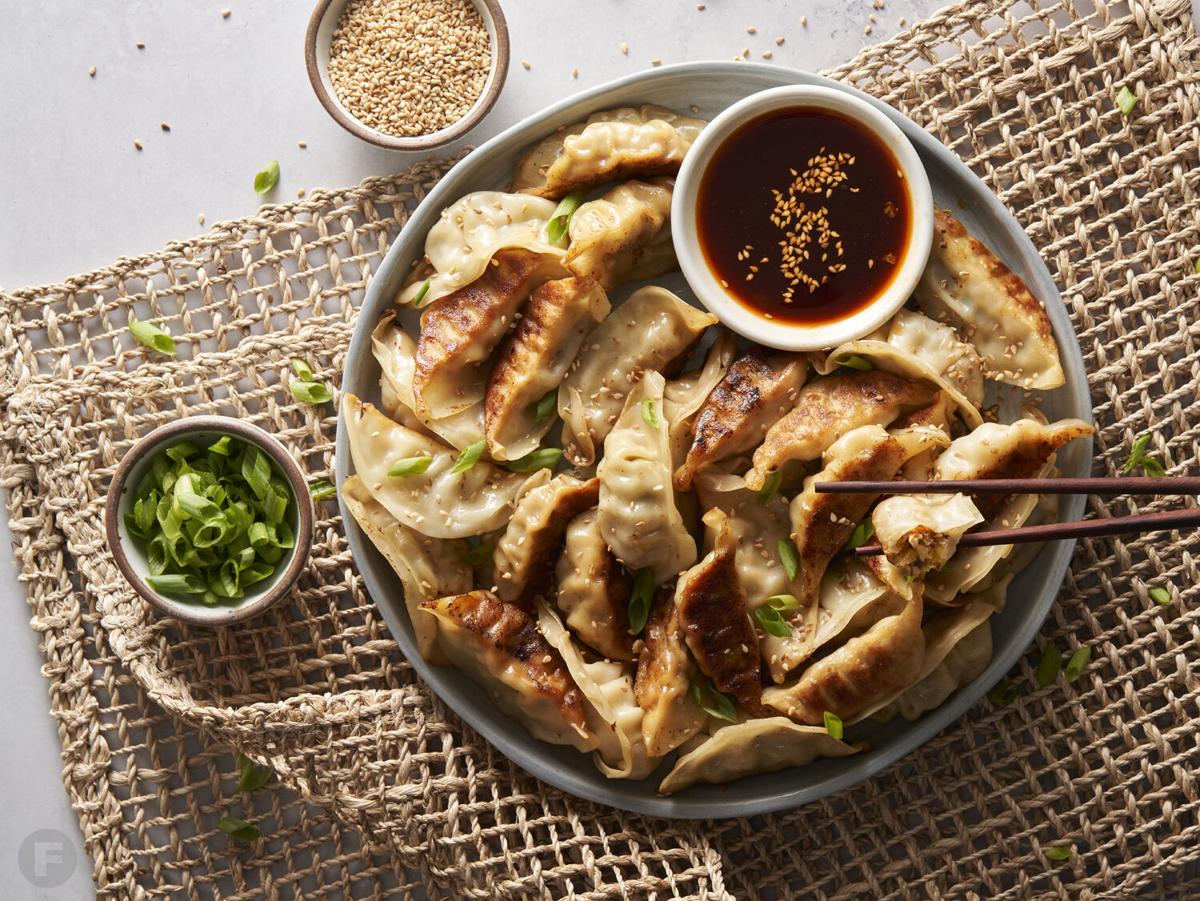 Making potstickers at home is easier than it looks. Whip up a batch and steam them right away or freeze them for later. With mushrooms subbed in for meat, these potstickers make a substantial vegan side, and you can substitute any of the aforementioned mushrooms to alter the flavor – just keep the measurements for fresh and dried the same.
Mushroom Potstickers
Yields | 25 to 30 potstickers |
½ oz dried oyster mushrooms, rinsed
½ oz dried shiitake mushrooms, rinsed
8 oz fresh shiitake mushrooms, stems removed
2 Tbsp olive oil, divided
sea salt, to taste
2 cloves garlic, peeled and smashed
2 to 3 tsp freshly grated ginger
½  medium Napa cabbage, leaves roughly chopped (approximately 2 to 2½ cups)
⅓ cup grated carrot
¼ cup fresh cilantro leaves
4 small scallions, trimmed on both ends and roughly chopped
2 Tbsp sesame oil
1½ Tbsp soy sauce or coconut aminos
freshly ground black pepper, to taste
25 to 30 wrappers
| Preparation | In a medium saucepan, bring 2 cups water to a boil; remove from heat. Add dried mushrooms and soak until softened, 30 to 40 minutes. Remove from water and pat dry.
Wipe or quickly rinse fresh mushrooms; place in food processor and pulse, 10 times, to break into small pieces. Heat 1 tablespoon olive oil in a large, heavy-bottomed skillet over medium heat. Add fresh mushrooms and season with salt; cook until mushrooms begin to release water, approximately 10 minutes. Meanwhile, add rehydrated mushrooms to food processor; pulse, 10 times, to break down. Once fresh mushrooms have released water, add rehydrated mushrooms to pan; cook, 3 to 4 minutes. Meanwhile, add garlic, ginger, cabbage, carrot, cilantro and scallions to food processor; pulse to break down and combine. Add vegetable-herb mixture to pan; cook until softened, approximately 5 minutes. Remove from heat and stir in sesame oil and soy sauce; season with salt and pepper to taste.
Set wrappers on work surface and cover with a kitchen towel. Set a small bowl of cold water to the side. Remove one wrapper at a time from under towel; add 1 tablespoon filling to center. Dip your fingers in water and wet perimeter of wrapper; fold wrapper in half over filling and pinch firmly to seal, pleating down from the top as you go. Set under towel and repeat process with remaining wrappers.
Heat remaining olive oil in a 10-inch skillet over medium-high heat. Working in batches, carefully add potstickers, 1 inch apart, pressing down to flatten bottom against pan; cook until browned, approximately 3 minutes. Add ⅓ cup water to pan and cover; steam until potstickers are heated through, 3 to 4 minutes. Transfer to plate, discard water and repeat process with remaining potstickers. Serve with favorite dipping sauce.